Key positions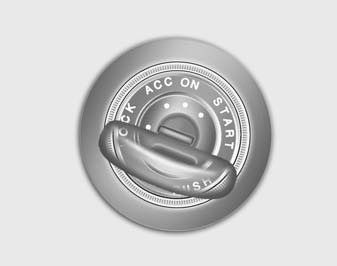 Ignition switch position LOCK
The steering wheel locks to protect against theft. The ignition key can be removed only in the LOCK position.
When turning the ignition switch to the LOCK position, push the key inward at the ACC position and turn the key toward the LOCK position.
ACC (Accessory)
The steering wheel is unlocked and electrical accessories are operative.
NOTICE
If difficulty is experienced turning the ignition switch to the ACC position, turn the key while turning the steering wheel right and left to release the tension.
ON
The warning lights can be checked before the engine is started. This is the normal running position after the engine is started.
Do not leave the ignition switch ON if the engine is not running to prevent battery discharge.
START
Turn the ignition switch to the START position to start the engine. The engine will crank until you release the key; then it returns to the ON position. The brake warning light can be checked in this position.
WARNING - Ignition
switch
• Never turn the ignition switch to LOCK or ACC while the vehicle is moving. This would result in loss of directional control and braking function, which could cause an accident.
• The anti-theft steering column lock is not a substitute for the parking brake. Before leaving the driver's seat, always make sure the shift lever is engaged in P (Park), set the parking brake fully and shut the engine off. Unexpected and sudden vehicle movement may occur if these precautions are not taken.
• Never reach for the ignition switch, or any other controls through the steering wheel while the vehicle is in motion. The presence of your hand or arm in this area could cause a loss of vehicle control, an accident and serious bodily injury or death.
• Do not place any movable objects around the driver's seat as they may move while driving, interfere with the driver and lead to an accident.
See also:
Spacious, State-of-the-Art Interior
Inside the cabin is where Kia Soul really shows its power to surprise. For those who want a personal lounge on wheels or an efficient cargo carrier with 14 storage zones, Soul has it covered. Whil ...
Vehicle break-in process
No special break-in period is needed. By following a few simple precautions for the first 1,000 km (600 miles) you may add to the performance, economy and life of your vehicle. • Do not race th ...
Compass
To operate compass feature The vehicle compass is a convenient feature which displays the direction the vehicle is heading. Push the ON/OFF button (➀) on lower part of mirror to display ...