Maintenance schedule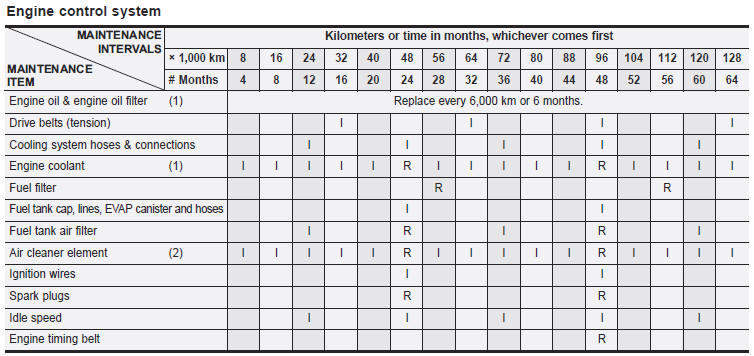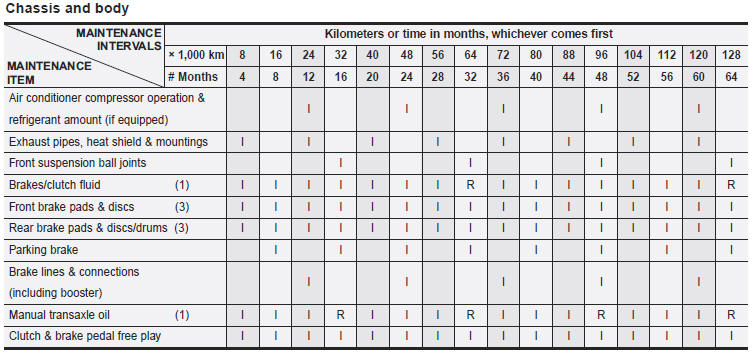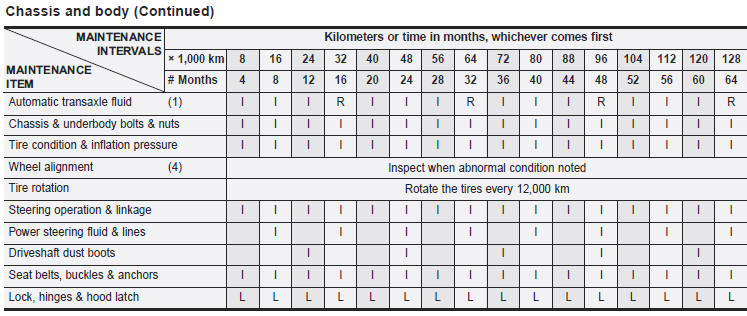 Chart symbols:
I- Inspect these items and their related parts. If necessary, correct, clean, refill, adjust or replace.
R- Replace or change
L- Lubricate.
(1) Refer to the lubricant and coolant specifications in the Owner's Manual.
(2) More frequent maintenance is required if driving under dusty conditions.
(3) More frequent maintenance is required if the vehicle is operated under any of the following conditions: a. Short-distance driving.
b. Driving on dusty roads.
c. Extensive idling or slow-speed driving in stop-and-go traffic.
(4) If necessary, rotate and balance the wheels.
* Note: Check the engine oil and coolant levels every week.
See also:
2009 Kia Optima / Magentis
At first glance the redesigned 2009 Kia Optima (sold in Canada as the Magentis) looks like a marked improvement over the outgoing model. The design itself, while not exactly breathtaking, is on pa ...
IS BIGGER BETTER?
While we'd certainly argue that when it comes to cars bigger isn't always better, the wider and longer Optima is now in line with its main competitors delivering added interior space. Rear sea ...
Engine and Specifications:
KIA Rio and Rio5 will be installed with 1.6 L capacity I-4 engine. This engine will be mated with five speed manual gear transmission. Rio LX and SX trims will be installed with four speed automat ...