Maintenance schedule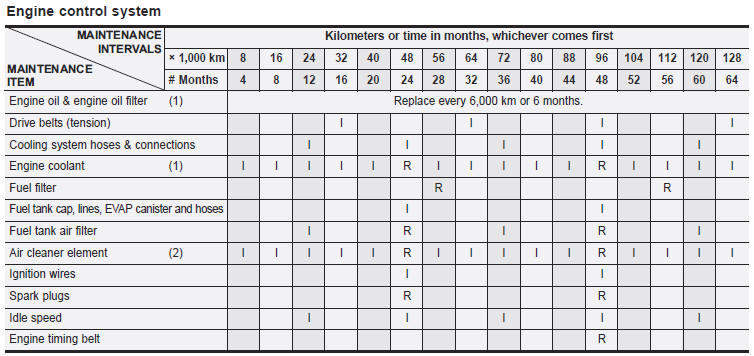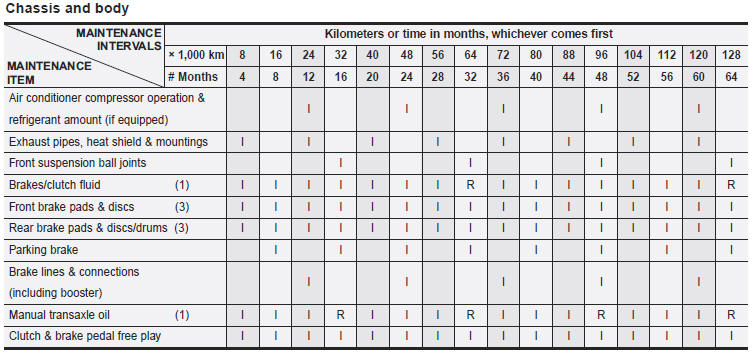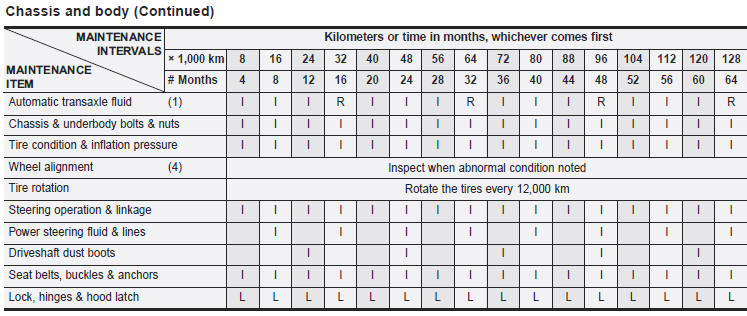 Chart symbols:
I- Inspect these items and their related parts. If necessary, correct, clean, refill, adjust or replace.
R- Replace or change
L- Lubricate.
(1) Refer to the lubricant and coolant specifications in the Owner's Manual.
(2) More frequent maintenance is required if driving under dusty conditions.
(3) More frequent maintenance is required if the vehicle is operated under any of the following conditions: a. Short-distance driving.
b. Driving on dusty roads.
c. Extensive idling or slow-speed driving in stop-and-go traffic.
(4) If necessary, rotate and balance the wheels.
* Note: Check the engine oil and coolant levels every week.
See also:
Leftlane's bottom line
Kia is no longer content to be the butt of jokes or the car of last resort for those who may be fiscally challenged. Although still very much a Hyundai rival, Kia finally has a design language a ...
Parking brake
Checking the parking brake Check the stroke of the parking brake by counting the number of "clicks'' heard while fully applying it from the released position. Also, the parking brake alon ...
Wipers and washers
A : Wiper speed control · MIST – Single wipe · OFF – Off · INT – Intermittent wipe AUTO - AUTO control wipe (if equipped) · LO – Low wiper speed · HI – High wiper speed B : In ...