Maintenance schedule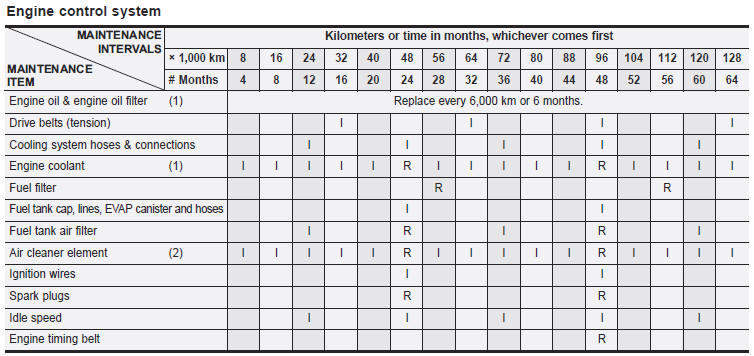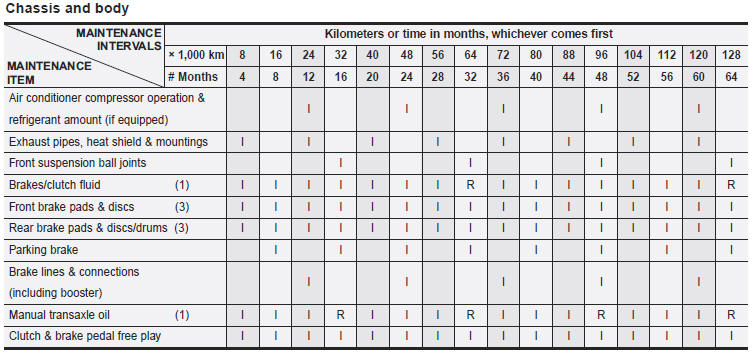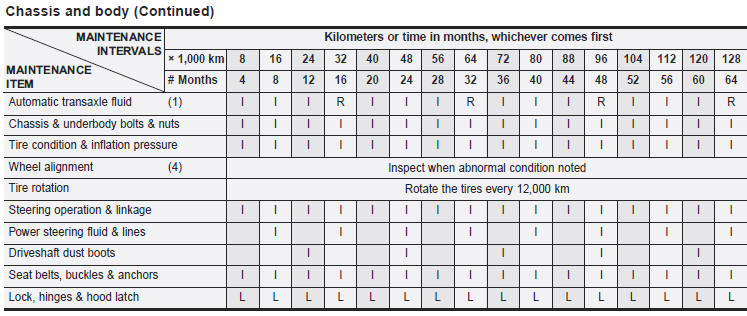 Chart symbols:
I- Inspect these items and their related parts. If necessary, correct, clean, refill, adjust or replace.
R- Replace or change
L- Lubricate.
(1) Refer to the lubricant and coolant specifications in the Owner's Manual.
(2) More frequent maintenance is required if driving under dusty conditions.
(3) More frequent maintenance is required if the vehicle is operated under any of the following conditions: a. Short-distance driving.
b. Driving on dusty roads.
c. Extensive idling or slow-speed driving in stop-and-go traffic.
(4) If necessary, rotate and balance the wheels.
* Note: Check the engine oil and coolant levels every week.
See also:
Advanced Platform/Chassis
Kia Soul is different, right down to its all-new platform. With its own distinctive style, Soul features front-wheel drive, a high roofline and an unusually long wheelbase. Built on a platform wit ...
On the Road
During our seat time in and around Seattle, we test drove an EX with the Fuel Economy Package and an SX version. We found the EX's 5-speed automatic a bit annoying in its rush to get into fifth ...
Introduction
The name Sportage doesn't really conjure up warm memories. Many folks remember the Sportage of yesterday, a crude cute-ute that was plagued with quality issues, a weak engine and a cheap interior. ...