Maintenance schedule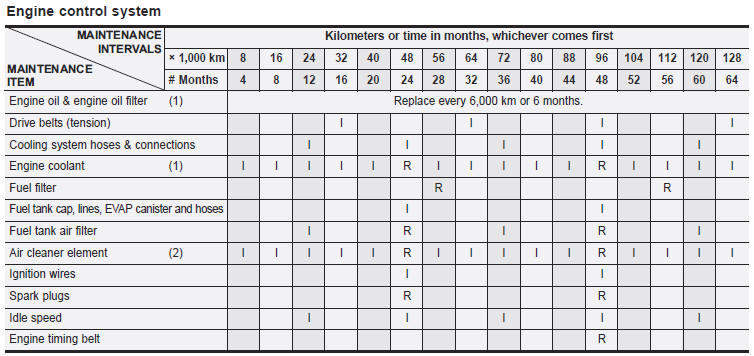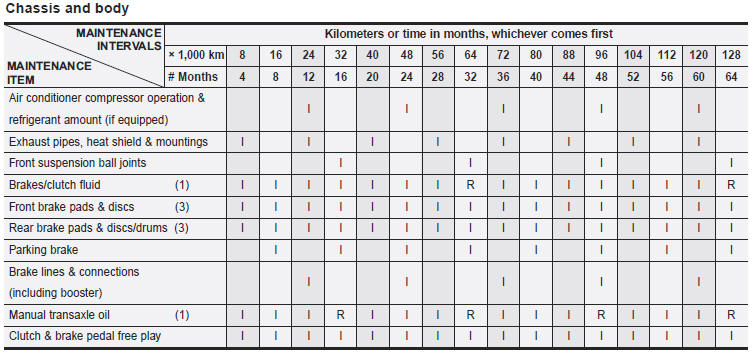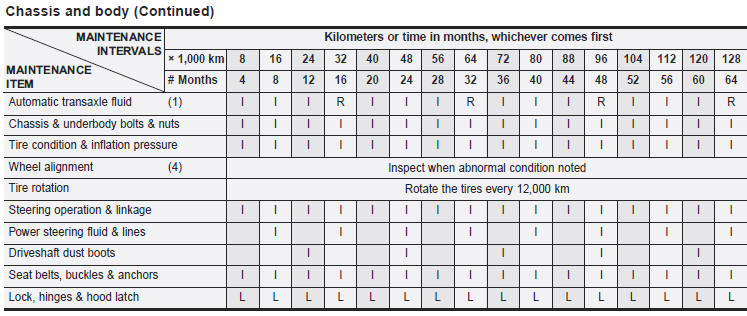 Chart symbols:
I- Inspect these items and their related parts. If necessary, correct, clean, refill, adjust or replace.
R- Replace or change
L- Lubricate.
(1) Refer to the lubricant and coolant specifications in the Owner's Manual.
(2) More frequent maintenance is required if driving under dusty conditions.
(3) More frequent maintenance is required if the vehicle is operated under any of the following conditions: a. Short-distance driving.
b. Driving on dusty roads.
c. Extensive idling or slow-speed driving in stop-and-go traffic.
(4) If necessary, rotate and balance the wheels.
* Note: Check the engine oil and coolant levels every week.
See also:
Audio system
Antenna D300102AAM-EU Your vehicle uses a roof antenna to receive AM or/and FM broadcast signals. This antenna is removable. To remove the roof antenna, turn it counterclockwise. To install th ...
Fuses
A vehicle's electrical system is protected from electrical overload damage by fuses. This vehicle has 2 fuse panels, one located in the driver's side panel bolster, the other in the engine ...
Interior Design and Special Features
The 2007 Kia Sorento features a redesigned interior that makes tasteful use of wood and metal trim materials. The cabin is comfortable and functional. The leather seats are good quality. The rear ...