Maintenance schedule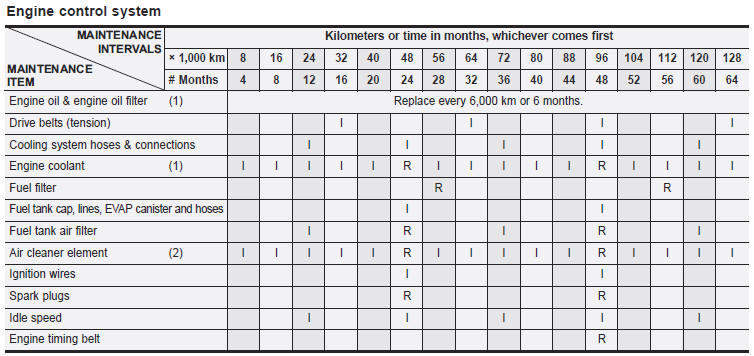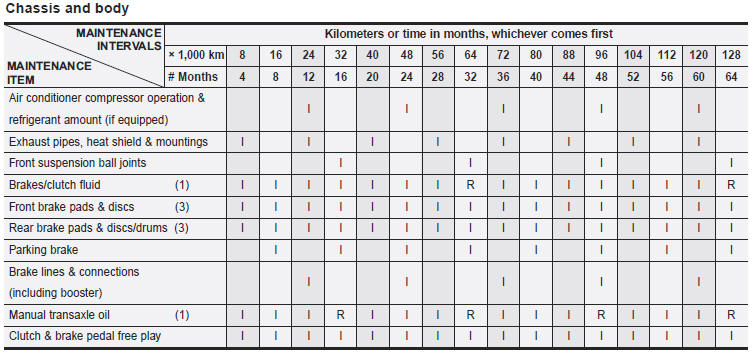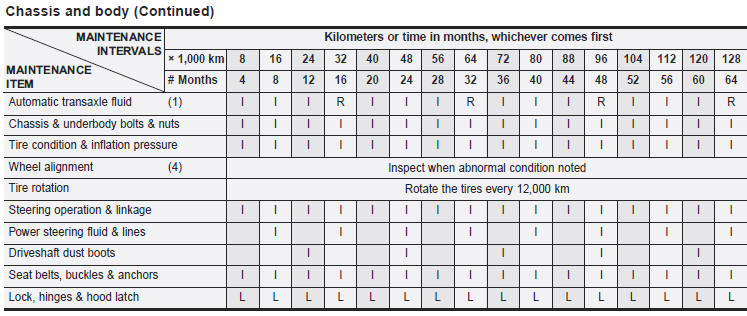 Chart symbols:
I- Inspect these items and their related parts. If necessary, correct, clean, refill, adjust or replace.
R- Replace or change
L- Lubricate.
(1) Refer to the lubricant and coolant specifications in the Owner's Manual.
(2) More frequent maintenance is required if driving under dusty conditions.
(3) More frequent maintenance is required if the vehicle is operated under any of the following conditions: a. Short-distance driving.
b. Driving on dusty roads.
c. Extensive idling or slow-speed driving in stop-and-go traffic.
(4) If necessary, rotate and balance the wheels.
* Note: Check the engine oil and coolant levels every week.
See also:
Recommended lubricants and capacities
To help achieve proper engine and powertrain performance and durability, use only lubricants of the proper quality. The correct lubricants also help promote engine efficiency that results in improv ...
How to use this manual
We want to help you get the greatest possible driving pleasure from your vehicle. Your Owner's Manual can assist you in many ways. We strongly recommend that you read the entire manual. In order ...
Tailgate
Opening the tailgate • The tailgate is locked or unlocked when all doors are locked or unlocked with the key, transmitter (or smart key) or central door lock switch. • If unlocked, the tail ...