Maintenance schedule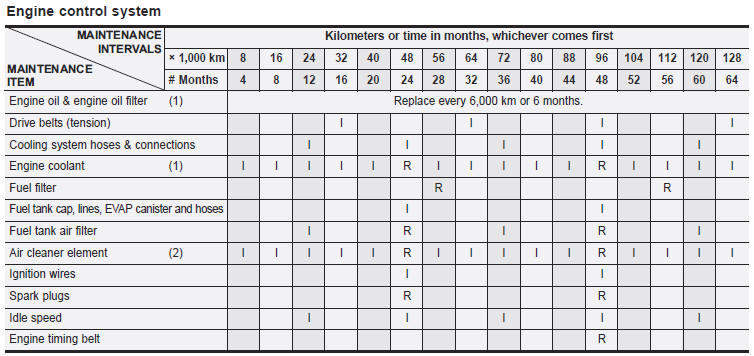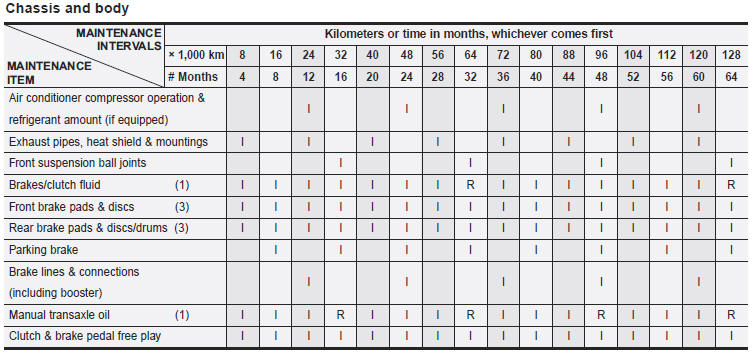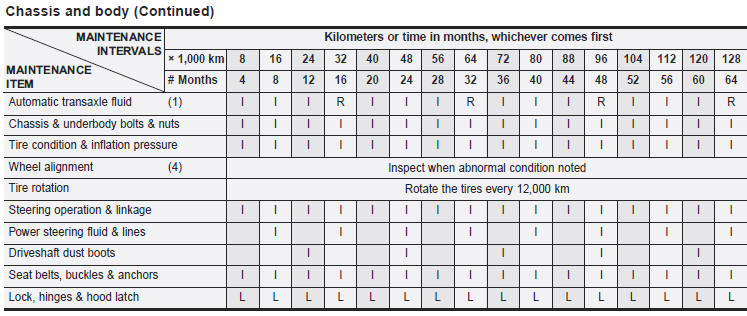 Chart symbols:
I- Inspect these items and their related parts. If necessary, correct, clean, refill, adjust or replace.
R- Replace or change
L- Lubricate.
(1) Refer to the lubricant and coolant specifications in the Owner's Manual.
(2) More frequent maintenance is required if driving under dusty conditions.
(3) More frequent maintenance is required if the vehicle is operated under any of the following conditions: a. Short-distance driving.
b. Driving on dusty roads.
c. Extensive idling or slow-speed driving in stop-and-go traffic.
(4) If necessary, rotate and balance the wheels.
* Note: Check the engine oil and coolant levels every week.
See also:
First impressions mean a lot
At first glance, the Optima gives off more than a hint of a European vibe. A vast stylistic improvement over the namesake that it replaces, it sports larger dimensions than the outgoing model. Sur ...
Vehicle load limit
Tire and loading information label The label located on the driver's door sill gives the original tire size, cold tire pressures recommended for your vehicle, the number of people that can ...
Engine cooling system
The high-pressure cooling system has a reservoir filled with year-round antifreeze coolant. The reservoir is filled at the factory. Check the antifreeze protection and coolant level at least once ...