Maintenance schedule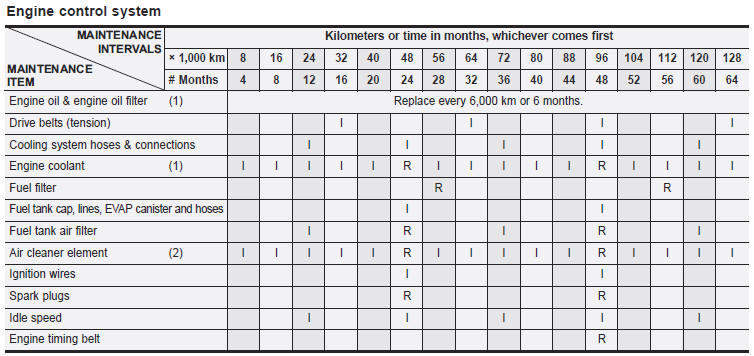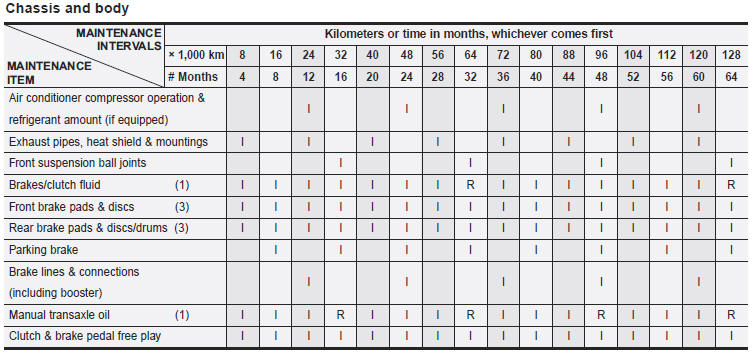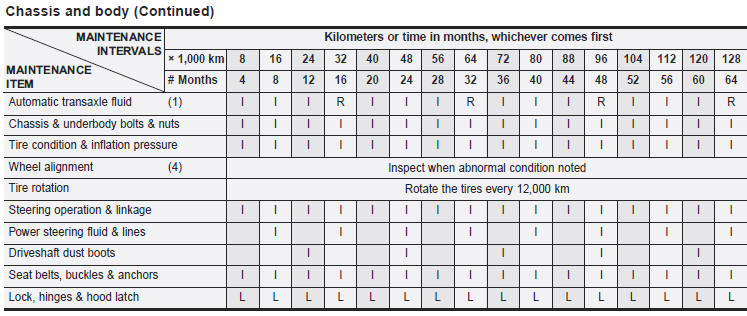 Chart symbols:
I- Inspect these items and their related parts. If necessary, correct, clean, refill, adjust or replace.
R- Replace or change
L- Lubricate.
(1) Refer to the lubricant and coolant specifications in the Owner's Manual.
(2) More frequent maintenance is required if driving under dusty conditions.
(3) More frequent maintenance is required if the vehicle is operated under any of the following conditions: a. Short-distance driving.
b. Driving on dusty roads.
c. Extensive idling or slow-speed driving in stop-and-go traffic.
(4) If necessary, rotate and balance the wheels.
* Note: Check the engine oil and coolant levels every week.
See also:
Battery
For best battery service • Keep the battery securely mounted. • Keep the battery top clean and dry. • Keep the terminals and connections clean, tight, and coated with petroleum jelly or t ...
Door locks
Operating door locks from outside the vehicle • Turn the key toward the front of the vehicle to unlock and toward the rear of the vehicle to lock. • If you lock the driver's door with a k ...
Instrument cluster
1. Tachometer 2. Turn signal indicators 3. Speedometer 4. Engine temperature gauge 5.Warning and indicator lights 6. Shift position indicator* (Automatic transaxle only) 7. Odometer/Tripmeter ...