Maintenance schedule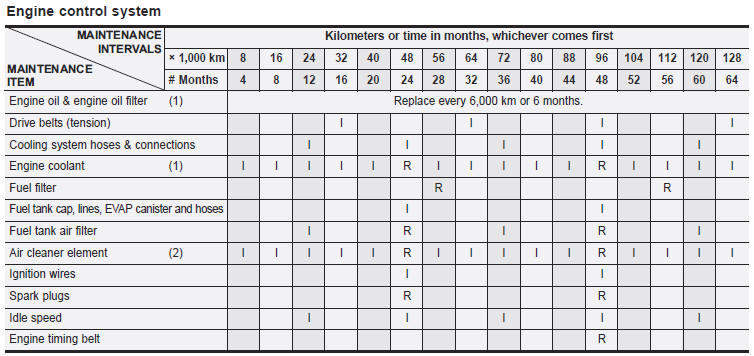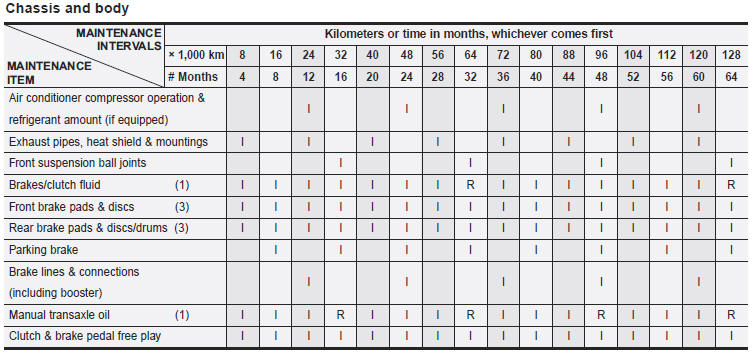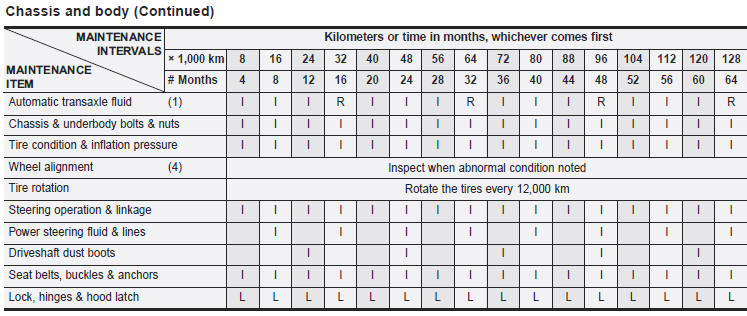 Chart symbols:
I- Inspect these items and their related parts. If necessary, correct, clean, refill, adjust or replace.
R- Replace or change
L- Lubricate.
(1) Refer to the lubricant and coolant specifications in the Owner's Manual.
(2) More frequent maintenance is required if driving under dusty conditions.
(3) More frequent maintenance is required if the vehicle is operated under any of the following conditions: a. Short-distance driving.
b. Driving on dusty roads.
c. Extensive idling or slow-speed driving in stop-and-go traffic.
(4) If necessary, rotate and balance the wheels.
* Note: Check the engine oil and coolant levels every week.
See also:
Features of your vehicle
Keys Remote keyless entry Smart key Theft-alarm system Door locks Tailgate9 Windows Hood Fuel filler lid Panoramic Sunroof Steering wheel Mirrors Instrument cluster Rear parking assist sy ...
Interior features
Cigarette lighter (if equipped) For the cigarette lighter to work, the ignition switch must be in the ACC or ON position. To use the cigarette lighter, push it all the way into its socket. When ...
Under the Hood
The Forte lineup is anchored by a 2.0-liter 4-cylinder engine rated at 156 horsepower and 144 lb-ft of torque, an 18-horse improvement over the Spectra's 2.0 liter. Only the SX gets the 2.4-liter ...