Maintenance schedule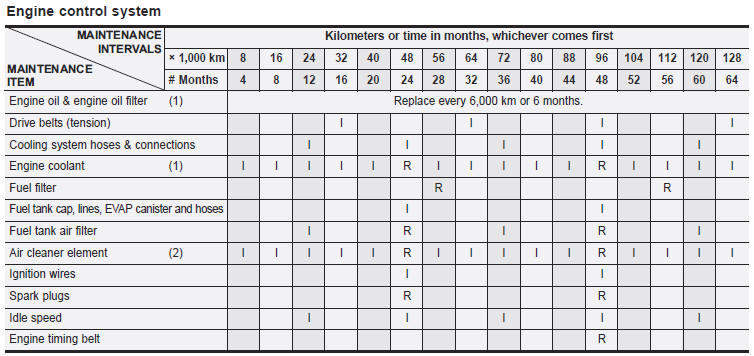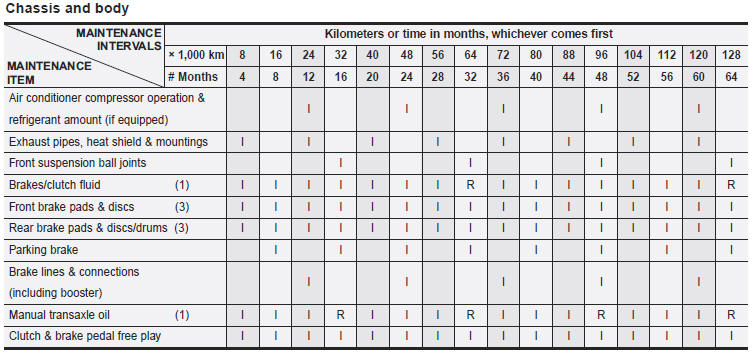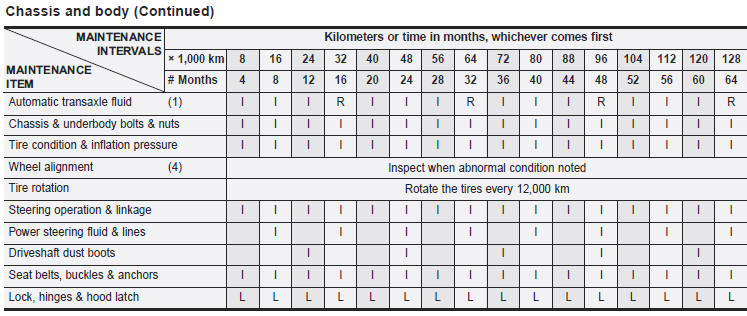 Chart symbols:
I- Inspect these items and their related parts. If necessary, correct, clean, refill, adjust or replace.
R- Replace or change
L- Lubricate.
(1) Refer to the lubricant and coolant specifications in the Owner's Manual.
(2) More frequent maintenance is required if driving under dusty conditions.
(3) More frequent maintenance is required if the vehicle is operated under any of the following conditions: a. Short-distance driving.
b. Driving on dusty roads.
c. Extensive idling or slow-speed driving in stop-and-go traffic.
(4) If necessary, rotate and balance the wheels.
* Note: Check the engine oil and coolant levels every week.
See also:
Spacious, State-of-the-Art Interior
Inside the cabin is where Kia Soul really shows its power to surprise. For those who want a personal lounge on wheels or an efficient cargo carrier with 14 storage zones, Soul has it covered. Whil ...
Engine cooling system
The high-pressure cooling system has a reservoir filled with year-round antifreeze coolant. The reservoir is filled at the factory. Check the antifreeze protection and coolant level at least once ...
Instrument cluster
1. Tachometer 2. Turn signal indicators 3. Speedometer 4. Engine temperature warning light 5.Warning and indicator lights 6. Odometer / Tripmeter 7. Shift position indicator (Automatic tran ...