Maintenance schedule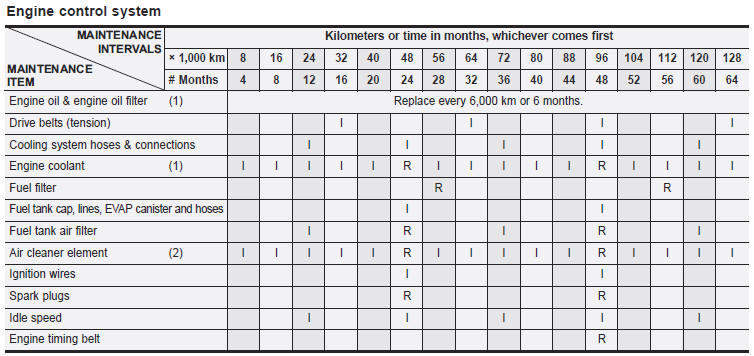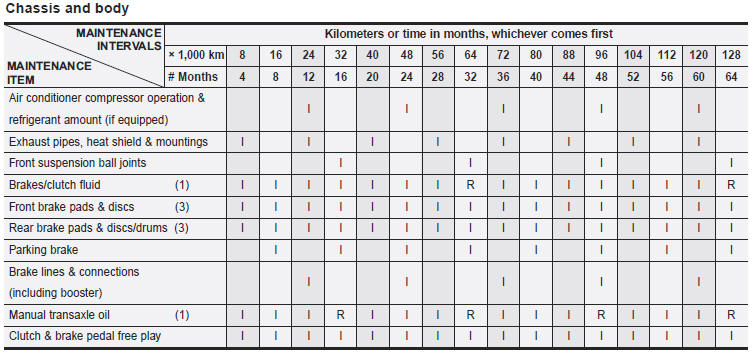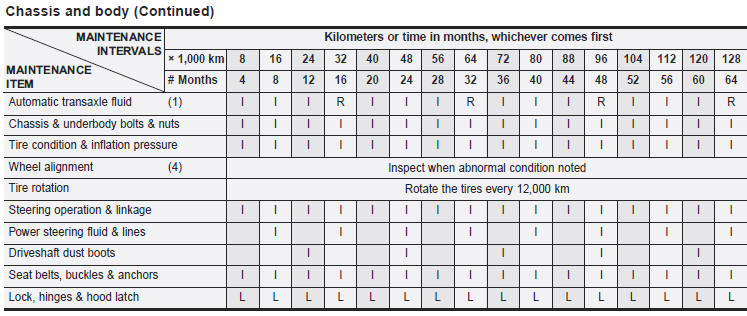 Chart symbols:
I- Inspect these items and their related parts. If necessary, correct, clean, refill, adjust or replace.
R- Replace or change
L- Lubricate.
(1) Refer to the lubricant and coolant specifications in the Owner's Manual.
(2) More frequent maintenance is required if driving under dusty conditions.
(3) More frequent maintenance is required if the vehicle is operated under any of the following conditions: a. Short-distance driving.
b. Driving on dusty roads.
c. Extensive idling or slow-speed driving in stop-and-go traffic.
(4) If necessary, rotate and balance the wheels.
* Note: Check the engine oil and coolant levels every week.
See also:
Powertrains and Performance
Two engines are offered on the Sportage LX: a 2.0-liter inline four-cylinder (140 hp and 136 pound-feet of torque) and a 2.7-liter V6 (173 hp and 178 lb-ft). The Sportage EX comes standard with th ...
Utility
The Kia Rio and the typical sedan can accommodate the same number of passengers. ...
Body Styles, Trim Levels, and Options
The 2011 Kia Sorento is a crossover SUV offered in four trim levels: base, LX, EX and the sporty SX. A third-row 50/50-split-folding seat with room for two is optional on the LX and four-cylinder ...