Maintenance schedule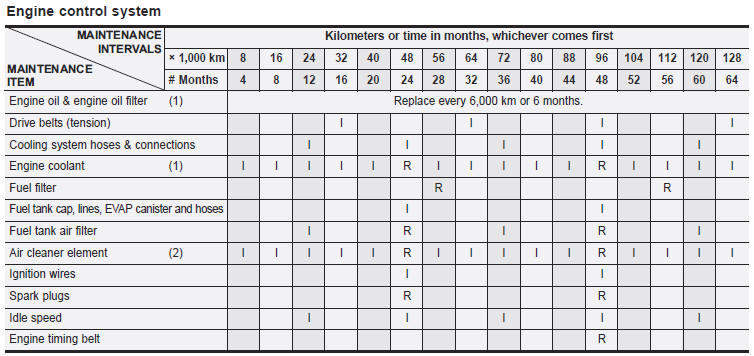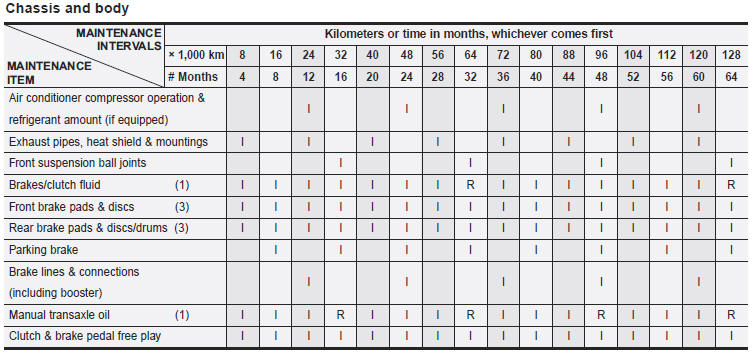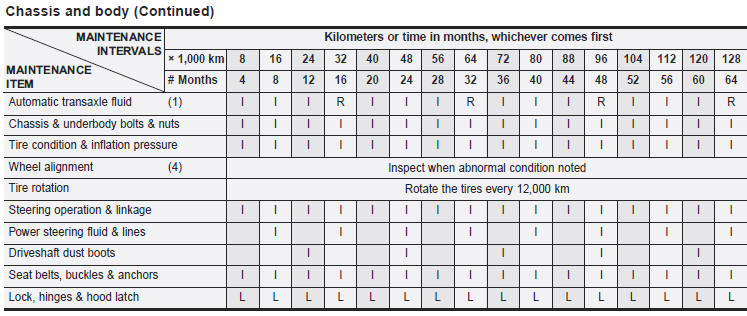 Chart symbols:
I- Inspect these items and their related parts. If necessary, correct, clean, refill, adjust or replace.
R- Replace or change
L- Lubricate.
(1) Refer to the lubricant and coolant specifications in the Owner's Manual.
(2) More frequent maintenance is required if driving under dusty conditions.
(3) More frequent maintenance is required if the vehicle is operated under any of the following conditions: a. Short-distance driving.
b. Driving on dusty roads.
c. Extensive idling or slow-speed driving in stop-and-go traffic.
(4) If necessary, rotate and balance the wheels.
* Note: Check the engine oil and coolant levels every week.
See also:
Interior Features
Test drivers say the Rio and Rio5 have easy-to-read gauges and generally like the layout of the dash, but the praise ends there. The Rio's barebones interior comes with a four-speaker audio syst ...
Power steering fluid
Checking the power steering fluid level With the vehicle on level ground, check the fluid level in the power steering reservoir periodically. The fluid should be between MAX and MIN marks on th ...
Interior lights
Room light Front (map light) The lights are turned ON or OFF by pressing the corresponding switch. Center (dome light) ➀ DOOR : The light turns on or off when a door is opened or clos ...