Maintenance schedule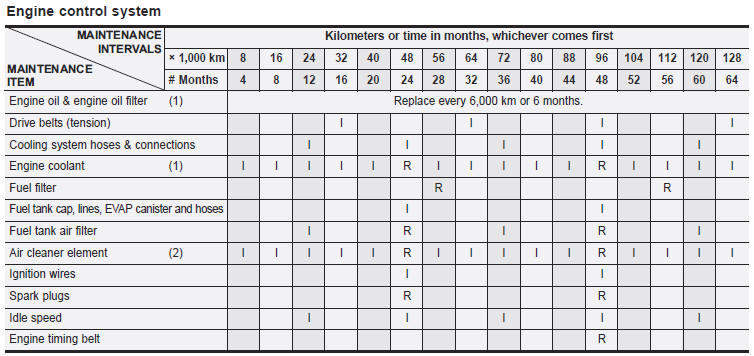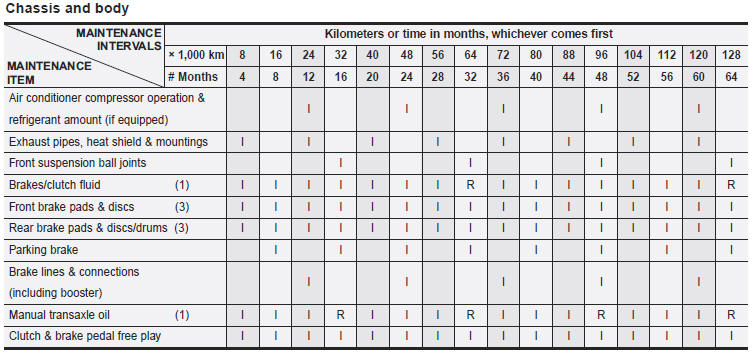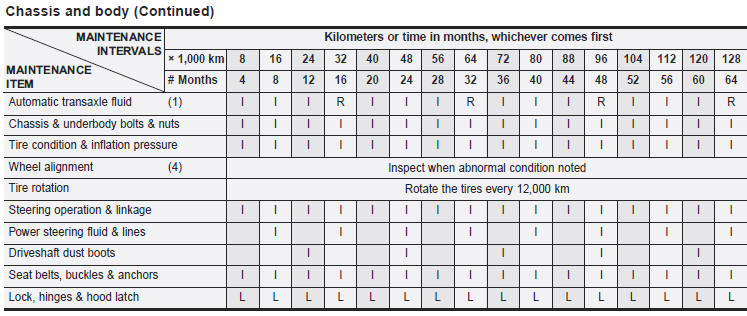 Chart symbols:
I- Inspect these items and their related parts. If necessary, correct, clean, refill, adjust or replace.
R- Replace or change
L- Lubricate.
(1) Refer to the lubricant and coolant specifications in the Owner's Manual.
(2) More frequent maintenance is required if driving under dusty conditions.
(3) More frequent maintenance is required if the vehicle is operated under any of the following conditions: a. Short-distance driving.
b. Driving on dusty roads.
c. Extensive idling or slow-speed driving in stop-and-go traffic.
(4) If necessary, rotate and balance the wheels.
* Note: Check the engine oil and coolant levels every week.
See also:
Automatic transaxle
Checking the automatic transaxle fluid level The automatic transaxle fluid level should be checked regularly. Keep the vehicle on the level ground with the parking brake applied and check the ...
Fuses
A vehicle's electrical system is protected from electrical overload damage by fuses. This vehicle has 2 fuse panels, one located in the driver's side panel bolster, the another in the engin ...
Decently Equipped
Even the LX trim level is decently equipped, with such items as air conditioning, an AM/FM/CD sound system, a tilt-telescopic steering wheel, a manually adjustable driver's seat, cruise control an ...