Maintenance schedule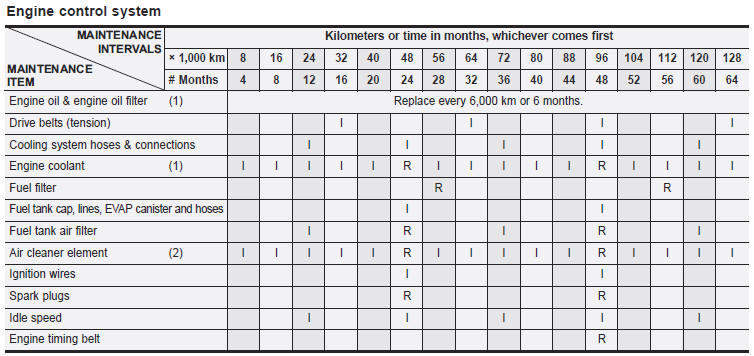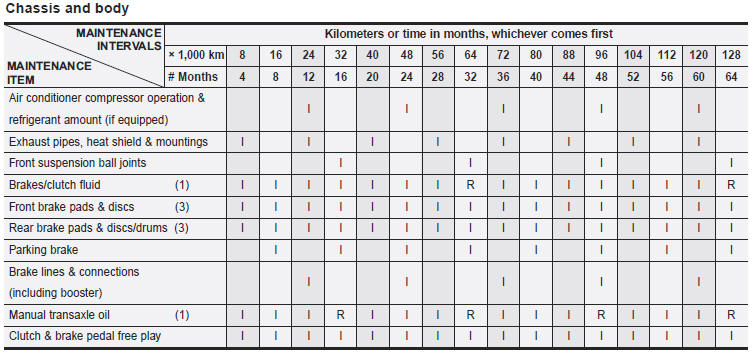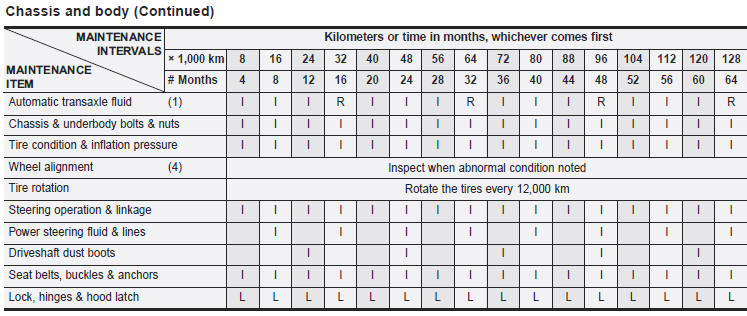 Chart symbols:
I- Inspect these items and their related parts. If necessary, correct, clean, refill, adjust or replace.
R- Replace or change
L- Lubricate.
(1) Refer to the lubricant and coolant specifications in the Owner's Manual.
(2) More frequent maintenance is required if driving under dusty conditions.
(3) More frequent maintenance is required if the vehicle is operated under any of the following conditions: a. Short-distance driving.
b. Driving on dusty roads.
c. Extensive idling or slow-speed driving in stop-and-go traffic.
(4) If necessary, rotate and balance the wheels.
* Note: Check the engine oil and coolant levels every week.
See also:
Lighting
Battery saver function (if equipped) • The purpose of this feature is to prevent the battery from being discharged. The system automatically turns off the headlights and parking lights when th ...
Smart key
With a smart key, you can lock or unlock a door (and tailgate) and even start the engine without inserting the key. The functions of the buttons on a smart key are similar to the remote keyless ...
Driving your vehicle
Ignition switch Starting the engine3 Manual transaxle Automatic transaxle Brake system Cruise control system Steering wheel Instrument cluster Gauges Warnings and indicators Lighting Wipers ...