Storage compartments
These compartments can be used to store small items required by the driver or passengers.
CAUTION:

• To avoid possible theft, do not leave valuables in the storage compartments.
• Always keep the storage compartment covers closed while
driving. Do not attempt to place so many items in the storage compartment that the storage compartment cover cannot close securely.
WARNING:
- Flammable materials.
Do not store cigarette lighters, propane cylinders, or other flammable/ explosive materials in the vehicle.
These items may catch fire and/or explode if the vehicle is exposed to hot temperatures for extended periods.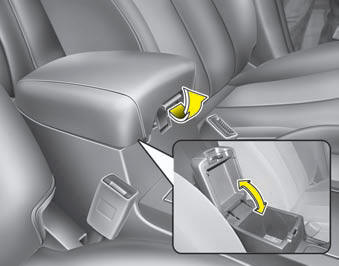 Center console storage
These compartments can be used to store small items required by the driver or front passenger.
To open the center console storage, pull up on the lever.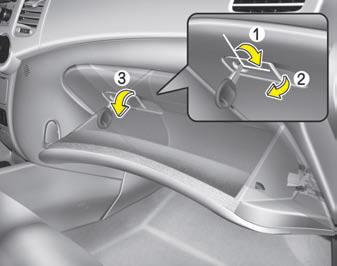 Glove box
The glove box can be locked and unlocked with a key (1) (if equipped).
To open the glove box, pull the handle (2) and the glove box will automatically open (3). Close the glove box after use.
WARNING:

To reduce the risk of injury in an accident or sudden stop, always keep the glove box door closed while driving.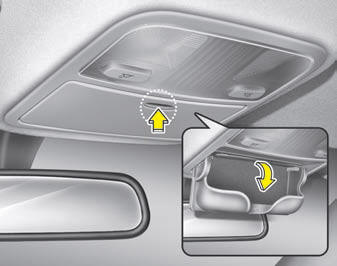 Sunglass holder
To open the sunglass holder, press the cover and the holder will slowly open.
Place your sunglasses in the compartment door with the lenses facing out.
Push to close.
WARNING:

• Do not keep objects except sunglasses inside the sunglass holder.
Such objects can be thrown from the holder in the event of a sudden stop or an accident, possibly injuring the passengers in the vehicle.
• Do not open the sunglass holder while the vehicle is moving. The rear view mirror of the vehicle can be blocked by an open sunglass holder.
Multi box
To open the cover, push the button. It can be used for storing small items.
See also:
Dimensions
The typical sedan is tremendously heavier than the Kia Rio. Your wallet will hurt more every time you fill up the typical sedan than the Kia Rio because of its larger tank. The Rio and the typical ...
Acceleration and Power
All Rio and Rio5 models have a 1.6-liter four-cylinder engine that makes 110 horsepower. A five-speed manual transmission is standard on the Rio sedan, and a four-speed automatic is available for ...
Normal maintenance schedule
Engine control system Chassis and body Chassis and body Chart symbols: I - Inspect these items and their related parts. If necessary, correct, clean, refill, adjust or replace. R - Replac ...