Climate control air filter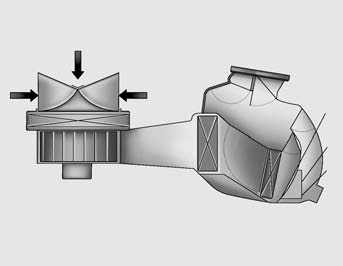 The climate control air filter installed behind the glove box filters the dust or other pollutants that come into the vehicle from the outside through the heating and air conditioning system. If dust or other pollutants accumulate in the filter over a period of time, the air flow from the air vents may decrease, resulting in moisture accumulation on the inside of the windshield even when the outside (fresh) are position is selected. If this happens, have the climate control air filter replaced by an authorized Kia dealer.
The climate control air filter should be replaced every 15,000 km (10,000 miles). If the vehicle is operated in the severely air-polluted cities or on dusty rough roads for a long period, it should be inspected more frequently and replaced earlier. When you try to replace the climate control air filter by owner maintenance, replace it performing the following procedure, and in this case, be careful to avoid damaging other components.
See also:
Lubricants and fluids
Checking the washer fluid level The reservoir is translucent so that you can check the level with a quick visual inspection. Check the fluid level in the washer fluid reservoir and add fluid i ...
Kia Forte SX 5-Door Hatchback - Short Take Road Test
It wasn't so long ago that Kia was selling crummy Sephias and clunky Sportages to the double-coupon set. But the intervening years have proven that Kia and its parent company, Hyundai, are quick ...
Introduction
Before CR-V and RAV4, there was Sportage. Yep, believe it or not, the Kia Sportage was one of the first small import SUVs sold in the United States. However, being first doesn't always lead to sal ...