Air cleaner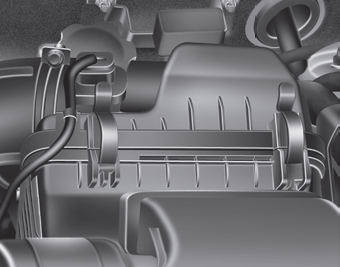 Filter replacement
It must be replaced when necessary, and should not be washed.
You can clean the filter when inspecting the air cleaner element.
Clean the filter by using compressed air.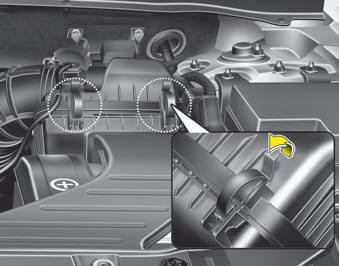 1. Loosen the air cleaner cover attaching clips and open the cover.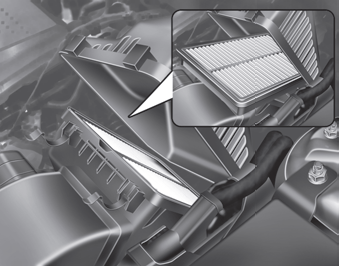 2. Wipe the inside of the air cleaner.
3. Replace the air cleaner filter.
4. Lock the cover with the cover attaching clips.
Replace the filter according to the Maintenance Schedule.
If the vehicle is operated in extremely dusty or sandy areas, replace the element more often than the usual recommended intervals.
CAUTION
• Do not drive with the air cleaner removed; this will result in excessive engine wear.
• When removing the air cleaner filter, be careful that dust or dirt does not enter the air intake, or damage may result.
• Use a KIA genuine part. Use of non-genuine parts could damage the air flow sensor.
See also:
If the engine will not start
If engine doesn't turn over or turns over slowly 1. If your car has an automatic transaxle, be sure the shift lever is in N (Neutral) or P (Park) and the emergency brake is set. 2. Check the bat ...
Under-the-Hood Options
Kia Soul offers an agile, smooth and spirited ride. Its 1.6-liter, four-cylinder engine is mated to a five-speed manual transmission, which produces approximately 120 horsepower. For those looking ...
By the numbers
The Kia Optima is a five-seat mid-size segment passenger car that has an interior that the EPA will probably consider a full size interior. Longer, lower and wider than the vehicle it replaces, it ...