Air cleaner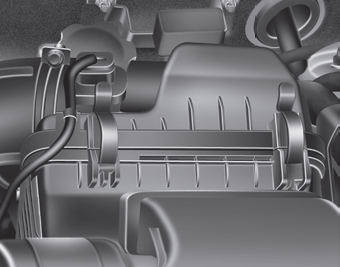 Filter replacement
It must be replaced when necessary, and should not be washed.
You can clean the filter when inspecting the air cleaner element.
Clean the filter by using compressed air.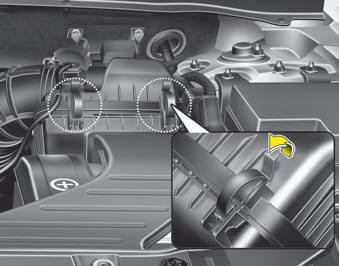 1. Loosen the air cleaner cover attaching clips and open the cover.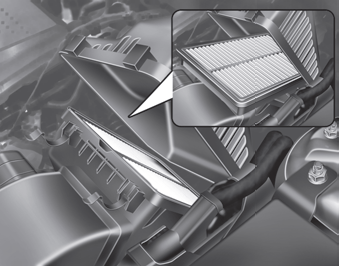 2. Wipe the inside of the air cleaner.
3. Replace the air cleaner filter.
4. Lock the cover with the cover attaching clips.
Replace the filter according to the Maintenance Schedule.
If the vehicle is operated in extremely dusty or sandy areas, replace the element more often than the usual recommended intervals.
CAUTION
• Do not drive with the air cleaner removed; this will result in excessive engine wear.
• When removing the air cleaner filter, be careful that dust or dirt does not enter the air intake, or damage may result.
• Use a KIA genuine part. Use of non-genuine parts could damage the air flow sensor.
See also:
Kia Sorento Review
When the midsize Kia Sorento first appeared, it featured a traditional, trucklike body-on-frame design that provided a level of ruggedness not typically found on crossover SUVs. Blessed with above ...
Air cleaner
Element cleaning This element may be air cleaned or replaced, depending on its condition. Unless it is very dirty, merely shake it to remove foreign particles. Each time this filter is inspecte ...
Improving on a 'best-in-class' NVH performance
In the lead-up to launching the original cee'd, Kia Motors made an unprecedented commitment to improving its all-new C-segment model's refinement and durability. The company was determined that ce ...