Specifications
The specifications given here are for general information only. Please check with an authorized Kia dealer for more precise and more up-to-date information.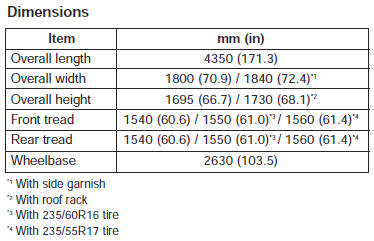 See also:
Appealing to existing and new Kia Sportage customers
New Kia Sportage will be manufactured at Kia's factory at Zilina, in Slovakia and buyers will be offered a choice up to 10 exterior colours and a black interior, trimmed in cloth, part-leather or ...
2010 Kia Soul
Confession time: I'm in the target market for the Kia Soul and the vehicle's engineers thought of something even I didn't know I wanted. FAST FACTS 1. Not the most powerful, or mo ...
Special driving conditions
Hazardous driving conditions When hazardous driving conditions are encountered such as water, snow, ice, mud, sand, or similar hazards, follow these suggestions: • Drive cautiously and allow ex ...