Washer fluid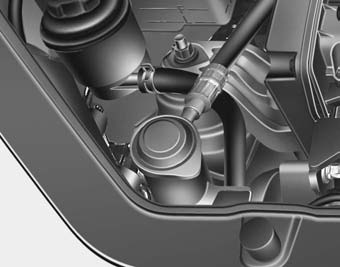 Checking the washer fluid level Check the fluid level in the washer fluid reservoir and add fluid if necessary. Plain water may be used if washer fluid is not available. However, use washer solvent with antifreeze characteristics in cold climates to prevent freezing.
WARNING - Coolant
• Do not use radiator coolant or antifreeze in the washer fluid reservoir.
• Radiator coolant can severely obscure visibility when sprayed on the windshield and may cause loss of vehicle control or damage to paint and body trim.
• Windshield washer fluid agents contain some amounts of alcohol and can be flammable under certain circumstances. Do not allow sparks or flame to contact the washer fluid or the washer fluid reservoir. Damage to the vehicle or occupants could occur.
• Windshield washer fluid is poisonous to humans and animals.
Do not drink and avoid contacting windshield washer fluid. Serious injury or death could occur.
See also:
Keys
The key code number is stamped on the plate attached to the key set. Should you lose your keys, this number will enable an authorized Kia Dealer to duplicate the keys easily. Remove the plate ...
Owner maintenance
Owner maintenance schedule The following lists are vehicle checks and inspections that should be performed by the owner or an authorized Kia dealer at the frequencies indicated to help ensure saf ...
Introduction
Before CR-V and RAV4, there was Sportage. Yep, believe it or not, the Kia Sportage was one of the first small import SUVs sold in the United States. However, being first doesn't always lead to sal ...