Washer fluid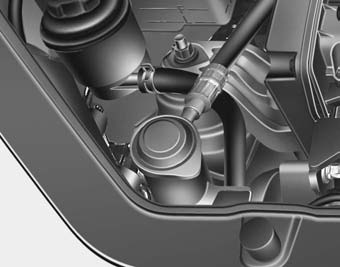 Checking the washer fluid level Check the fluid level in the washer fluid reservoir and add fluid if necessary. Plain water may be used if washer fluid is not available. However, use washer solvent with antifreeze characteristics in cold climates to prevent freezing.
WARNING - Coolant
• Do not use radiator coolant or antifreeze in the washer fluid reservoir.
• Radiator coolant can severely obscure visibility when sprayed on the windshield and may cause loss of vehicle control or damage to paint and body trim.
• Windshield washer fluid agents contain some amounts of alcohol and can be flammable under certain circumstances. Do not allow sparks or flame to contact the washer fluid or the washer fluid reservoir. Damage to the vehicle or occupants could occur.
• Windshield washer fluid is poisonous to humans and animals.
Do not drink and avoid contacting windshield washer fluid. Serious injury or death could occur.
See also:
Driving Impressions
With either V6 under the hood, the 2009 Kia Sorento has plenty of power for both city traffic and swift highway cruising. The suspension provides a pleasant ride and adequate handling on smooth pa ...
Towing
Towing service If emergency towing is necessary, we recommend having it done by an authorized KIA dealer or a commercial towtruck service. Proper lifting and towing procedures are necessary to ...
Windshield defrosting and defogging
Manual climate control system To defog inside windshield 1. Select any fan speed. 2. Select desired temperature. 3. Select the or position. 4. The outside (fresh) air and air conditioning will ...