Washer fluid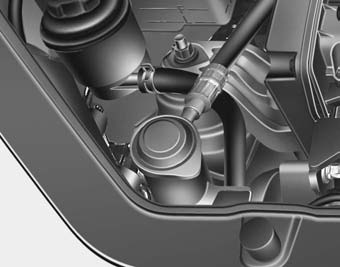 Checking the washer fluid level Check the fluid level in the washer fluid reservoir and add fluid if necessary. Plain water may be used if washer fluid is not available. However, use washer solvent with antifreeze characteristics in cold climates to prevent freezing.
WARNING - Coolant
• Do not use radiator coolant or antifreeze in the washer fluid reservoir.
• Radiator coolant can severely obscure visibility when sprayed on the windshield and may cause loss of vehicle control or damage to paint and body trim.
• Windshield washer fluid agents contain some amounts of alcohol and can be flammable under certain circumstances. Do not allow sparks or flame to contact the washer fluid or the washer fluid reservoir. Damage to the vehicle or occupants could occur.
• Windshield washer fluid is poisonous to humans and animals.
Do not drink and avoid contacting windshield washer fluid. Serious injury or death could occur.
See also:
Starting the engine
CAUTION Always wear appropriate shoes when operating your vehicle. Unsuitable shoes (high heels, ski boots,etc.) may interfere with your ability to use the brake and accelerator pedal, and the ...
THE VERDICT
Kia won't release pricing for the Optima for another few weeks, but we're assured it will come in at under $20,000 to start and we expect it to undercut (slightly) the Sonata, which starts at ...
Automatic transaxle
Automatic transaxle operation The highly efficient automatic transaxle has 5 forward speeds and one reverse speed. The individual speeds are selected automatically, depending on the position of ...