Lubricants and fluids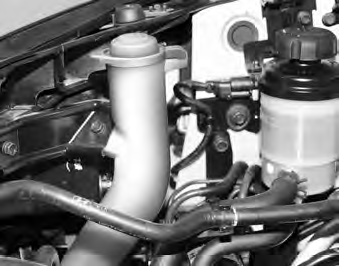 Checking the washer fluid level
The reservoir is translucent so that you can check the level with a quick visual inspection.
Check the fluid level in the washer fluid reservoir and add fluid if necessary.
Plain water may be used if washer fluid is not available.
However, use washer solvent with antifreeze characteristics in cold climates to prevent freezing.
WARNING - Coolant
• Do not use radiator coolant or antifreeze in the washer fluid reservoir.
• Radiator coolant can severely obscure visibility when
sprayed on the windshield and may cause loss of vehicle control or damage to paint and body trim.
• Windshield Washer fluid agents contain some amounts of alcohol and can be flammable under certain circumstances.
Do not allow sparks
or flame to contact the washer fluid or the washer fluid reservoir.
Damage to the vehicle or it's occupants could occur.
• Windshield washer fluid is poisonous to humans and animals.
Do not drink and avoid
contacting windshield washer fluid. Serious injury or death could occur.
Body lubrication
All moving points of the body, such as door hinges, hood hinges, and locks, should be lubricated each time the engine oil is changed. Use a nonfreezing lubricant on locks during cold weather.
Make sure the engine hood secondary latch keeps the hood from opening when the primary latch is released.
See also:
If you have a flat tire
The spare tire, jack, jack handle, front towing hook, wheel lug nut wrench are stored in the luggage compartment. Move the carpeting out of the way to reach this equipment. Removing the spare ...
By the numbers
The Kia Optima is a five-seat mid-size segment passenger car that has an interior that the EPA will probably consider a full size interior. Longer, lower and wider than the vehicle it replaces, it ...
In case of an emergency while driving
If the engine stalls at a crossroad or crossing If the engine stalls at a crossroad or crossing, set the shift lever in the N (Neutral) position and then push the vehicle to a safe place. If you ...