Wipers and washers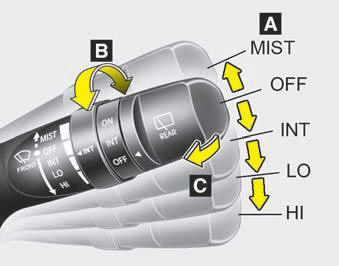 Windshield wiper/washer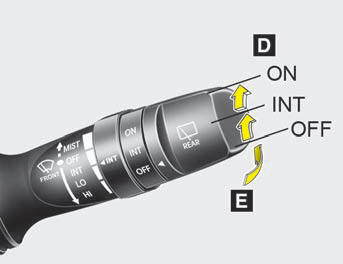 Rear window wiper/washer (if equipped)
A : Wiper speed control · MIST – Single wipe
· OFF – Off
· INT – Intermittent wipe · LO – Low wiper speed
· HI – High wiper speed
B : Intermittent wipe time adjustment C :Wash with brief wipes (front) D : Rear wiper/washer control · ON – Continuous wipe
· INT – Intermittent wipe (if equipped) · OFF – Off
E :Wash with brief wipes (rear)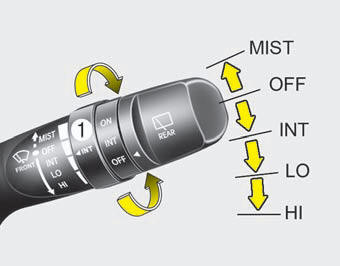 Windshield wipers
Operates as follows when the ignition switch is turned ON.
MIST : For a single wiping cycle, push the lever upward and release it with the lever in the OFF position. The wipers will operate continuously if the lever is pushed upward and held.
OFF : Wiper is not in operation INT : Wiper operates intermittently at the same wiping intervals. Use this mode in light rain or mist. To vary the speed setting, turn the speed control knob (1).
LO : Normal wiper speed
HI : Fast wiper speed
NOTICE
If there is heavy accumulation of snow or ice on the windshield, defrost the windshield for about 10 minutes, or until the snow and/or ice is removed before using the windshield wipers to ensure proper operation.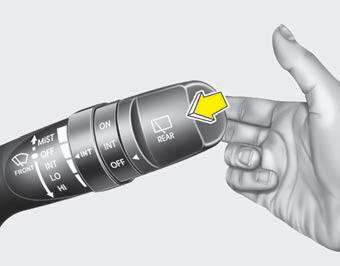 Windshield washers
In the OFF position, pull the lever gently toward you to spray washer fluid on the windshield and to run the wipers 1-3 cycles.
Use this function when the windshield is dirty.
The spray and wiper operation will continue until you release the lever.
If the washer does not work, check the washer fluid level. If the fluid level is not sufficient, you will need to add appropriate non-abrasive windshield washer fluid to the washer reservoir.
The reservoir filler neck is located in the front of the engine compartment on the passenger side.
CAUTION
To prevent possible damage to the washer pump, do not operate the washer when the fluid reservoir is empty.
WARNING
Do not use the washer in freezing temperatures without first warming the windshield with the defrosters; the washer solution could freeze on the windshield and obscure your vision.
CAUTION
• To prevent possible damage to the wipers or windshield, do not operate the wipers when the windshield is dry.
• To prevent damage to the wiper blades, do not use gasoline, kerosene, paint thinner, or other solvents on or near them.
• To prevent damage to the wiper arms and other components, do not attempt to move the wipers manually.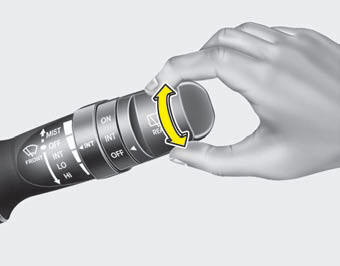 Rear window wiper and washer switch (if equipped)
The rear window wiper switch is located at the end of the wiper and washer switch lever. Turn the switch to the desired position to operate the rear wiper and washer.
ON - Normal wiper operation INT - Intermittent wiper operation (if equipped)
OFF - Wiper is not in operation Push the lever away from you to spray rear washer fluid and to run the rear wipers 1~3 cycles. The spray and wiper operation will continue until you release the lever.
See also:
She's got the look
Featuring one of the more muscular bodies to come from Seoul, the Forte continues with the pace started with the Soul. With a pronounced shoulder line over the fenders and across the hood, that ex ...
Overview
Kia Motors America (KMA) unveiled the 2009 Kia Optima midsize sedan at the New York International Auto Show. On sale in early fall, the refreshed Optima offers a completely modified exterior, whic ...
Bulb wattage
...