Steering wheel
Power steering
Power steering uses energy from the engine to assist you in steering the vehicle.
If the engine is off or if the power steering system becomes inoperative, the vehicle may still be steered, but it will require increased steering effort.
Should you notice any change in the effort required to steer during normal vehicle operation, have the power steering checked by an authorized KIA dealer
CAUTION
Never hold the steering wheel to the extreme right or left for more than 5 seconds with the engine running.
Holding the steering wheel for more than 5 seconds in either position may cause damage to the power steering pump.
NOTICE
If the power steering drive belt breaks or if the power steering pump malfunctions, steering effort will greatly increase.
NOTICE
If the vehicle is parked for extended periods outside in cold weather (below -10В°C/14В°F), the power steering may require increased effort when the engine is first started. This is caused by increased fluid viscosity due to the cold weather and does not indicate a malfunction.
When this happens, increase the engine RPM by depressing the accelerator until the RPM reaches 1,500 rpm then release or let the engine idle for two or three minutes to warm up the fluid.
Tilt steering
Tilt steering allows you to adjust the steering wheel before you drive. You can also raise it to give your legs more room when you exit and enter the vehicle.
The steering wheel should be positioned so that it is comfortable for you to drive, while permitting you to see the instrument panel warning lights and gauges.
WARNING
• Never adjust the angle of the steering wheel while driving. You may lose steering control and cause severe personal injury, death or accidents.
• After adjusting, push the steering wheel both up and down to be certain it is locked in position.
To change the steering wheel angle, pull down the lock-release lever (1), adjust the steering wheel to the desired angle (2) and height (3, if equipped) then pull up the lock-release lever to lock the steering wheel in place. Be sure to adjust the steering wheel to the desired position before driving.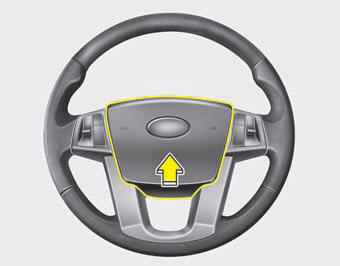 Horn
To sound the horn, press the horn symbol on your steering wheel. Check the horn regularly to be sure it operates properly.
NOTICE
To sound the horn, press the area indicated by the horn symbol on your steering wheel (see illustration). The horn will operate only when this area is pressed.
CAUTION
Do not strike the horn severely to operate it, or hit it with your fist. Do not press on the horn with a sharppointed object.
See also:
Kia Magentis Owners Manual
...
Warranty
The basic after-sale protection that comes with the typical sedan isn't quite as generous as the Kia Rio's. ...
Driving your vehicle
Before driving Key positions Starting the engine Manual Transaxle Automatic transaxle Brake system Cruise control system Economical operation Special driving conditions Winter driving Traile ...