Wipers and washers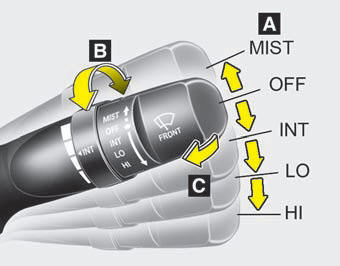 Windshield wiper/washer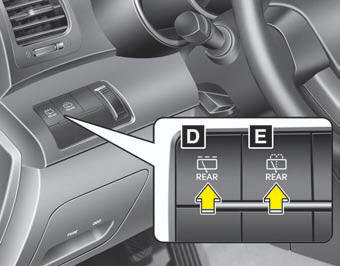 Rear window wiper/washer (if equipped)
A : Wiper speed control · MIST – Single wipe
· OFF – Off
· INT – Intermittent wipe · LO – Low wiper speed
· HI – High wiper speed
B : Intermittent wipe time adjustment C :Wash with brief wipes (front) D : Rear wiper control
· ON – Continuous wipe
· OFF – Off
E :Wash with brief wipes (rear)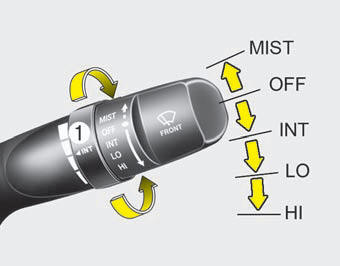 Front windshield wipers Operates as follows when the ignition switch is turned ON.
MIST : For a single wiping cycle, push the lever upward and release it with the lever in the OFF position. The wipers will operate continuously if the lever is pushed upward and held.
OFF : Wiper is not in operation INT : Wiper operates intermittently at the same wiping intervals. Use this mode in light rain or mist. To vary the speed setting, turn the speed control knob (1).
LO : Normal wiper speed
HI : Fast wiper speed
NOTICE
If there is heavy accumulation of snow or ice on the windshield, defrost the windshield for about 10 minutes, or until the snow and/or ice is removed before using the windshield wipers to ensure proper operation.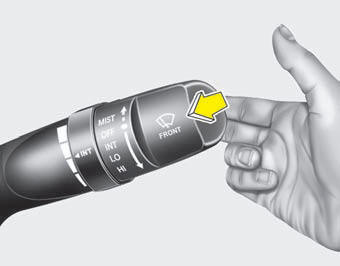 Front windshield washers In the OFF position, pull the lever gently toward you to spray washer fluid on the windshield and to run the wipers 1-3 cycles.
Use this function when the windshield is dirty.
The spray and wiper operation will continue until you release the lever.
If the washer does not work, check the washer fluid level. If the fluid level is not sufficient, you will need to add appropriate non-abrasive windshield washer fluid to the washer reservoir.
The reservoir filler neck is located in the front of the engine compartment on the passenger side.
CAUTION
To prevent possible damage to the washer pump, do not operate the washer when the fluid reservoir is empty.
WARNING
Do not use the washer in freezing temperatures without first warming the windshield with the defrosters; the washer solution could freeze on the windshield and obscure your vision.
CAUTION
• To prevent possible damage to the wipers or windshield, do not operate the wipers when the windshield is dry.
• To prevent damage to the wiper blades, do not use gasoline, kerosene, paint thinner, or other solvents on or near them.
• To prevent damage to the wiper arms and other components, do not attempt to move the wipers manually.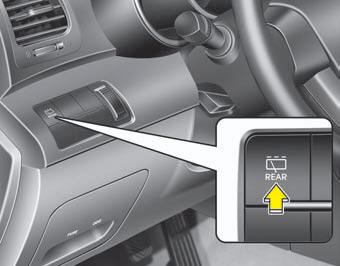 Rear window wiper and washer switch (if equipped)
Press the switch to operate the rear wiper.
Press the switch again to turn off the rear wiper operation.
ON - Normal wiper operation OFF - Wiper is not in operation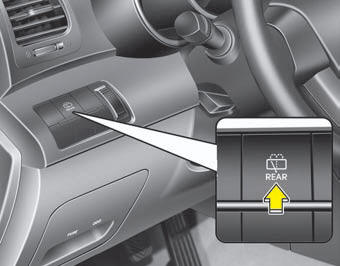 Press the button to spray rear washer fluid and to run the rear wipers.
The spray and wiper operation will continue until you press the button.
See also:
Safety
All 2009 Kia Sorentos, regardless of trim level, feature antilock disc brakes, full-length side curtain airbags, stability control, traction control and driver knee airbags. In government crash te ...
Defroster
The defroster heats the window to remove frost, fog and thin ice from the interior and exterior of the rear window, while engine is running. NOTICE • To prevent damage to the conductors bond ...
Your vehicle at a glance
Interior overview Instrument panel overview ...