Hood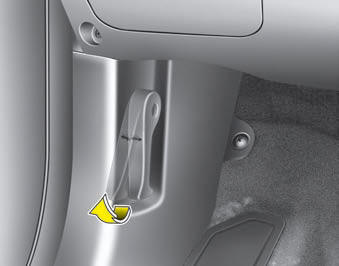 Opening the hood
1. Pull the release lever to unlatch the hood. The hood should pop open slightly.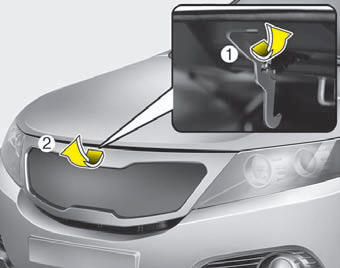 2. Go to the front of the vehicle, raise the hood slightly, pull the secondary latch inside of the hood center and lift the hood.
3.Pull out the support rod from the support rod holder.
4.Place the support rod end in the designated hole on the underside of the hood to hold up the hood.
WARNING - Hot parts
Grasp the support rod in the area wrapped in rubber. The rubber will help prevent you from being burned by hot metal when the engine is hot.
Closing the hood
1. Before closing the hood, check the following: • All filler caps in the engine compartment must be correctly installed.
• Gloves, rags or any other combustible material must be removed from the engine compartment.
2. Return the support rod to its clip to prevent it from rattling.
3. Lower the hood until it is about 30 cm (1 ft.) above the closed position and let it drop. Make sure that it locks into place.
WARNING
• Before closing the hood, ensure that all obstructions are removed from the hood opening. Closing the hood with an obstruction present in the hood opening may result in property damage or severe personal injury.
• Do not leave gloves, rags or any other combustible material in the engine compartment. Doing so may cause a heat-induced fire.
WARNING
• Always double check to be sure that the hood is firmly latched before driving away. If it is not latched, the hood could open while the vehicle is being driven, causing total loss of visibility, which might result in an accident.
• The support rod must be inserted completely into the hole provided whenever you inspect the engine compartment. This will prevent the hood from falling and possibly injuring you.
• Do not move the vehicle with the hood raised. The view will be blocked and the hood could fall or get damaged.
See also:
Electrical circuit protection
Fuses A vehicle's electrical system is protected from electrical overload damage by fuses. This vehicle has two fuse panels, one located in the driver's side panel bolster, the other in the ...
If the engine will not start
If engine doesn't turn over or turns over slowly 1. If your car has an automatic transaxle, be sure the shift lever is in N (Neutral) or P (Park) and the emergency brake is set. 2. Check the bat ...
Wiper blades
Blade inspection NOTICE: Commercial hot waxes applied by automatic car washes have been known to make the windshield difficult to clean. Contamination of either the windshield or the wiper bla ...