Instrument panel overview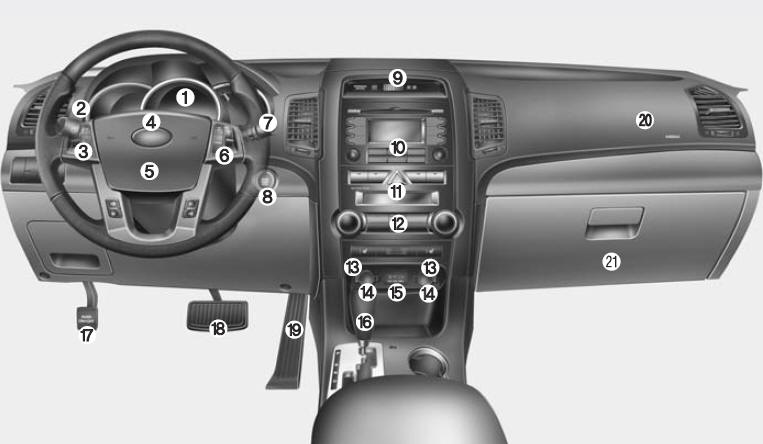 1. Instrument cluster.................................4- 2. Light control / Turn signals ...................4- 3. Steering wheel audio controls* ............4- 4. Horn .....................................................4- 5. Driver's front air bag.............................3- 6. Auto cruise controls* ............................5- 7. Wiper/Washer switch............................4- 8. Ignition switch* or ENGINE START/STOP button*.......5-, 5- 9. Digital clock ..........................................4- 10. Audio*.................................................4- 11. Hazard warning flasher.................4-, 6- 12. Climate control system* ................4-, 4- 13. Seat heater switch* ............................3- 14. Power outlet* ......................................4- 15. AUX, USB and iPod port*...................4- 16. Shift lever ......................................5-, 5- 17. Parking brake pedal*..........................5- 18. Brake pedal ........................................5- 19. Accelerator pedal ...............................5- 20. Passenger's front air bag* ..................3- 21. Glove box ...........................................4- * : if equipped
The actual instrument panel in the vehicle may differ from the illustration
See also:
Yes, One Trim Is Really Called the " !"
Dealers will have four trim levels with which to lure the young and impressionable—Soul, Soul+, Soul ! , and the top-of-the-line Soul Sport. "!" is pronounced "exclaim," although we'd ...
Roomy New Interior
However, the Optima's quiet new interior is more upscale and will accommodate four tall adults, or five in a pinch. Front seats are supportive, and the rear-seat area is impressively roomy—alt ...
Kia Forte SX 5-Door Hatchback - Short Take Road Test
It wasn't so long ago that Kia was selling crummy Sephias and clunky Sportages to the double-coupon set. But the intervening years have proven that Kia and its parent company, Hyundai, are quick ...