Engine oil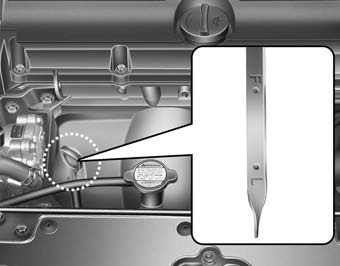 Checking the engine oil level 1. Be sure the vehicle is on level ground.
2. Start the engine and allow it to reach normal operating temperature.
3. Turn the engine off and wait for a few minutes (about 5 minutes) for the oil to return to the oil pan.
4. Pull the dipstick out, wipe it clean, and re-insert it fully.
WARNING - Radiator hose Be very careful not to touch the radiator hose when checking or adding the engine oil as it may be hot enough to burn you.
5. Pull the dipstick out again and check the level. The level should be between F and L.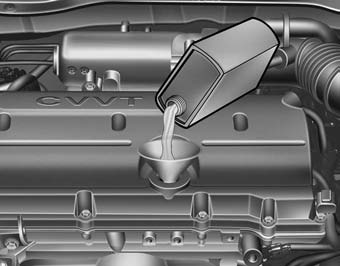 If it is near or at L, add enough oil to bring the level to F. Do not overfill.
Use only the specified engine oil. (Refer to "Recommended Lubricants" later in this section.)
Changing the engine oil and filter Have engine oil and filter changed by an Authorized Kia Dealer according to the Maintenance Schedule at the beginning of this section.
See also:
Fuses
A vehicle's electrical system is protected from electrical overload damage by fuses. This vehicle has 2 fuse panels, one located in the driver's side panel bolster, the another in the engin ...
Acceleration and Power
All Rio and Rio5 models have a 1.6-liter four-cylinder engine that makes 110 horsepower. A five-speed manual transmission is standard on the Rio sedan, and a four-speed automatic is available for ...
Compass
To operate compass feature The vehicle compass is a convenient feature which displays the direction the vehicle is heading. Push the ON/OFF button (➀) on lower part of mirror to display ...