Engine oil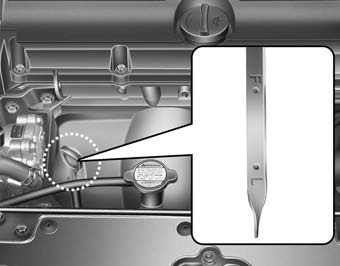 Checking the engine oil level 1. Be sure the vehicle is on level ground.
2. Start the engine and allow it to reach normal operating temperature.
3. Turn the engine off and wait for a few minutes (about 5 minutes) for the oil to return to the oil pan.
4. Pull the dipstick out, wipe it clean, and re-insert it fully.
WARNING - Radiator hose Be very careful not to touch the radiator hose when checking or adding the engine oil as it may be hot enough to burn you.
5. Pull the dipstick out again and check the level. The level should be between F and L.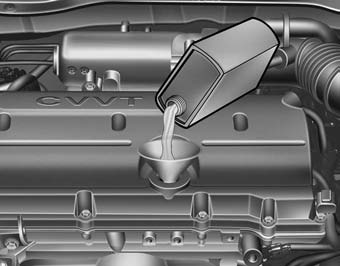 If it is near or at L, add enough oil to bring the level to F. Do not overfill.
Use only the specified engine oil. (Refer to "Recommended Lubricants" later in this section.)
Changing the engine oil and filter Have engine oil and filter changed by an Authorized Kia Dealer according to the Maintenance Schedule at the beginning of this section.
See also:
Cruise control system
The cruise control system allows you to program the vehicle to maintain a constant speed without resting your foot on the accelerator pedal. This system is designed to function above approximatel ...
Overview
Kia introduced the all-new 2010 Kia Forte (pronounced for-tay) compact sedan at the 2009 Chicago Auto Show. Forte blends Kia's exciting new design direction under the tutelage of Peter Schreyer, K ...
Automatic transaxle fluid
Checking the automatic transaxle fluid level The automatic transaxle fluid level should be checked regularly. Keep the vehicle on the level ground with the parking brake applied and check the ...