Manual transaxle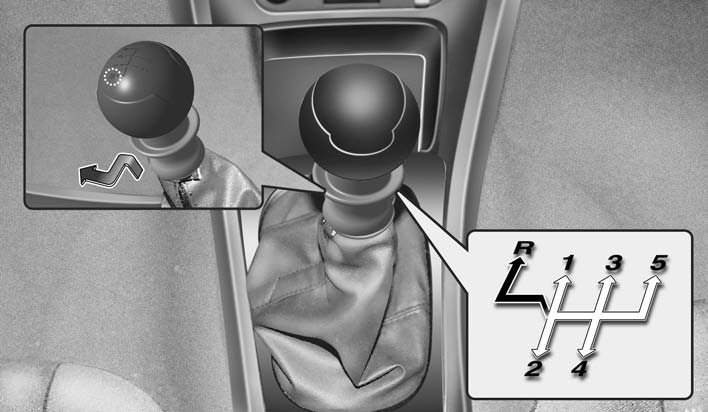 Manual transaxle operation The manual transaxle has five forward gears.
Press the clutch pedal down fully while shifting, then release it slowly.
The gearshift lever must be returned to the neutral position before shifting into R (Reverse). The ring located immediately below the shift knob must be pulled upward while moving the shift lever to the R position.
Make sure the vehicle is completely stopped before shifting into R (Reverse).
Never operate the engine with the tachometer (rpm) in the red zone.
NOTICE
When downshifting from fifth gear to fourth gear, caution should be taken not to inadvertently press the gear shift lever sideways in such a manner that second gear is engaged. Such a drastic downshift may cause the engine speed to increase to the point that the tachometer will enter the red-zone. Such overrevving of the engine may possibly cause engine damage.
NOTICE
To avoid premature clutch wear and damage, do not drive with your foot resting on the clutch pedal. Also, don't use the clutch to hold the vehicle stopped on an uphill grade, while waiting for a traffic light, etc..
WARNING - Manual
transaxle
Before leaving the driver's seat, always set the parking brake fully and shut the engine off. Then make sure the transaxle is shifted into 1st gear when the vehicle is parked on a level or uphill grade, and shifted into R (Reverse) on a downhill grade. Unexpected and sudden vehicle movement can occur if these precautions are not followed in the order identified.
Downshifting
When you must slow down in heavy traffic or while driving up steep hills, downshift before the engine starts to labor.
Downshifting reduces the chance of stalling and gives better acceleration when you again need to increase your speed. When the vehicle is traveling down steep hills, downshifting helps maintain safe speed and prolongs brake life.
See also:
Steering wheel
Power steering Power Steering uses energy from the engine to assist you in steering the vehicle. If the engine is off or if the power steering system becomes inoperative, the vehicle may still be ...
Tire pressure monitoring system (TPMS)
(1) TPMS malfunction indicator (2) Low tire pressure telltale Each tire, including the spare (if provided), should be checked monthly when cold and inflated to the inflation pressure recommende ...
Interior overview
1. Door lock/unlock button 2. Power window switches 3. Outside rearview mirror control switch (if equipped) 4. Hood release lever 5. Instrument panel illumination (if equipped) 6. Electronic st ...