Interior overview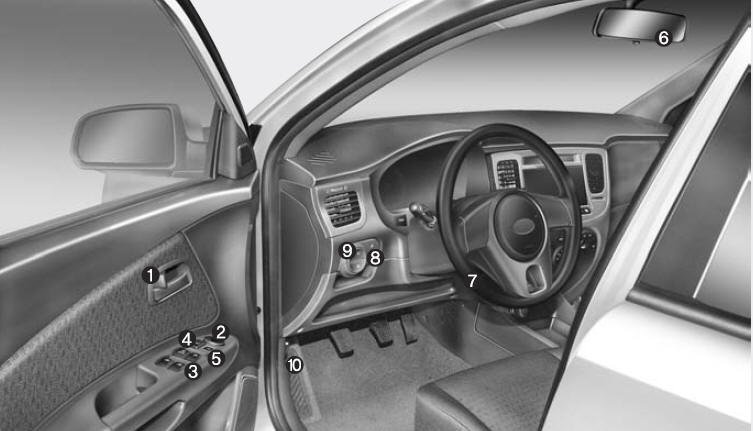 1. Door lock/unlock button.....................3-10 2. Outside rearview mirror control switch*...............................................3-71 3. Power window switches* ...................3-14 4. Master power door lock control* .......3- 9 5. Master power window control lock*...3-16 6. Inside rearview mirror .......................3-72 7. Steering wheel ..................................4-18 8. Instrument panel illumination* ..........4-25 9. Front fog light*...................................4-34 10. Hood release lever .........................3-66 11. Trunk release lever* ........................3-65 12. Fuel filler lid release lever*..............3-67 * : if equipped
See also:
Automatic climate control system
Front climate control 3rd row air conditioning control (if equipped) 1. A/C display 2. Driver's temperature control knob 3. AUTO (automatic control) button 4. Front blower OFF button 5. Fron ...
Fuel requirements
unleaded fuel having a pump octane number ((R+M)/2) of 87 (Research Octane Number 91) or higher. Your new vehicle is designed to obtain maximum performance with UNLEADED FUEL, as well as minimize ...
She's got the look
Featuring one of the more muscular bodies to come from Seoul, the Forte continues with the pace started with the Soul. With a pronounced shoulder line over the fenders and across the hood, that ex ...