Interior overview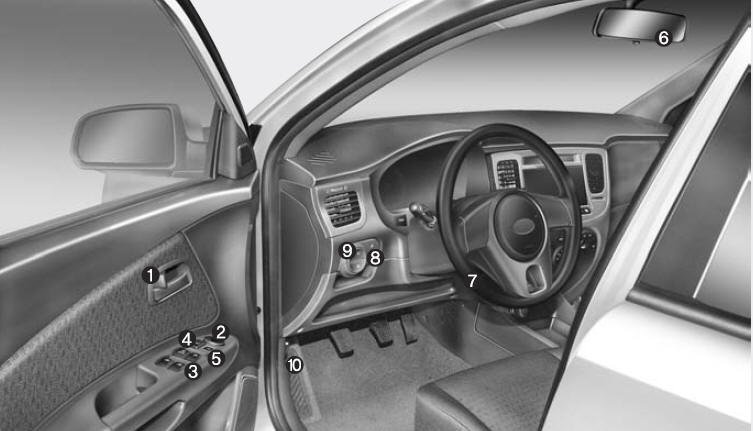 1. Door lock/unlock button.....................3-10 2. Outside rearview mirror control switch*...............................................3-71 3. Power window switches* ...................3-14 4. Master power door lock control* .......3- 9 5. Master power window control lock*...3-16 6. Inside rearview mirror .......................3-72 7. Steering wheel ..................................4-18 8. Instrument panel illumination* ..........4-25 9. Front fog light*...................................4-34 10. Hood release lever .........................3-66 11. Trunk release lever* ........................3-65 12. Fuel filler lid release lever*..............3-67 * : if equipped
See also:
Petrol engines blend power with economy
Now fitted with upgraded electronics and low-friction components, Kia's revised 2.0-litre 'Theta II' petrol engine delivers more power, improved durability, enhanced refinement and reduced fuel co ...
Top-quality trim and equipment with high-tech features
Kia is confident that when current Kia Sportage owners and new customers to the brand visit dealer showrooms to view the all-new Kia Sportage, they will be mightily impressed by the newcomer. Its ...
Steering wheel
Power steering Power steering uses energy from the engine to assist you in steering the vehicle. If the engine is off or if the power steering system becomes inoperative, the vehicle may still be ...