Luggage net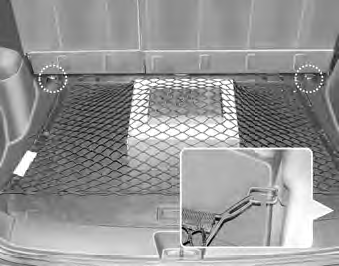 To keep items from shifting in the cargo area, you can use the four rings located in the cargo area to attach the luggage net.
NOTICE
Do not put fragile, bulky or an excessive quantity of items into luggage net. They could be damaged.
CAUTION
To avoid eye injury, DO NOT overstretch the netting, allowing it to possibly snap back into your face.
DO NOT use the luggage net when the strap has visible signs of wear or damage.
See also:
Handling
With its tighter turning circle, the Kia Rio is most certainly more maneuverable than the average sedan, something to consider if you do a lot of city driving; however, remember that a vehicle wit ...
Maintenance schedule
Chart symbols: I- Inspect these items and their related parts. If necessary, correct, clean, refill, adjust or replace. R- Replace or change L- Lubricate. (1) Refer to the lubricant and co ...
Economical operation
Your vehicle's fuel economy depends mainly on your style of driving, where you drive and when you drive. Each of these factors affects how many miles (kilometers) you can get from a gallon (liter ...