Climate control air filter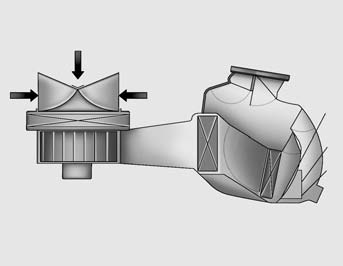 The climate control air filter installed behind the glove box filters the dust or other pollutants that come into the vehicle from the outside through the heating and air conditioning system. If dust or other pollutants accumulate in the filter over a period of time, the air flow from the air vents may decrease, resulting in moisture accumulation on the inside of the windshield even when the outside (fresh) are position is selected. If this happens, have the climate control air filter replaced by an authorized Kia dealer.
The climate control air filter should be replaced every 15,000 km (10,000 miles). If the vehicle is operated in the severely air-polluted cities or on dusty rough roads for a long period, it should be inspected more frequently and replaced earlier. When you try to replace the climate control air filter by owner maintenance, replace it performing the following procedure, and in this case, be careful to avoid damaging other components.
See also:
First Drive: 2011 Kia Optima
Rivalries are a fact of life. When they are in the family, they can be troublesome. On the other hand, they can help to raise the level of game for both family members. That's the case Kia find ...
Smart key
With a smart key, you can lock or unlock a door (and tailgate) and even start the engine without inserting the key. The functions of the buttons on a smart key are similar to the remote keyless ...
Overheating
If your temperature gauge indicates overheating, if you experience a loss of power, or if you hear a loud knocking or pinging noise, the engine has probably overheated. Should any of these sympto ...