Engine oil and oil filter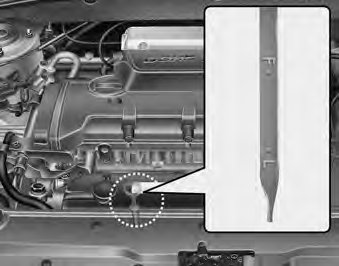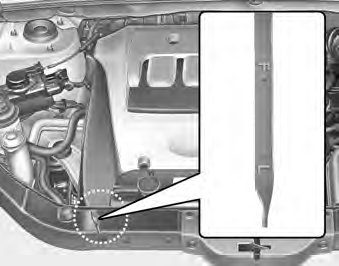 Checking the engine oil level 1. Be sure the vehicle is on level ground.
2. Start the engine and allow it to reach normal operating temperature.
3. Turn the engine off and wait for a few minutes (about 5 minutes) for the oil to return to the oil pan.
4. Pull the dipstick out, wipe it clean, and re-insert it fully.
WARNING - Radiator
hose
Be very careful not to touch the radiator hose when checking or adding the engine oil as it may be hot enough to burn you.
5. Pull the dipstick out again and check the level. The level should be between F and L.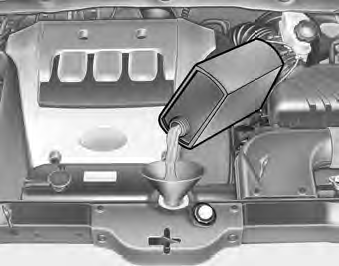 If it is near or at L, add enough oil to bring the level to F. Do not overfill.
For 2.7L gasoline engine, use a funnel to refill the new oil comfortably.
Use only the specified engine oil.
(Refer to "Recommended lubricants or capacities" in section 8.) Changing the engine oil and filter
Have engine oil and filter changed by an Authorized Kia Dealer according to the Maintenance Schedule at the beginning of this section.
See also:
Introduction
Long ago, sport-utility vehicles replaced the station wagon as the quintessential family hauler. In the beginning, truck-based, body-on-frame SUVs were all there was. But car shoppers' desire for ...
Driving
The Kia is available with 2.0-litre or 2.7-litre V6 petrol engines, but we prefer the 2.0-litre turbodiesel. There's a fair amount of diesel clatter at idle, but once on the move it delivers power ...
Driving Impressions
The 2006 Kia Sportage provides a carlike ride while returning relatively sporty handling on par with that of most peers. Should you push too hard through a corner, the standard stability and tract ...