Maintenance schedule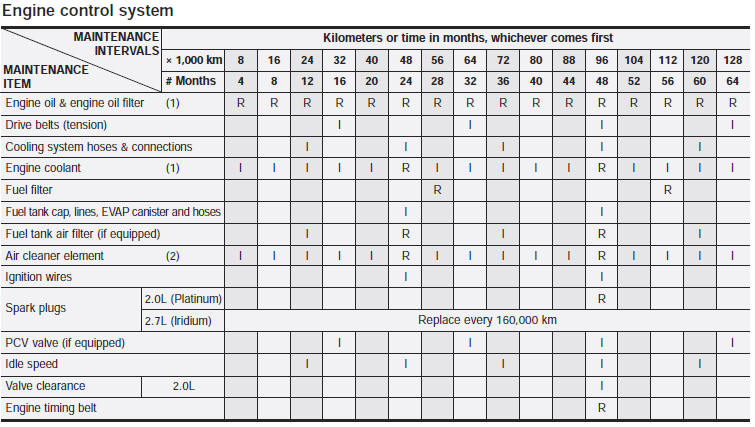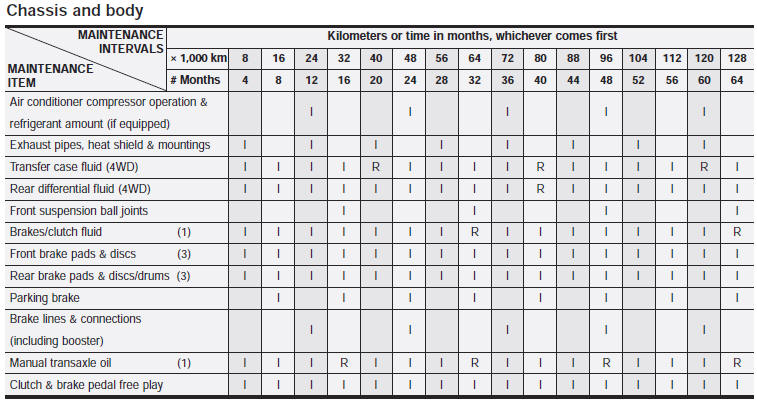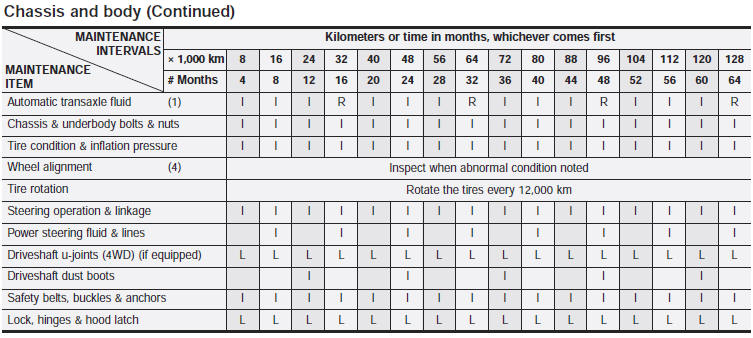 Chart symbols:
I- Inspect these items and their related parts. If necessary, correct, clean, refill, adjust of replace.
R- Replace or change
L- Lubricate.
(1) Refer to the lubricant and coolant specifications in the Owner's Manual.
(2) More frequent maintenance is required if driving under dusty conditions.
(3) More frequent maintenance is required if the vehicle is operated under any of the following conditions: a. Short-distance driving.
b. Driving on dusty roads.
c. Extensive idling or slow-speed driving in stop-and-go traffic.
(4) If necessary, rotate and balance the wheels.
* Note: Check the engine oil and coolant levels every week.
See also:
Kia Forte SX 5-Door Hatchback - Short Take Road Test
It wasn't so long ago that Kia was selling crummy Sephias and clunky Sportages to the double-coupon set. But the intervening years have proven that Kia and its parent company, Hyundai, are quick ...
Fuel requirements
Gasoline engine (unleaded) Your new Kia vehicle is designed to use only unleaded fuel with a minimum Octane Rating of 87 Anti- Knock Index (AKI). NOTICE NEVER USE LEADED FUEL. The use of leaded ...
Driving your vehicle
Ignition switch Starting the engine3 Manual transaxle Automatic transaxle Brake system Cruise control system Steering wheel Instrument cluster Gauges Warnings and indicators Lighting Wipers ...