Manual transaxle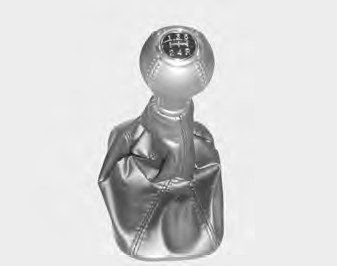 Manual transaxle operation The manual transaxle has five forward gears.
Press the clutch pedal down fully while shifting, then release it slowly.
A special safety feature prevents inadvertent shifting from 5 (Fifth) to R (Reverse). The gearshift lever must be returned to the neutral position before shifting into R (Reverse).
Make sure the vehicle is completely stopped before shifting into R (Reverse).
Never operate the engine with the tachometer (rpm) in the red zone.
NOTICE
To avoid premature clutch wear and damage, do not drive with your foot resting on the clutch pedal. Also, don't use the clutch to hold the vehicle stopped on an upgrade, while waiting for a traffic light, etc.
WARNING - Manual
transaxle
Before leaving the driver's seat, always set the parking brake fully and shut the engine off.
Then make sure the transaxle is shifted into 1st gear when the vehicle is parked on a level or uphill grade, and shifted into R (Reverse) on a downhill grade.
Unexpected and sudden vehicle movement can occur if these precautions are not followed in the order identified.
Downshifting
When you must slow down in heavy traffic or while driving up steep hills, downshift before the engine starts to labor. Downshifting reduces the chance of stalling and gives better acceleration when you again need to increase your speed. When the vehicle is traveling down steep hills, downshifting helps maintain safe speed and prolongs brake life.
See also:
Overview
Created especially for European consumers, the original Kia cee'd marked a major turning point in Kia's history. It was the start of a new era, the first-ever Kia designed and produced in Europe. ...
Introduction
Let's be clear right up front: The 2010 Kia Sportage is a good little crossover SUV. The only problem is that the hyper-competitive compact crossover segment is one of those places where being goo ...
Parking brake
Checking the parking brake Check the stroke of the parking brake by counting the number of "clicks'' heard while fully applying it from the released position. Also, the parking brake alone ...