Manual transaxle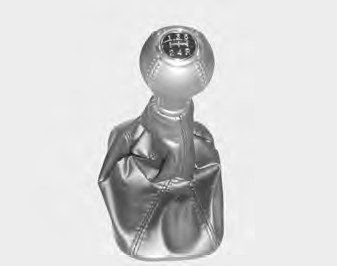 Manual transaxle operation The manual transaxle has five forward gears.
Press the clutch pedal down fully while shifting, then release it slowly.
A special safety feature prevents inadvertent shifting from 5 (Fifth) to R (Reverse). The gearshift lever must be returned to the neutral position before shifting into R (Reverse).
Make sure the vehicle is completely stopped before shifting into R (Reverse).
Never operate the engine with the tachometer (rpm) in the red zone.
NOTICE
To avoid premature clutch wear and damage, do not drive with your foot resting on the clutch pedal. Also, don't use the clutch to hold the vehicle stopped on an upgrade, while waiting for a traffic light, etc.
WARNING - Manual
transaxle
Before leaving the driver's seat, always set the parking brake fully and shut the engine off.
Then make sure the transaxle is shifted into 1st gear when the vehicle is parked on a level or uphill grade, and shifted into R (Reverse) on a downhill grade.
Unexpected and sudden vehicle movement can occur if these precautions are not followed in the order identified.
Downshifting
When you must slow down in heavy traffic or while driving up steep hills, downshift before the engine starts to labor. Downshifting reduces the chance of stalling and gives better acceleration when you again need to increase your speed. When the vehicle is traveling down steep hills, downshifting helps maintain safe speed and prolongs brake life.
See also:
Customer choice of advanced drivetrains with 2WD and AWD
Depending on individual markets, consumers ordering a new Kia Sportage will be able to select from five models with 2WD and four with AWD - employing advanced drivetrain systems similar to those i ...
Interior lights
Map light (if equipped) Type A The lights are turned ON or OFF by pressing the corresponding switch. Type B (1) Map light : The lights are turned ON or OFF by pressing the corresponding swi ...
Luggage net
To keep items from shifting in the cargo area, you can use the four rings located in the cargo area to attach the luggage net. NOTICE Do not put fragile, bulky or an excessive quantity of item ...