Luggage net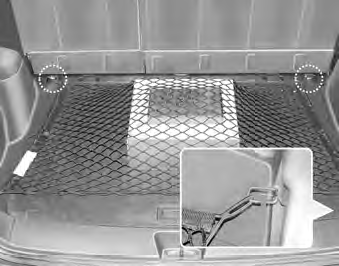 To keep items from shifting in the cargo area, you can use the four rings located in the cargo area to attach the luggage net.
NOTICE
Do not put fragile, bulky or an excessive quantity of items into luggage net. They could be damaged.
CAUTION
To avoid eye injury, DO NOT overstretch the netting, allowing it to possibly snap back into your face.
DO NOT use the luggage net when the strap has visible signs of wear or damage.
See also:
Automatic transaxle
Automatic transaxle operation The highly efficient automatic transaxle has 5 forward speeds and one reverse speed. The individual speeds are selected automatically, depending on the position of ...
Interior features
Cigarette lighter For the cigarette lighter to work, the ignition switch must be in the ACC position or the ON position. To open the cover, press the cover and it will slowly open. To use the ...
Yes, One Trim Is Really Called the " !"
Dealers will have four trim levels with which to lure the young and impressionable—Soul, Soul+, Soul ! , and the top-of-the-line Soul Sport. "!" is pronounced "exclaim," although we'd ...