Luggage net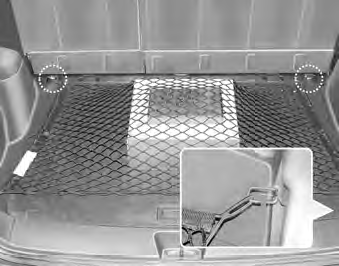 To keep items from shifting in the cargo area, you can use the four rings located in the cargo area to attach the luggage net.
NOTICE
Do not put fragile, bulky or an excessive quantity of items into luggage net. They could be damaged.
CAUTION
To avoid eye injury, DO NOT overstretch the netting, allowing it to possibly snap back into your face.
DO NOT use the luggage net when the strap has visible signs of wear or damage.
See also:
'Premium presence' for compact new car
With new Rio, Kia has created a car that answers consumer demand for more quality, more choice, and attractive, exciting design. This new car is no evolution of its predecessor, it is a revolution ...
Kia baring its Soul before youthful carbuyers
When piloting the 2010 Chevy Camaro sport coupe through the Detroit 'burbs, jaws dropped, eyes popped and one loyalist was so moved he broke into a gallop to try to catch up with it for a closer loo ...
DRIVER-ORIENTED INTERIOR DESIGN
With the 2011 Optima, Kia has made big strides forward in the use of cabin materials, while interior layout and design are also strong points. Much like how the exterior conveys a dramatic message ...