Hood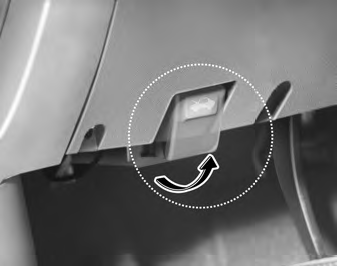 Opening the hood:
1. Pull the release lever on the lower left side of the instrument panel to unlatch the hood. The hood should pop open slightly.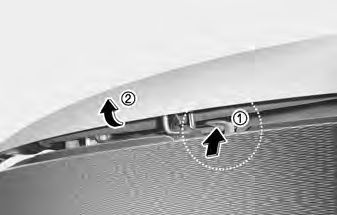 2. Go to the front of the vehicle, raise the hood slightly, pull the secondary latch (➀) inside of the hood center and lift (➁) the hood.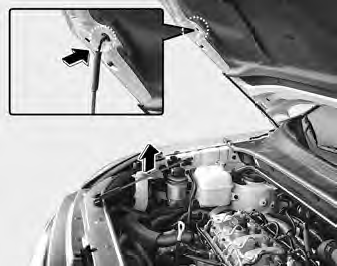 3. Lift the hood and hold it open with the support rod by inserting the free end of the rod into the slot (➀).
CAUTION - Hot parts
Grasp the support rod in the area wrapped in rubber.The rubber will help prevent you from being burned by hot metal when the engine is hot.
Closing the hood
1. Before closing the hood, check the following:
• All filler caps in engine compartment must be correctly installed.
• Gloves, rags or any other combustible material must be
removed from the engine compartment.
2. Secure the support rod in its clip.
3. Lower the hood to about 30 cm (12 inches) height and then let it drop to properly lock in place.
Make sure the hood is properly locked before driving.
CAUTION - Hood
• Before closing the hood, make sure that all engine parts and tools have been removed from the engine area and that no one's hands are near the hood opening.
• Do not leave gloves, rags or any other combustible material in the engine compartment.
Doing so may cause a heatinduced fire.
See also:
Audio system
Antenna Roof type antenna If your vehicle has an audio system, an amplifying antenna is installed in your vehicle. This antenna can be removed from the vehicle when you wash your vehicle. NO ...
Luggage center box
The luggage center box is located under the floor in cargo area.You can place a first aid kit, a reflector triangle, tools, etc. in the box for easy access. 1. Grasp the handle on the edge of ...
2006 Kia Optima
Far more buyers of reasonably priced economy-oriented cars are likely to notice the much-improved revamped 2006 Kia Optima midsize sedan. The new Optima has slicker styling, more power and added s ...