Hood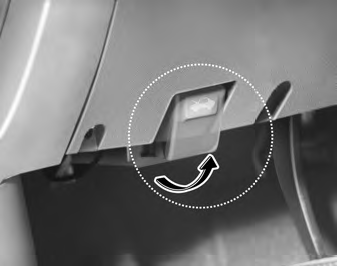 Opening the hood:
1. Pull the release lever on the lower left side of the instrument panel to unlatch the hood. The hood should pop open slightly.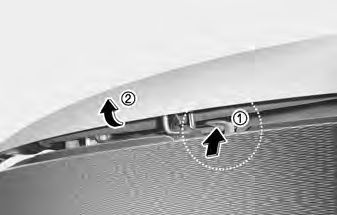 2. Go to the front of the vehicle, raise the hood slightly, pull the secondary latch (➀) inside of the hood center and lift (➁) the hood.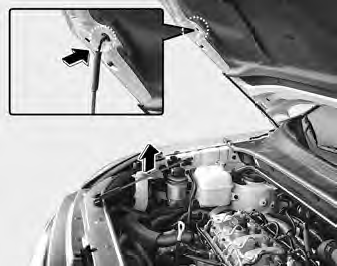 3. Lift the hood and hold it open with the support rod by inserting the free end of the rod into the slot (➀).
CAUTION - Hot parts
Grasp the support rod in the area wrapped in rubber.The rubber will help prevent you from being burned by hot metal when the engine is hot.
Closing the hood
1. Before closing the hood, check the following:
• All filler caps in engine compartment must be correctly installed.
• Gloves, rags or any other combustible material must be
removed from the engine compartment.
2. Secure the support rod in its clip.
3. Lower the hood to about 30 cm (12 inches) height and then let it drop to properly lock in place.
Make sure the hood is properly locked before driving.
CAUTION - Hood
• Before closing the hood, make sure that all engine parts and tools have been removed from the engine area and that no one's hands are near the hood opening.
• Do not leave gloves, rags or any other combustible material in the engine compartment.
Doing so may cause a heatinduced fire.
See also:
Engine coolant
The high-pressure cooling system has a reservoir filled with year round antifreeze coolant. The reservoir is filled at the factory. Check the antifreeze protection and coolant level at least once ...
Fuel requirements
unleaded fuel having a pump octane number ((R+M)/2) of 87 (Research Octane Number 91) or higher. Your new vehicle is designed to obtain maximum performance with UNLEADED FUEL, as well as minimize ...
Body Styles, Trim Levels, and Options
The 2010 Kia Sportage is a compact crossover SUV that's offered in LX and EX trim levels. Both are offered with a choice of front- or all-wheel drive. The entry-level LX comes with 16-inch alloy w ...