Parking brake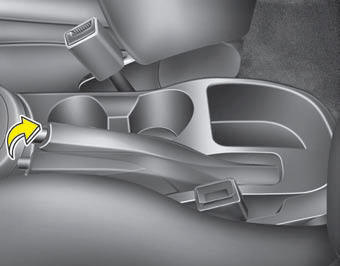 Checking the parking brake Check the stroke of the parking brake by counting the number of "clicks'' heard while fully applying it from the released position. Also, the parking brake alone should securely hold the vehicle on a fairly steep grade. If the stroke is more or less than specified, have the parking brake adjusted by an authorized KIA dealer.
Stroke : 5~7 "clicks'' at a force of 20 kg (44 lbs, 196 N).
See also:
Fuel filler lid
Opening the fuel filler lid The fuel filler lid must be opened from inside the vehicle by pushing the fuel filler lid opener button located on the driver's door. NOTICE: If the fuel filler l ...
Air cleaner
Element replacement Have the air cleaner element checked and replaced in accordance with the maintenance schedule. NOTICE Do not drive with the air cleaner removed; this will result in excessi ...
Smart key
Smart key With a smart key, you can lock or unlock a door (and trunk) and even start the engine without inserting the key. The functions of buttons on a smart key are similar to the remote keyl ...