Parking brake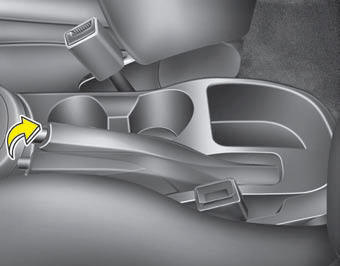 Checking the parking brake Check the stroke of the parking brake by counting the number of "clicks'' heard while fully applying it from the released position. Also, the parking brake alone should securely hold the vehicle on a fairly steep grade. If the stroke is more or less than specified, have the parking brake adjusted by an authorized KIA dealer.
Stroke : 5~7 "clicks'' at a force of 20 kg (44 lbs, 196 N).
See also:
Cruise control system
The cruise control system allows you to program the vehicle to maintain a constant speed without resting your foot on the accelerator pedal. This system is designed to function above approximatel ...
2010 Kia Soul deserves to be breakout hit for brand
Greeting the Kia Soul with low expectations didn't make sense. Perhaps the details of the funkwagon's story seemed overly familiar at first blush – Kia wants, nay, needs to be more than just the ...
Fuses
A vehicle's electrical system is protected from electrical overload damage by fuses. This vehicle has 2 fuse panels, one located in the driver's side panel bolster, the other in the engine ...