Engine oil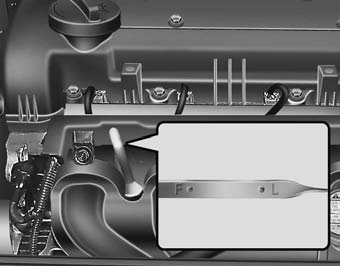 Checking the engine oil level 1. Be sure the vehicle is on level ground.
2. Start the engine and allow it to reach normal operating temperature.
3. Turn the engine off and wait for a few minutes (about 5 minutes) for the oil to return to the oil pan.
4. Pull the dipstick out, wipe it clean, and re-insert it fully.
WARNING - Radiator hose Be very careful not to touch the radiator hose when checking or adding the engine oil as it may be hot enough to burn you.
5. Pull the dipstick out again and check the level. The level should be between F and L.
CAUTION
Do not overfill the engine oil. It may damage the engine.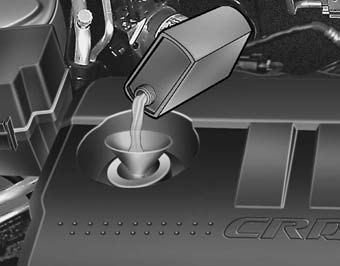 If it is near or at L, add enough oil to bring the level to F. Do not overfill.
Use a funnel to help prevent oil from being spilled on engine components.
Use only the specified engine oil. (Refer to "Recommended lubricants and capacities" in section 8.)
Changing the engine oil and filter Have engine oil and filter changed by an authorized KIA dealer according to the Maintenance Schedule at the beginning of this section.
WARNING
Used engine oil may cause skin irritation or cancer if left in contact with the skin for prolonged periods of time. Used engine oil contains chemicals that have caused cancer in laboratory animals. Always protect your skin by washing your hands thoroughly with soap and warm water as soon as possible after handling used oil.
See also:
Overview
Kia Motors America (KMA) announced the North American debut of the all-new Kia Soul passenger vehicle at the 2008 Los Angeles Auto Show. Designed in Southern California, the Kia Soul is the newest ...
Engine compartment
Gasoline Engine (2.4L) 1. Engine coolant reservoir 2. Engine oil filler cap 3. Brake fluid reservoir 4. Air cleaner 5. Fuse box 6. Negative battery terminal 7. Positive battery terminal 8. A ...
Leftlane's bottom line
Like their Hyundai partners, Kia has the competition looking over their shoulders with good products at great prices. Add in the hefty Kia warranty and you have a great combination…just stick wi ...