Maintenance schedule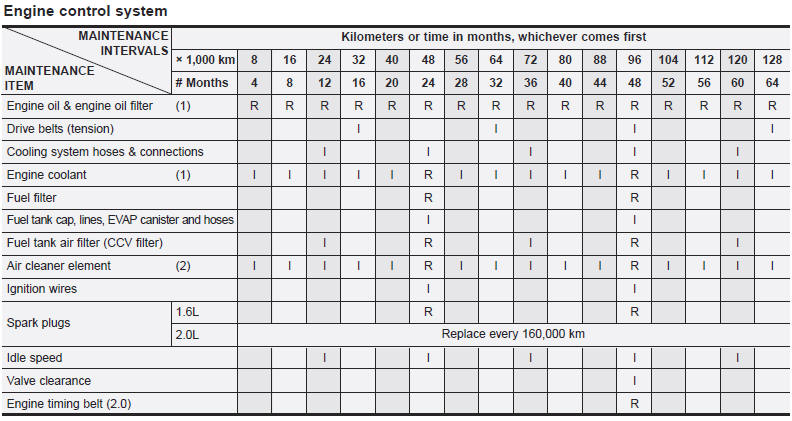 Chart symbols:
I- Inspect these items and their related parts. If necessary, correct, clean, refill, adjust or replace.
R- Replace or change
L- Lubricate.
(1) Refer to the lubricant and coolant specifications in the Owner's Manual.
(2) More frequent maintenance is required if driving under dusty conditions.
(3) More frequent maintenance is required if the vehicle is operated under any of the following conditions: a. Short-distance driving.
b. Driving on dusty roads.
c. Extensive idling or slow-speed driving in stop-and-go traffic.
(4) If necessary, rotate and balance the wheels.
* Note: Check the engine oil and coolant levels every week.
See also:
Engine oil
Checking the engine oil level 1. Be sure the vehicle is on level ground. 2. Start the engine and allow it to reach normal operating temperature. 3. Turn the engine off and wait for a few minute ...
Customer choice of advanced drivetrains with 2WD and AWD
Depending on individual markets, consumers ordering a new Kia Sportage will be able to select from five models with 2WD and four with AWD - employing advanced drivetrain systems similar to those i ...
Hazard warning flasher
The hazard warning flasher causes the rear tail lights and front turn signal lights to flash on and off, which serves as a warning to other drivers to exercise caution when approaching or passin ...