Maintenance schedule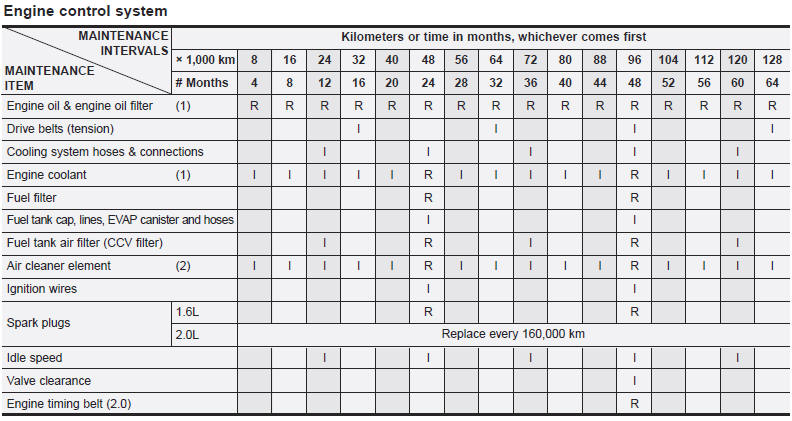 Chart symbols:
I- Inspect these items and their related parts. If necessary, correct, clean, refill, adjust or replace.
R- Replace or change
L- Lubricate.
(1) Refer to the lubricant and coolant specifications in the Owner's Manual.
(2) More frequent maintenance is required if driving under dusty conditions.
(3) More frequent maintenance is required if the vehicle is operated under any of the following conditions: a. Short-distance driving.
b. Driving on dusty roads.
c. Extensive idling or slow-speed driving in stop-and-go traffic.
(4) If necessary, rotate and balance the wheels.
* Note: Check the engine oil and coolant levels every week.
See also:
Dimensions
...
Overview
With a new bodyshell, new engines and fresh, bold styling that introduces a new kind of dynamic aesthetics, the latest Kia Sportage is an urban-friendly compact SUV for today's families - consumin ...
Review
Designed from the ground up to be a real truck and not some hopped-up, car-based mini-SUV, the Sportage sports tough ladder-frame construction, shift-on-the-fly four-wheel drive, and a Mazda-based ...