Maintenance schedule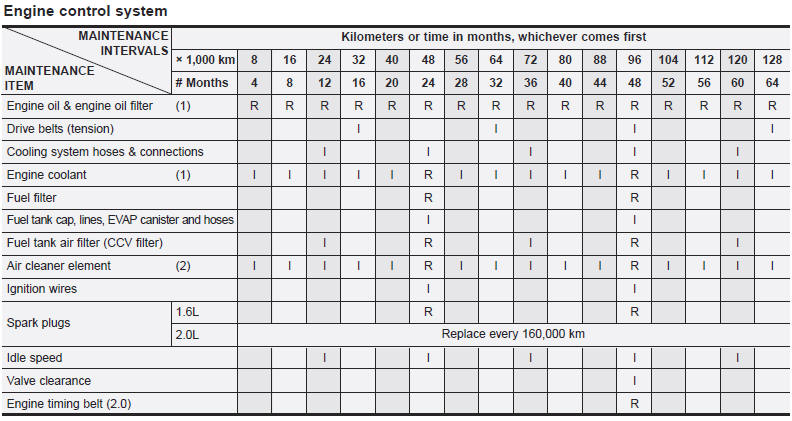 Chart symbols:
I- Inspect these items and their related parts. If necessary, correct, clean, refill, adjust or replace.
R- Replace or change
L- Lubricate.
(1) Refer to the lubricant and coolant specifications in the Owner's Manual.
(2) More frequent maintenance is required if driving under dusty conditions.
(3) More frequent maintenance is required if the vehicle is operated under any of the following conditions: a. Short-distance driving.
b. Driving on dusty roads.
c. Extensive idling or slow-speed driving in stop-and-go traffic.
(4) If necessary, rotate and balance the wheels.
* Note: Check the engine oil and coolant levels every week.
See also:
Battery
For best battery service • Keep the battery securely mounted. • Keep the battery top clean and dry. • Keep the terminals and connections clean, tight, and coated with petroleum jelly or t ...
Towing
If emergency towing is necessary, we recommend having it done by an authorized Kia dealer or a commercial tow-truck service. Proper lifting and towing procedures are necessary to prevent damage ...
Introduction
The name Sportage doesn't really conjure up warm memories. Many folks remember the Sportage of yesterday, a crude cute-ute that was plagued with quality issues, a weak engine and a cheap interior. ...