Maintenance schedule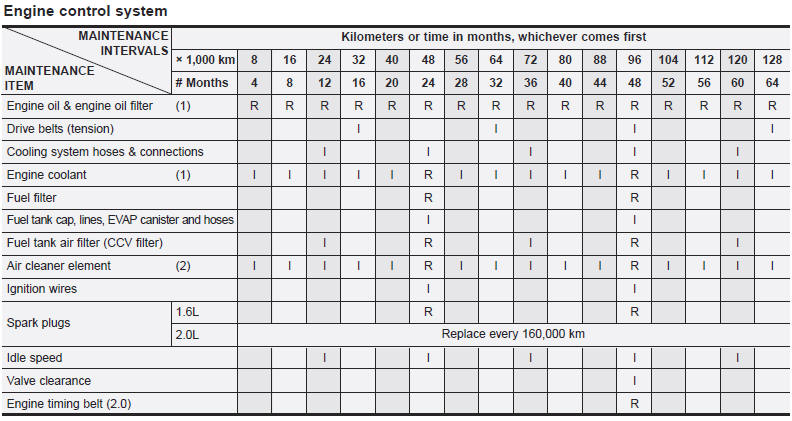 Chart symbols:
I- Inspect these items and their related parts. If necessary, correct, clean, refill, adjust or replace.
R- Replace or change
L- Lubricate.
(1) Refer to the lubricant and coolant specifications in the Owner's Manual.
(2) More frequent maintenance is required if driving under dusty conditions.
(3) More frequent maintenance is required if the vehicle is operated under any of the following conditions: a. Short-distance driving.
b. Driving on dusty roads.
c. Extensive idling or slow-speed driving in stop-and-go traffic.
(4) If necessary, rotate and balance the wheels.
* Note: Check the engine oil and coolant levels every week.
See also:
Interior light
CAUTION: Do not use the interior lights for extended periods when the engine is not running. It may cause battery discharge. Map lamp • : Push the switch to turn the map lamp on or off. Th ...
2006 Kia Optima
Far more buyers of reasonably priced economy-oriented cars are likely to notice the much-improved revamped 2006 Kia Optima midsize sedan. The new Optima has slicker styling, more power and added s ...
Price Ranges
The base Optima LX is priced at $16,355 with a 4-cylinder engine and 5-speed manual transmission and an extra $1,295 with a 5-speed automatic. An LX V6 costs $19,345 and comes only with the automa ...