Maintenance schedule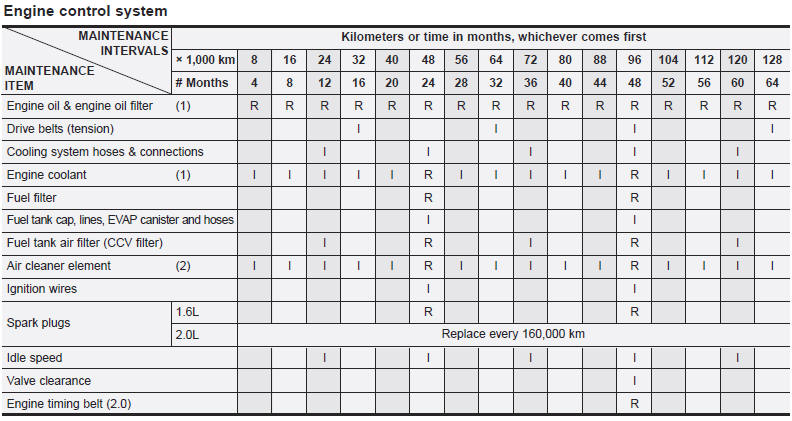 Chart symbols:
I- Inspect these items and their related parts. If necessary, correct, clean, refill, adjust or replace.
R- Replace or change
L- Lubricate.
(1) Refer to the lubricant and coolant specifications in the Owner's Manual.
(2) More frequent maintenance is required if driving under dusty conditions.
(3) More frequent maintenance is required if the vehicle is operated under any of the following conditions: a. Short-distance driving.
b. Driving on dusty roads.
c. Extensive idling or slow-speed driving in stop-and-go traffic.
(4) If necessary, rotate and balance the wheels.
* Note: Check the engine oil and coolant levels every week.
See also:
Driving
The Kia is available with 2.0-litre or 2.7-litre V6 petrol engines, but we prefer the 2.0-litre turbodiesel. There's a fair amount of diesel clatter at idle, but once on the move it delivers power ...
2011 Kia Optima Review
The previous generation Kia Optima was a vehicle struggling to keep up with the times, having emerged on the scene as a lackluster model masquerading as a value proposition, when in reality it was ...
Antenna
Roof type antenna (if equipped) If your vehicle has an audio system, an amplifying antenna is installed in your vehicle. This antenna can be removed from the vehicle when you wash your vehicle. ...