Maintenance schedule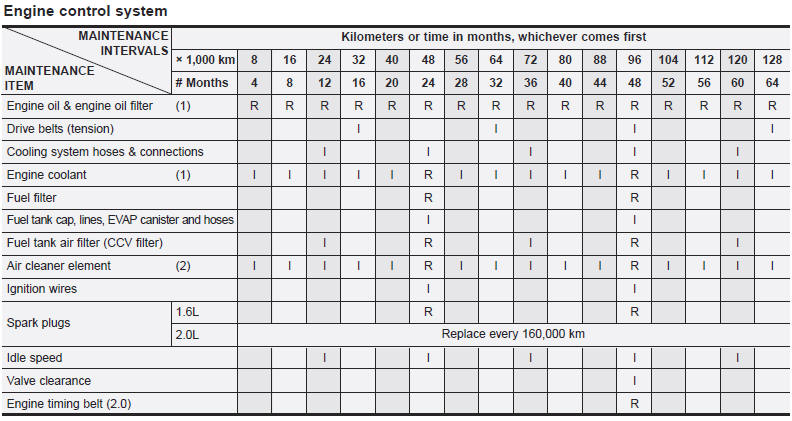 Chart symbols:
I- Inspect these items and their related parts. If necessary, correct, clean, refill, adjust or replace.
R- Replace or change
L- Lubricate.
(1) Refer to the lubricant and coolant specifications in the Owner's Manual.
(2) More frequent maintenance is required if driving under dusty conditions.
(3) More frequent maintenance is required if the vehicle is operated under any of the following conditions: a. Short-distance driving.
b. Driving on dusty roads.
c. Extensive idling or slow-speed driving in stop-and-go traffic.
(4) If necessary, rotate and balance the wheels.
* Note: Check the engine oil and coolant levels every week.
See also:
Interior features
Cup holder WARNING - Hot liquids • Do not place uncovered cups with hot liquid in the cup holder while the vehicle is in motion. If the hot liquid spills, you burn yourself. Such a burn to the ...
Steering wheel
Power steering Power steering uses energy from the engine to assist you in steering the vehicle. If the engine is off or if the power steering system becomes inoperative, the vehicle may still be ...
Interior Features
Test drivers say the Rio and Rio5 have easy-to-read gauges and generally like the layout of the dash, but the praise ends there. The Rio's barebones interior comes with a four-speaker audio syst ...