Maintenance schedule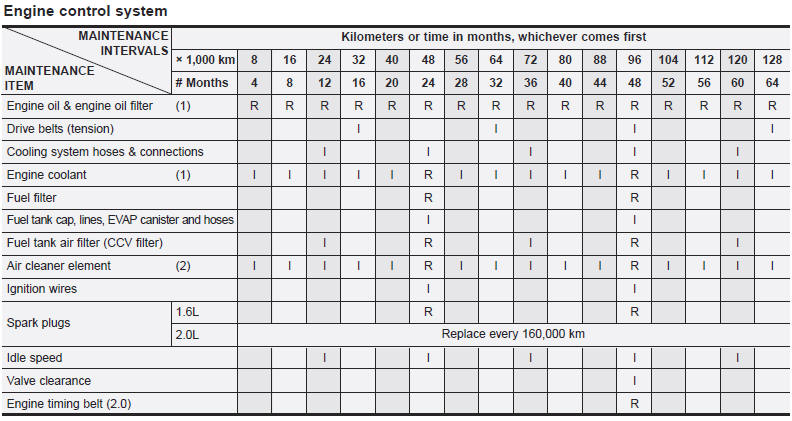 Chart symbols:
I- Inspect these items and their related parts. If necessary, correct, clean, refill, adjust or replace.
R- Replace or change
L- Lubricate.
(1) Refer to the lubricant and coolant specifications in the Owner's Manual.
(2) More frequent maintenance is required if driving under dusty conditions.
(3) More frequent maintenance is required if the vehicle is operated under any of the following conditions: a. Short-distance driving.
b. Driving on dusty roads.
c. Extensive idling or slow-speed driving in stop-and-go traffic.
(4) If necessary, rotate and balance the wheels.
* Note: Check the engine oil and coolant levels every week.
See also:
Brake/clutch fluid
Checking the brake/clutch* fluid level Check the fluid level in the reservoir periodically. The fluid level should be between MAX and MIN marks on the side of the reservoir. Before removing th ...
Seat belts
Seat belt restraint system WARNING • For maximum restraint system protection, the seat belts must always be used whenever the vehicle is moving. • Seat belts are most effective when seatbac ...
Powertrains and Performance
The 2007 Kia Sorento comes with a new 3.8-liter V6 engine that produces 262 hp and 260 pound-feet of torque. It's mated to a five-speed automatic transmission that allows you to choose between aut ...