Maintenance schedule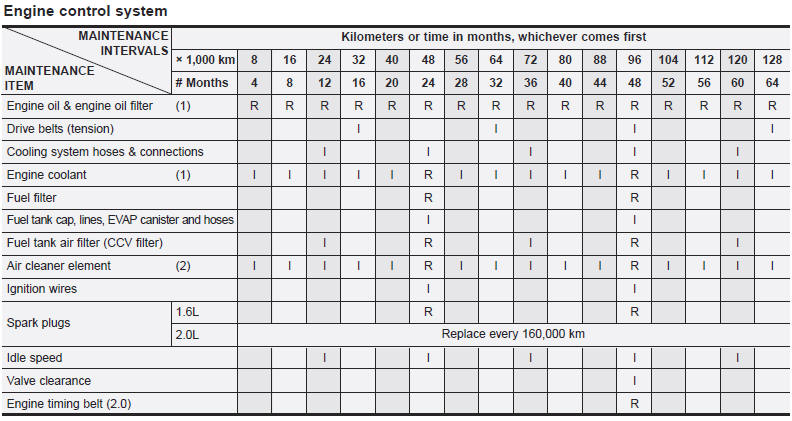 Chart symbols:
I- Inspect these items and their related parts. If necessary, correct, clean, refill, adjust or replace.
R- Replace or change
L- Lubricate.
(1) Refer to the lubricant and coolant specifications in the Owner's Manual.
(2) More frequent maintenance is required if driving under dusty conditions.
(3) More frequent maintenance is required if the vehicle is operated under any of the following conditions: a. Short-distance driving.
b. Driving on dusty roads.
c. Extensive idling or slow-speed driving in stop-and-go traffic.
(4) If necessary, rotate and balance the wheels.
* Note: Check the engine oil and coolant levels every week.
See also:
Standard Kia Safety Features
Kia Soul continues to offer the same high level of standard safety equipment as all Kia vehicles, with features such as front seat active headrests, dual front advanced airbags, front seat-mounted ...
Smart key
With a smart key, you can lock or unlock a door (and tailgate) and even start the engine without inserting the key. The functions of the buttons on a smart key are similar to the remote keyless ...
Tailgate
Opening the tailgate • The tailgate is locked or unlocked when all doors are locked or unlocked with the key, transmitter (or smart key) or central door lock switch. • If unlocked, the tail ...