Maintenance schedule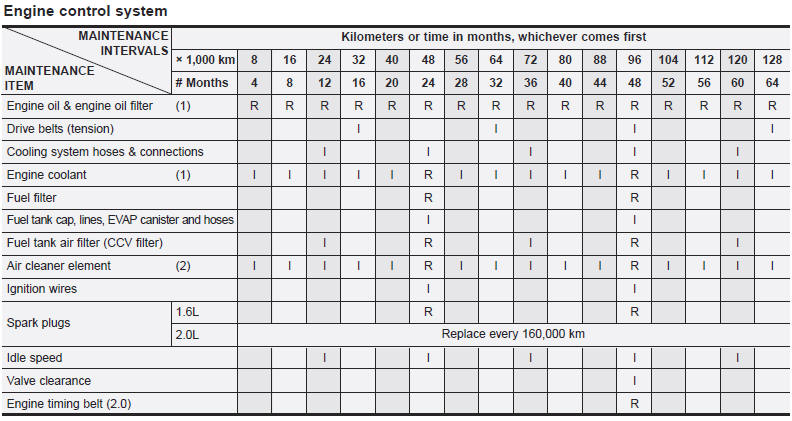 Chart symbols:
I- Inspect these items and their related parts. If necessary, correct, clean, refill, adjust or replace.
R- Replace or change
L- Lubricate.
(1) Refer to the lubricant and coolant specifications in the Owner's Manual.
(2) More frequent maintenance is required if driving under dusty conditions.
(3) More frequent maintenance is required if the vehicle is operated under any of the following conditions: a. Short-distance driving.
b. Driving on dusty roads.
c. Extensive idling or slow-speed driving in stop-and-go traffic.
(4) If necessary, rotate and balance the wheels.
* Note: Check the engine oil and coolant levels every week.
See also:
Safeguarding occupants to maximise protection
If an accident is unavoidable, new Kia cee'd is engineered to safeguard the occupants with a robust bodyshell and a range of passive safety measures to offer its occupants maximum possible protect ...
Door locks
Operating door locks from outside the vehicle • Turn the key clockwise to unlock and counterclockwise to lock. • If you lock the driver's door with a key, all vehicle doors will lock auto ...
Overview
Created especially for European consumers, the original Kia cee'd marked a major turning point in Kia's history. It was the start of a new era, the first-ever Kia designed and produced in Europe. ...