Maintenance schedule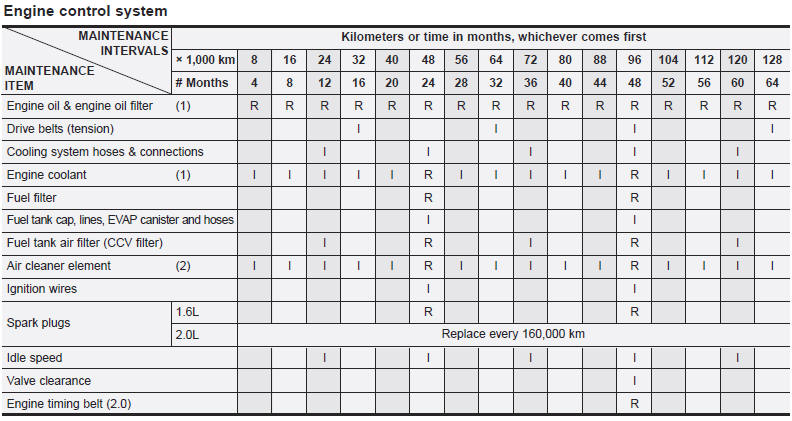 Chart symbols:
I- Inspect these items and their related parts. If necessary, correct, clean, refill, adjust or replace.
R- Replace or change
L- Lubricate.
(1) Refer to the lubricant and coolant specifications in the Owner's Manual.
(2) More frequent maintenance is required if driving under dusty conditions.
(3) More frequent maintenance is required if the vehicle is operated under any of the following conditions: a. Short-distance driving.
b. Driving on dusty roads.
c. Extensive idling or slow-speed driving in stop-and-go traffic.
(4) If necessary, rotate and balance the wheels.
* Note: Check the engine oil and coolant levels every week.
See also:
Body Styles, Trim Levels, and Options
The Kia Sportage is a compact four-door SUV offered in two trim levels, LX and EX. Both two-wheel drive and all-wheel drive (which Kia calls 4WD) are available. Standard features on the LX include ...
Spacious, State-of-the-Art Interior
Inside the cabin is where Kia Soul really shows its power to surprise. For those who want a personal lounge on wheels or an efficient cargo carrier with 14 storage zones, Soul has it covered. Whil ...
Brake fluid
Checking brake fluid level Check the fluid level in the reservoir periodically. The fluid level should be between MAX and MIN marks on the side of the reservoir. Before removing the reservoir c ...