Maintenance schedule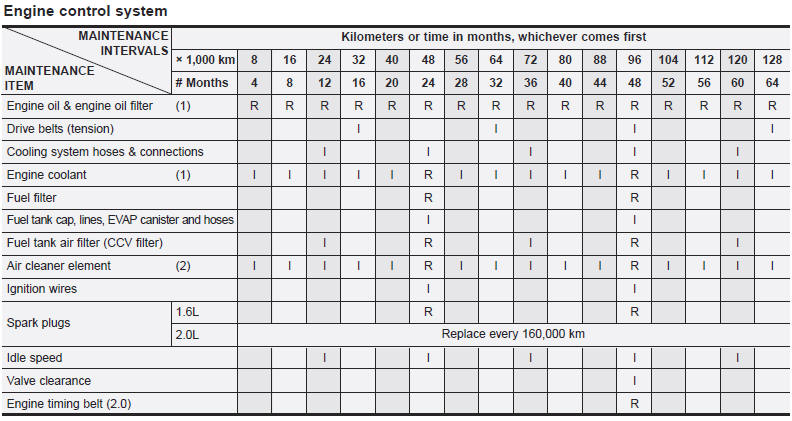 Chart symbols:
I- Inspect these items and their related parts. If necessary, correct, clean, refill, adjust or replace.
R- Replace or change
L- Lubricate.
(1) Refer to the lubricant and coolant specifications in the Owner's Manual.
(2) More frequent maintenance is required if driving under dusty conditions.
(3) More frequent maintenance is required if the vehicle is operated under any of the following conditions: a. Short-distance driving.
b. Driving on dusty roads.
c. Extensive idling or slow-speed driving in stop-and-go traffic.
(4) If necessary, rotate and balance the wheels.
* Note: Check the engine oil and coolant levels every week.
See also:
2010 Kia Soul deserves to be breakout hit for brand
Greeting the Kia Soul with low expectations didn't make sense. Perhaps the details of the funkwagon's story seemed overly familiar at first blush – Kia wants, nay, needs to be more than just the ...
INSIDE
Inside, a good mix of materials with a protruding center stack (reminiscent of the Volkswagen New Beetle) offer a good use of space. The glove box is huge, but the flat-folding rear seats and unde ...
Maintenance services
You should exercise the utmost care to prevent damage to your vehicle and injury to yourself whenever performing any maintenance or inspection procedures. Should you have any doubts concerning t ...