Maintenance schedule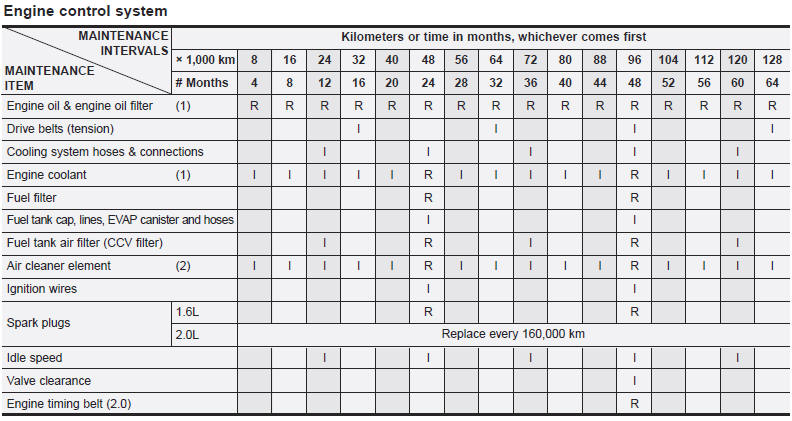 Chart symbols:
I- Inspect these items and their related parts. If necessary, correct, clean, refill, adjust or replace.
R- Replace or change
L- Lubricate.
(1) Refer to the lubricant and coolant specifications in the Owner's Manual.
(2) More frequent maintenance is required if driving under dusty conditions.
(3) More frequent maintenance is required if the vehicle is operated under any of the following conditions: a. Short-distance driving.
b. Driving on dusty roads.
c. Extensive idling or slow-speed driving in stop-and-go traffic.
(4) If necessary, rotate and balance the wheels.
* Note: Check the engine oil and coolant levels every week.
See also:
Cruise control system
The cruise control system allows you to program the vehicle to maintain a constant speed without resting your foot on the accelerator pedal. With cruise control, you can set and automatically mai ...
Kia Cee'd 1.6 CRDi
Journalistic duties required me, the other week, to drive to the training ground of a Premier League football club. Now, a number of cars come to mind that would be entirely suitable for keeping a ...
Remote keyless entry
Type A Type B Remote keyless entry system operations Lock (1) All doors (and trunk) are locked if the lock button is pressed. Type A The hazard warning lights blink if the lock button i ...