Maintenance schedule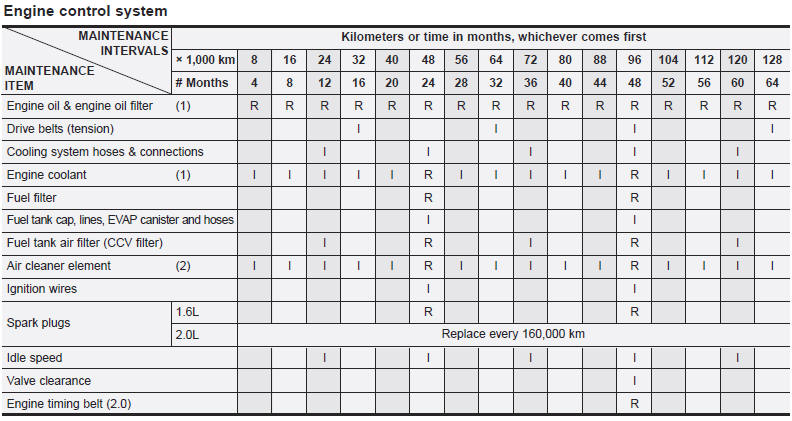 Chart symbols:
I- Inspect these items and their related parts. If necessary, correct, clean, refill, adjust or replace.
R- Replace or change
L- Lubricate.
(1) Refer to the lubricant and coolant specifications in the Owner's Manual.
(2) More frequent maintenance is required if driving under dusty conditions.
(3) More frequent maintenance is required if the vehicle is operated under any of the following conditions: a. Short-distance driving.
b. Driving on dusty roads.
c. Extensive idling or slow-speed driving in stop-and-go traffic.
(4) If necessary, rotate and balance the wheels.
* Note: Check the engine oil and coolant levels every week.
See also:
LUXURIOUS CLASS-EXCLUSIVE FEATURES
Upgrading to the Premium Package (as with our test car) adds items like wood interior trim, heated rear seats, a driver's memory seat with 4-way adjustability, and class-exclusive features like ...
A COMFORTABLE AND SOFT RIDE (TOO SOFT)
Behind the wheel of the new Optima it's easy to point out several more faults – although there are certainly some positive aspects to the driving experience as well. On the down-size, the ca ...
Specifications
The specifications given here are for general information only. Although this information was accurate at the time of printing, Kia reserves the right to change its vehicles or their specifications ...