Maintenance schedule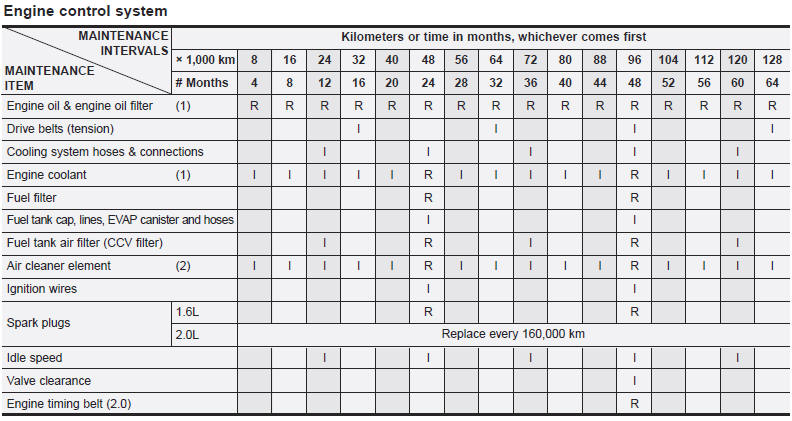 Chart symbols:
I- Inspect these items and their related parts. If necessary, correct, clean, refill, adjust or replace.
R- Replace or change
L- Lubricate.
(1) Refer to the lubricant and coolant specifications in the Owner's Manual.
(2) More frequent maintenance is required if driving under dusty conditions.
(3) More frequent maintenance is required if the vehicle is operated under any of the following conditions: a. Short-distance driving.
b. Driving on dusty roads.
c. Extensive idling or slow-speed driving in stop-and-go traffic.
(4) If necessary, rotate and balance the wheels.
* Note: Check the engine oil and coolant levels every week.
See also:
Exterior Excitement
The 2009 Kia Optima is presented with new front, side and rear styling cues, which build upon Kia's philosophy of creating dynamic vehicles that evoke passion. The fog lamps and lower front grille ...
In case of an emergency
Road warning In case of an emergency while driving Overheating Emergency starting Electrical circuit protection Towing If you have a flat tire ...
Winter driving
More severe weather conditions of winter result in greater wear and other problems. To minimize winter driving problem, you should follow these suggestions: Snowy or icy conditions To drive you ...