Defroster
CAUTION
To prevent damage to the conductors bonded to the inside surface of the rear window, never use sharp instruments or window cleaners containing abrasives to clean the window.
NOTICE
If you want to defrost and defog the front windshield, refer to "Windshield defrosting and defogging" in this section.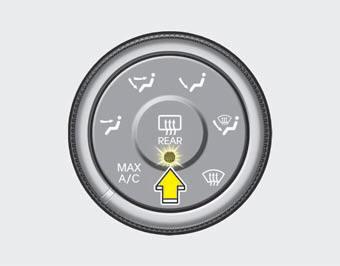 Rear window defroster The defroster heats the window to remove frost, fog and thin ice from the rear window, while the engine is running.
To activate the rear window defroster, press the rear window defroster button located in the center facia switch panel.
The indicator on the rear window defroster button illuminates when the defroster is ON.
If there is heavy accumulation of snow on the rear window, brush it off before operating the rear defroster.
The rear window defroster automatically turns off after approximately 20 minutes or when the ignition switch is turned off.
To turn off the defroster, press the rear window defroster button again.
Outside rearview mirror defroster (if equipped)
If your vehicle is equipped with the outside rearview mirror defrosters, they will operate at the same time you turn on the rear window defroster.
See also:
Diesels demonstrate Kia's world-class engineering
At the 2010 Geneva Show and making its premiere in the new Sportage, is a 2.0-litre version of Kia's next-generation 'R' family diesel. All-new, the 'R' family diesel engine first appeared in 2.2- ...
SUPER PACKAGING POTENTIAL
Kia expects the better-equipped next-step-up 2.0L Soul "+" model to represent the most popular choice. At $14,950, it squares off at the soul (sorry, had to) of the compact car market, as the ...
Review Kia Cee'd
Things are hotting up more than global warming in the C-segment as yet another contender attempts to sow their seeds in this highly sought after family based sector. Kia have launched their all-ne ...