Tailgate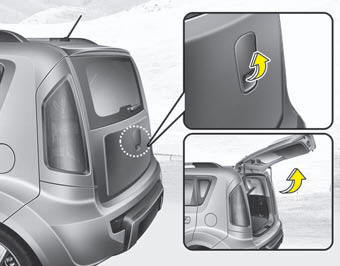 Opening the tailgate
• The tailgate is locked or unlocked when all doors are locked or unlocked with the key, transmitter or central door lock switch.
• If unlocked, the tailgate can be opened by pressing the handle switch and then pulling the handle up.
NOTICE
In cold and wet climates, door lock and door mechanisms may not work properly due to freezing conditions.
WARNING
The tailgate swings upward. Make sure no objects or people are near the rear of the vehicle when opening the tailgate.
CAUTION
Make certain that you close the tailgate before driving your vehicle.
Possible damage may occur to the tailgate lift cylinders and attached hardware if the tailgate is not closed prior to driving.
Closing the tailgate
To close the tailgate, lower and push down the tailgate firmly. Make sure that the tailgate is securely latched.
WARNING - Exhaust
fumes
If you drive with the tailgate opened, you will draw dangerous exhaust fumes into your vehicle which can cause serious injury or death to vehicle occupants.
If you must drive with the tailgate opened, keep the air vents and all windows open so that additional outside air comes into the vehicle.
WARNING
Make sure your hands, feet and other parts of your body are safely out of the way before closing the tailgate.
WARNING - Rear cargo
area
Occupants should never ride in the rear cargo area where no restraints are available. To avoid injury in the event of an accident or sudden stops, occupants should always be properly restrained.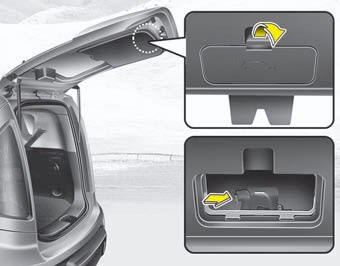 Emergency tailgate safety release Your vehicle is equipped with the emergency tailgate safety release lever located on the bottom of the tailgate. When someone is inadvertently locked in the luggage compartment, the tailgate can be opened by pushing the release lever and pushing open the tailgate.
WARNING
• For emergencies, be fully aware of the location of the emergency tailgate safety release lever in the vehicle and how to open the tailgate if you are accidentally
locked in the luggage compartment.
• No one should be allowed to occupy the luggage compartment of the vehicle at any time. The luggage compartment is a very dangerous location in the event of a crash.
• Use the release lever for emergencies only. Use with extreme
caution, especially while the vehicle is in motion.
See also:
Towing
Towing service If emergency towing is necessary, we recommend having it done by an authorized KIA dealer or a commercial towtruck service. Proper lifting and towing procedures are necessary to ...
Overview
Kia Motors America (KMA) announced the North American debut of the all-new Kia Soul passenger vehicle at the 2008 Los Angeles Auto Show. Designed in Southern California, the Kia Soul is the newest ...
Interior overview
1. Door lock/unlock button 2. Power window switches 3. Outside rearview mirror control switch (if equipped) 4. Hood release lever 5. Instrument panel illumination (if equipped) 6. Electronic st ...