Climate control air filter
Filter inspection
The climate control air filter should be replaced according to the maintenance schedule. If the vehicle is operated in severely air-polluted cities or on dusty rough roads for a long period, it should be inspected more frequently and replaced earlier. When you replace the climate control air filter, replace it performing the following procedure, and be careful to avoid damaging other components.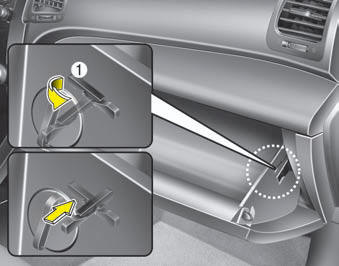 1. Open the glove box and remove the support strap (1).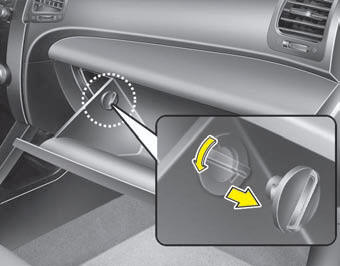 2. With the glove box open, remove the stoppers on both sides.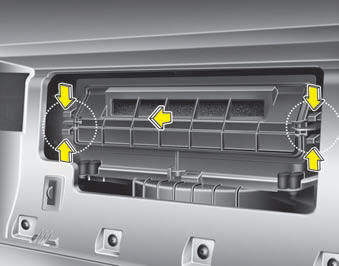 3. Remove the climate control air filter case by pulling out both sides of the cover.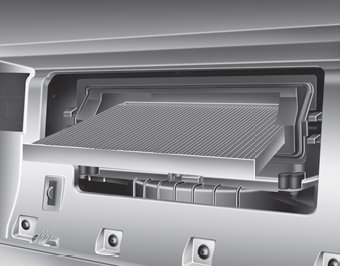 4. Replace the climate control air filter.
5. Reassemble in the reverse order of disassembly.
NOTICE
When replacing the climate control air filter install it properly. Otherwise, the system may produce noise and the effectiveness of the filter may be reduced.
See also:
Overloading
CAUTION - Vehicle weight The gross axle weight rating (GAWR) and the gross vehicle weight rating (GVWR) for your vehicle are on the manufacturer's label attached to the driver's door. Exceeding ...
Smart key
With a smart key, you can lock or unlock a door (and tailgate) and even start the engine without inserting the key. The functions of the buttons on a smart key are similar to the remote keyless ...
FULLY LOADED YET DISAPPOINTING INTERIOR
The same cannot be said for the interior. While the swooping design of the dash is nice, it's really only visible on the passenger side. As for the temperature controls, they appear out of place ...