Washer fluid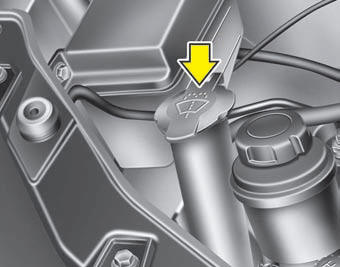 Checking the washer fluid level Check the fluid level in the washer fluid reservoir and add fluid if necessary. Plain water may be used if washer fluid is not available. However, use washer solvent with antifreeze characteristics in cold climates to prevent freezing.
WARNING - Coolant
• Do not use radiator coolant or antifreeze in the washer fluid reservoir.
• Radiator coolant can severely obscure visibility when sprayed on the windshield and may cause loss of vehicle control or damage to paint and body trim.
• Windshield washer fluid agents contain some amounts of alcohol and can be flammable under certain circumstances. Do not allow sparks or flame to contact the washer fluid or the washer fluid reservoir. Damage to the vehicle or occupants could occur.
• Windshield washer fluid is poisonous to humans and animals.
Do not drink and avoid contacting windshield washer fluid. Serious injury or death could occur.
See also:
Driving Impressions
More horsepower equals more pleasant riding and driving. The new V6 provides more than adequate torque for city driving and highway cruising, and is a significant improvement over the previous-gen ...
Cost
The destination charge is a standard charge for transporting the vehicle from its point of origin to the dealer. The Kia Rio is substantially cheaper to get to the dealership than the typical seda ...
Interior Design and Special Features
The 2007 Kia Sorento features a redesigned interior that makes tasteful use of wood and metal trim materials. The cabin is comfortable and functional. The leather seats are good quality. The rear ...