Washer fluid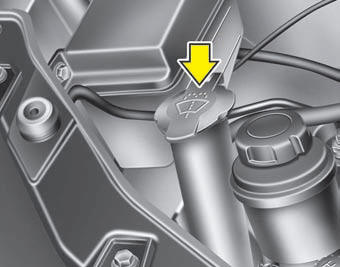 Checking the washer fluid level Check the fluid level in the washer fluid reservoir and add fluid if necessary. Plain water may be used if washer fluid is not available. However, use washer solvent with antifreeze characteristics in cold climates to prevent freezing.
WARNING - Coolant
• Do not use radiator coolant or antifreeze in the washer fluid reservoir.
• Radiator coolant can severely obscure visibility when sprayed on the windshield and may cause loss of vehicle control or damage to paint and body trim.
• Windshield washer fluid agents contain some amounts of alcohol and can be flammable under certain circumstances. Do not allow sparks or flame to contact the washer fluid or the washer fluid reservoir. Damage to the vehicle or occupants could occur.
• Windshield washer fluid is poisonous to humans and animals.
Do not drink and avoid contacting windshield washer fluid. Serious injury or death could occur.
See also:
A Little More Space, a Lot Better Access
Although more than a few C/D staffers would choose the Forte hatch over the sedan based on looks alone, increased cargo capacity and easier access to your stuff are in the pros column, too. The Fo ...
Customer choice of advanced drivetrains with 2WD and AWD
Depending on individual markets, consumers ordering a new Kia Sportage will be able to select from five models with 2WD and four with AWD - employing advanced drivetrain systems similar to those i ...
In case of an emergency while driving
If the engine stalls at a crossroad or crossing If the engine stalls at a crossroad or crossing, set the shift lever in the N (Neutral) position and then push the vehicle to a safe place. If you ...