Washer fluid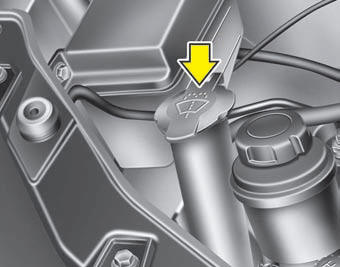 Checking the washer fluid level Check the fluid level in the washer fluid reservoir and add fluid if necessary. Plain water may be used if washer fluid is not available. However, use washer solvent with antifreeze characteristics in cold climates to prevent freezing.
WARNING - Coolant
• Do not use radiator coolant or antifreeze in the washer fluid reservoir.
• Radiator coolant can severely obscure visibility when sprayed on the windshield and may cause loss of vehicle control or damage to paint and body trim.
• Windshield washer fluid agents contain some amounts of alcohol and can be flammable under certain circumstances. Do not allow sparks or flame to contact the washer fluid or the washer fluid reservoir. Damage to the vehicle or occupants could occur.
• Windshield washer fluid is poisonous to humans and animals.
Do not drink and avoid contacting windshield washer fluid. Serious injury or death could occur.
See also:
In case of an emergency
Road warning In case of an emergency while driving Overheating Emergency starting Electrical circuit protection Towing If you have a flat tire ...
If the engine will not start
If engine doesn't turn over or turns over slowly 1. If your car has an automatic transaxle, be sure the gear selector lever is in N (Neutral) or P (Park) and the emergency brake is set. 2. Check ...
Electrical circuit protection
Fuses A vehicle's electrical system is protected from electrical overload damage by fuses. This vehicle has two fuse panels, one located in the driver's side panel bolster, the other in the ...