Washer fluid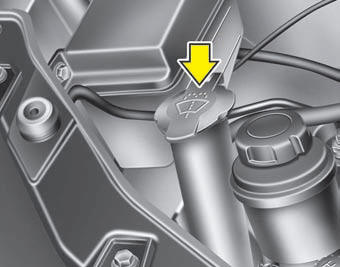 Checking the washer fluid level Check the fluid level in the washer fluid reservoir and add fluid if necessary. Plain water may be used if washer fluid is not available. However, use washer solvent with antifreeze characteristics in cold climates to prevent freezing.
WARNING - Coolant
• Do not use radiator coolant or antifreeze in the washer fluid reservoir.
• Radiator coolant can severely obscure visibility when sprayed on the windshield and may cause loss of vehicle control or damage to paint and body trim.
• Windshield washer fluid agents contain some amounts of alcohol and can be flammable under certain circumstances. Do not allow sparks or flame to contact the washer fluid or the washer fluid reservoir. Damage to the vehicle or occupants could occur.
• Windshield washer fluid is poisonous to humans and animals.
Do not drink and avoid contacting windshield washer fluid. Serious injury or death could occur.
See also:
Indicator symbols on the instrument cluster
For more detailed explanations, refer to "Instrument cluster" in section 4. ...
Kia's precise MDPS 'electric' power steering
To save fuel and deliver responsive handling in everyday driving, new Kia cee'd retains Kia's Motor Driven Power Steering system (MDPS). This electric power-assisted rack and pinion steering has r ...
Overview
The fourth-generation Kia Rio, revealed at the 2011 Geneva Motor Show, boasts a bold and distinctive personality, bringing the latest model into line with the rest of Kia's striking design-led pro ...