Washer fluid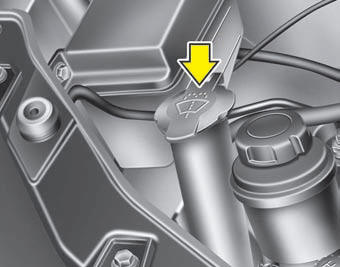 Checking the washer fluid level Check the fluid level in the washer fluid reservoir and add fluid if necessary. Plain water may be used if washer fluid is not available. However, use washer solvent with antifreeze characteristics in cold climates to prevent freezing.
WARNING - Coolant
• Do not use radiator coolant or antifreeze in the washer fluid reservoir.
• Radiator coolant can severely obscure visibility when sprayed on the windshield and may cause loss of vehicle control or damage to paint and body trim.
• Windshield washer fluid agents contain some amounts of alcohol and can be flammable under certain circumstances. Do not allow sparks or flame to contact the washer fluid or the washer fluid reservoir. Damage to the vehicle or occupants could occur.
• Windshield washer fluid is poisonous to humans and animals.
Do not drink and avoid contacting windshield washer fluid. Serious injury or death could occur.
See also:
Remote keyless entry
Type A Type B Remote keyless entry system operations Lock (1) All doors (and trunk) are locked if the lock button is pressed. Type A The hazard warning lights blink if the lock button i ...
FULLY LOADED YET DISAPPOINTING INTERIOR
The same cannot be said for the interior. While the swooping design of the dash is nice, it's really only visible on the passenger side. As for the temperature controls, they appear out of place ...
Towing
Towing service If emergency towing is necessary, we recommend having it done by an authorized KIA dealer or a commercial towtruck service. Proper lifting and towing procedures are necessary to ...