Washer fluid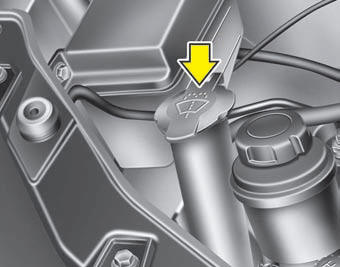 Checking the washer fluid level Check the fluid level in the washer fluid reservoir and add fluid if necessary. Plain water may be used if washer fluid is not available. However, use washer solvent with antifreeze characteristics in cold climates to prevent freezing.
WARNING - Coolant
• Do not use radiator coolant or antifreeze in the washer fluid reservoir.
• Radiator coolant can severely obscure visibility when sprayed on the windshield and may cause loss of vehicle control or damage to paint and body trim.
• Windshield washer fluid agents contain some amounts of alcohol and can be flammable under certain circumstances. Do not allow sparks or flame to contact the washer fluid or the washer fluid reservoir. Damage to the vehicle or occupants could occur.
• Windshield washer fluid is poisonous to humans and animals.
Do not drink and avoid contacting windshield washer fluid. Serious injury or death could occur.
See also:
Introduction
Let's just get to the point here: The 2007 Kia Sorento is a great choice if you're shopping for a midsize SUV with available four-wheel drive and towing capabilities. For fewer than $25,000, you c ...
POWER AND FUEL-ECONOMY ARE UP TO PAR
That description might have you thinking the Optima has all sorts of power. True, the upgraded 2.4-liter four-cylinder gets added power for '09 with 175hp and 169 ft-lbs of torque, but it's no ...
Window
Power windows 1 Driver's door power window switch 2 Front passenger's door power window switch 3 Rear door (left) power window switch 4 Rear door (right) power window switch 5 Window openin ...