Washer fluid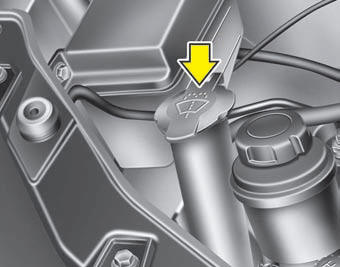 Checking the washer fluid level Check the fluid level in the washer fluid reservoir and add fluid if necessary. Plain water may be used if washer fluid is not available. However, use washer solvent with antifreeze characteristics in cold climates to prevent freezing.
WARNING - Coolant
• Do not use radiator coolant or antifreeze in the washer fluid reservoir.
• Radiator coolant can severely obscure visibility when sprayed on the windshield and may cause loss of vehicle control or damage to paint and body trim.
• Windshield washer fluid agents contain some amounts of alcohol and can be flammable under certain circumstances. Do not allow sparks or flame to contact the washer fluid or the washer fluid reservoir. Damage to the vehicle or occupants could occur.
• Windshield washer fluid is poisonous to humans and animals.
Do not drink and avoid contacting windshield washer fluid. Serious injury or death could occur.
See also:
Kia Cee'd SW
When it comes to shouldering the expectations of an entire company, the new Kia Cee'd range carries a much heavier burden than most. Whichever you go for, the Cee'd offers precise steering and ha ...
Top-quality trim and equipment with high-tech features
Kia is confident that when current Kia Sportage owners and new customers to the brand visit dealer showrooms to view the all-new Kia Sportage, they will be mightily impressed by the newcomer. Its ...
Interior Refinement
The style makeover continues into the Optima's cabin with expanded electronics melded with refreshed fascia patterns and color schemes. Based on a new platform, the standard audio system features ...