Power steering fluid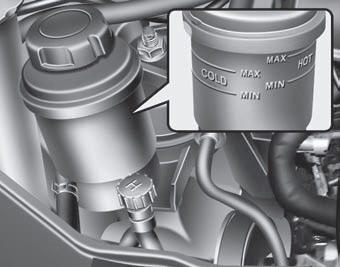 Checking the power steering fluid level
With the vehicle on level ground, check the fluid level in the power steering reservoir periodically. The fluid should be between MAX and MIN marks on the side of the reservoir at the normal temperature.
Before adding power steering fluid, thoroughly clean the area around the reservoir cap to prevent power steering fluid contamination.
If the level is low, add fluid to the MAX level.
NOTICE
Check that the fluid level is in the "HOT" range on the reservoir. If the fluid is cold, check that it is in the "COLD" range.
In the event the power steering system requires frequent addition of fluid, the vehicle should be inspected by an authorized KIA dealer.
CAUTION
• To avoid damage to the power steering pump, do not operate the vehicle for prolonged periods with a low power steering fluid level.
• Never start the engine when the reservoir tank is empty.
• When adding fluid, be careful that dirt does not get into the tank.
• Too little fluid can result in increased steering effort and/or noise from the power steering system.
• The use of the non-specified fluid could reduce the effectiveness of the power steering system and cause damage to it.
Use only the specified power steering fluid. (Refer to "Recommended lubricants and capacities" in section 8.) Checking the power steering hose
Check the connections for oil leaks, damage and twists in the power steering hose before driving.
See also:
Maintenance services
You should exercise the utmost care to prevent damage to your vehicle and injury to yourself whenever performing any maintenance or inspection procedures. Should you have any doubts concerning th ...
Overview
Kia Motors America (KMA) announced the official North American debut of the all-new Kia Sorento crossover utility vehicle (CUV) during a press conference at the 2009 Los Angeles Auto Show. The fir ...
Tires and wheels
Tire care For proper maintenance, safety, and maximum fuel economy, you must always maintain recommended tire inflation pressures and stay within the load limits and weight distribution recommen ...