Power steering fluid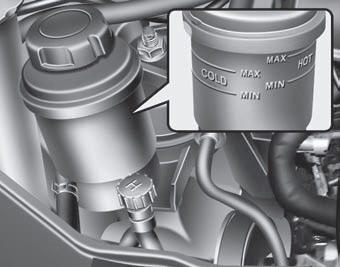 Checking the power steering fluid level
With the vehicle on level ground, check the fluid level in the power steering reservoir periodically. The fluid should be between MAX and MIN marks on the side of the reservoir at the normal temperature.
Before adding power steering fluid, thoroughly clean the area around the reservoir cap to prevent power steering fluid contamination.
If the level is low, add fluid to the MAX level.
NOTICE
Check that the fluid level is in the "HOT" range on the reservoir. If the fluid is cold, check that it is in the "COLD" range.
In the event the power steering system requires frequent addition of fluid, the vehicle should be inspected by an authorized KIA dealer.
CAUTION
• To avoid damage to the power steering pump, do not operate the vehicle for prolonged periods with a low power steering fluid level.
• Never start the engine when the reservoir tank is empty.
• When adding fluid, be careful that dirt does not get into the tank.
• Too little fluid can result in increased steering effort and/or noise from the power steering system.
• The use of the non-specified fluid could reduce the effectiveness of the power steering system and cause damage to it.
Use only the specified power steering fluid. (Refer to "Recommended lubricants and capacities" in section 8.) Checking the power steering hose
Check the connections for oil leaks, damage and twists in the power steering hose before driving.
See also:
Sunroof
If your vehicle is equipped with this feature, you can slide or tilt your sunroof with the sunroof control buttons located on the overhead console. The sunroof can only be opened, closed, or ti ...
Other Cars to Consider
In a class crowed with cars that offer a fair price, numerous standard features and good performance, the Kia Rio has difficulty competing. Kia offers another car, the Kia Forte, that makes up for ...
Parking brake
Checking the parking brake Check the stroke of the parking brake by counting the number of "clicks'' heard while fully applying it from the released position. Also, the parking brake alone ...