Maintenance schedule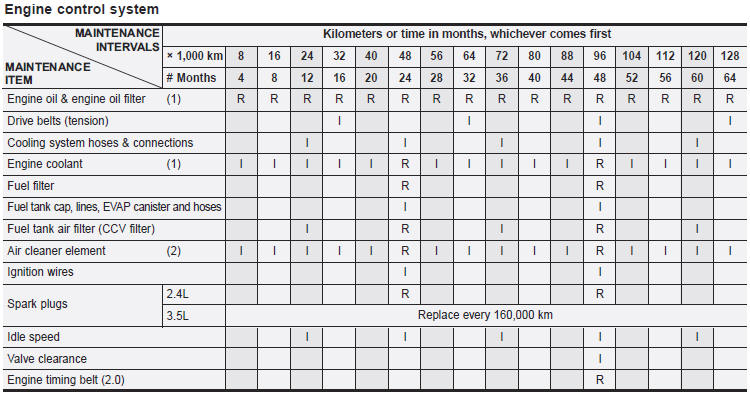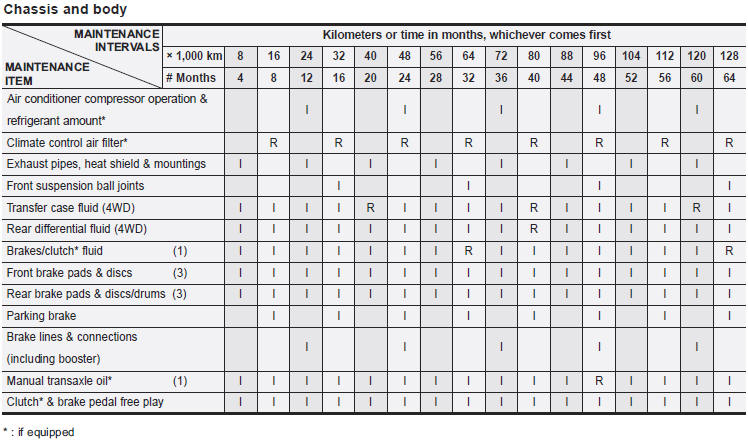 Chart symbols:
I- Inspect these items and their related parts. If necessary, correct, clean, refill, adjust or replace.
R- Replace or change
L- Lubricate.
(1) Refer to the lubricant and coolant specifications in the Owner's Manual.
(2) More frequent maintenance is required if driving under dusty conditions.
(3) More frequent maintenance is required if the vehicle is operated under any of the following conditions: a. Short-distance driving.
b. Driving on dusty roads.
c. Extensive idling or slow-speed driving in stop-and-go traffic.
(4) If necessary, rotate and balance the wheels.
* Note: Check the engine oil and coolant levels every week.
See also:
Brake system
Power brakes Your vehicle has power-assisted brakes that adjust automatically through normal usage. In the event that the power-assisted brakes lose power because of a stalled engine or some oth ...
She's got the look
Featuring one of the more muscular bodies to come from Seoul, the Forte continues with the pace started with the Soul. With a pronounced shoulder line over the fenders and across the hood, that ex ...
Diesels demonstrate Kia's world-class engineering
At the 2010 Geneva Show and making its premiere in the new Sportage, is a 2.0-litre version of Kia's next-generation 'R' family diesel. All-new, the 'R' family diesel engine first appeared in 2.2- ...