Maintenance schedule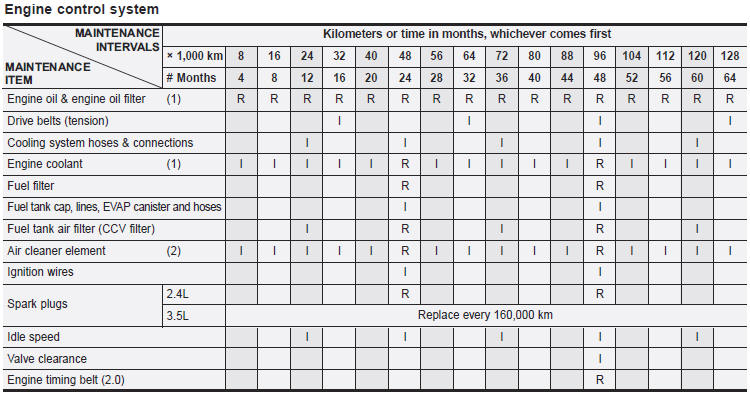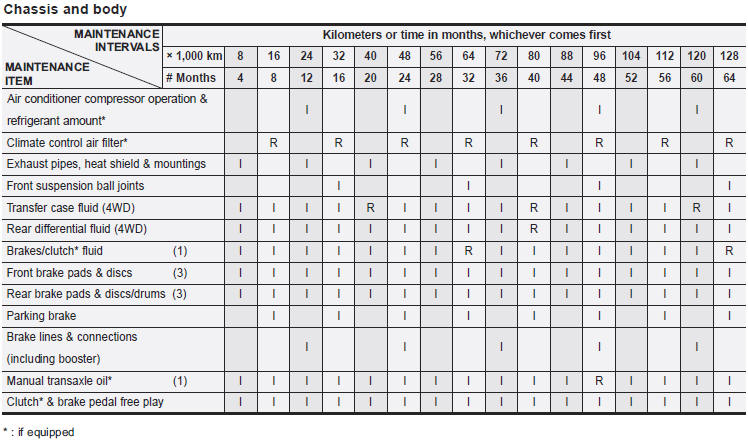 Chart symbols:
I- Inspect these items and their related parts. If necessary, correct, clean, refill, adjust or replace.
R- Replace or change
L- Lubricate.
(1) Refer to the lubricant and coolant specifications in the Owner's Manual.
(2) More frequent maintenance is required if driving under dusty conditions.
(3) More frequent maintenance is required if the vehicle is operated under any of the following conditions: a. Short-distance driving.
b. Driving on dusty roads.
c. Extensive idling or slow-speed driving in stop-and-go traffic.
(4) If necessary, rotate and balance the wheels.
* Note: Check the engine oil and coolant levels every week.
See also:
Kia Magentis Owners Manual
...
Dimensions
The typical sedan is tremendously heavier than the Kia Rio. Your wallet will hurt more every time you fill up the typical sedan than the Kia Rio because of its larger tank. The Rio and the typical ...
Drivetrain
The typical sedan has a larger engine than the Kia Rio. Keep in mind that smaller engines are often cheaper to fix, but smaller engines can be stressed more. The Kia Rio could learn a lesson or tw ...