Maintenance schedule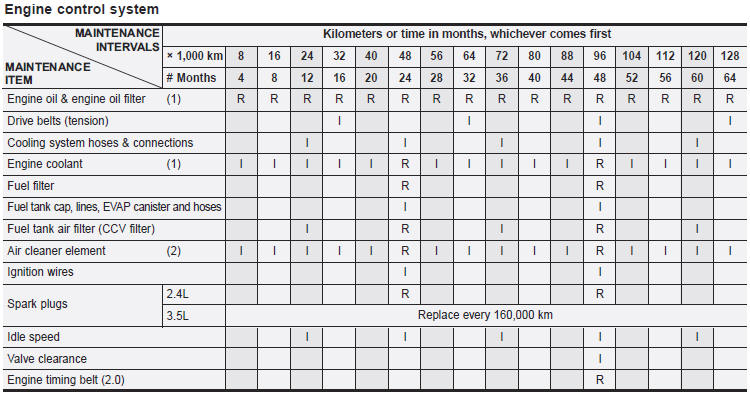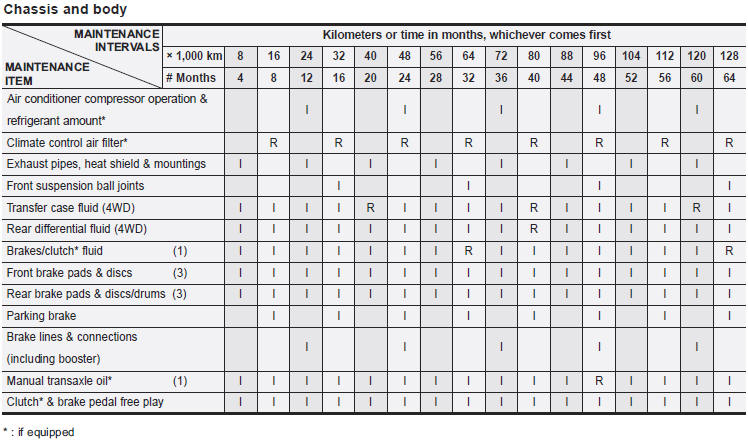 Chart symbols:
I- Inspect these items and their related parts. If necessary, correct, clean, refill, adjust or replace.
R- Replace or change
L- Lubricate.
(1) Refer to the lubricant and coolant specifications in the Owner's Manual.
(2) More frequent maintenance is required if driving under dusty conditions.
(3) More frequent maintenance is required if the vehicle is operated under any of the following conditions: a. Short-distance driving.
b. Driving on dusty roads.
c. Extensive idling or slow-speed driving in stop-and-go traffic.
(4) If necessary, rotate and balance the wheels.
* Note: Check the engine oil and coolant levels every week.
See also:
DRIVING
You know what? It drives pretty well. On winding and hilly roads, the car's comparatively wide stance makes it feel solid, with little body roll. I drove the "+", "!", and "sport" tr ...
Defroster
CAUTION: To prevent damage to the conductors bonded to the inside surface of the rear window, never use sharp instruments or window cleaners containing abrasives to clean the window. NOTICE: I ...
Fuel filler lid
Opening the fuel filler lid The fuel filler lid must be opened from inside the vehicle by pushing the fuel filler lid opener button located on the driver's door. NOTICE: If the fuel filler l ...