Maintenance schedule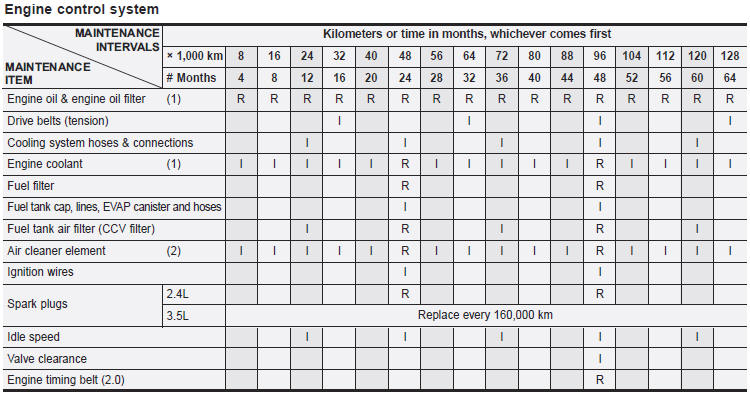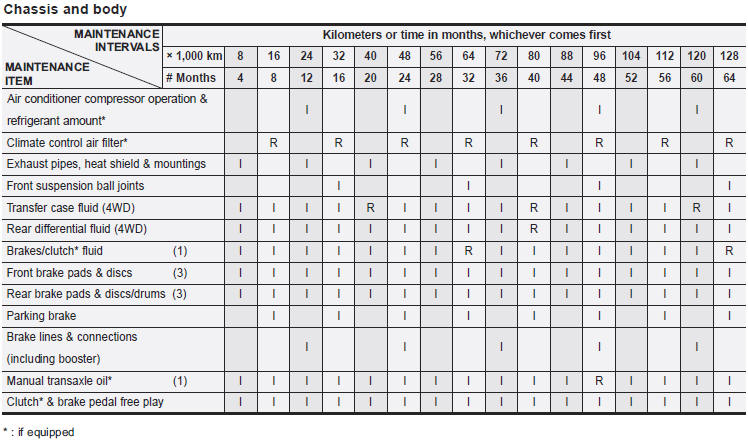 Chart symbols:
I- Inspect these items and their related parts. If necessary, correct, clean, refill, adjust or replace.
R- Replace or change
L- Lubricate.
(1) Refer to the lubricant and coolant specifications in the Owner's Manual.
(2) More frequent maintenance is required if driving under dusty conditions.
(3) More frequent maintenance is required if the vehicle is operated under any of the following conditions: a. Short-distance driving.
b. Driving on dusty roads.
c. Extensive idling or slow-speed driving in stop-and-go traffic.
(4) If necessary, rotate and balance the wheels.
* Note: Check the engine oil and coolant levels every week.
See also:
Mirrors
Outside rearview mirror Be sure to adjust mirror angles before driving. Your vehicle is equipped with both lefthand and right-hand outside rearview mirrors. The mirrors can be adjusted remotely ...
Driving Impressions
More horsepower equals more pleasant riding and driving. The new V6 provides more than adequate torque for city driving and highway cruising, and is a significant improvement over the previous-gen ...
Gauges
Speedometer The speedometer indicates the forward speed of the vehicle. Tachometer The tachometer indicates the approximate number of engine revolutions per minute (rpm). Use the tachometer to ...