Maintenance schedule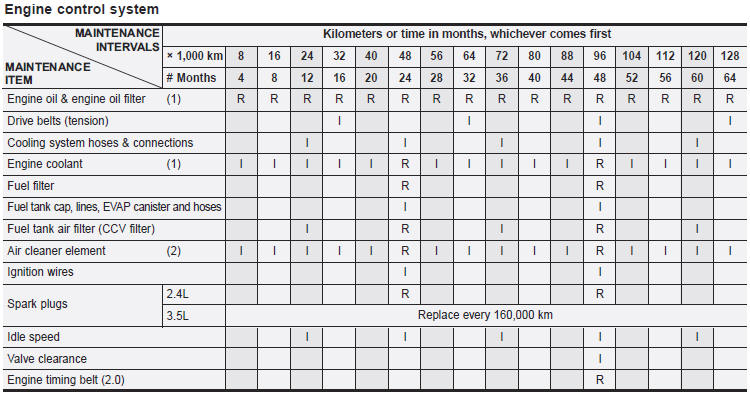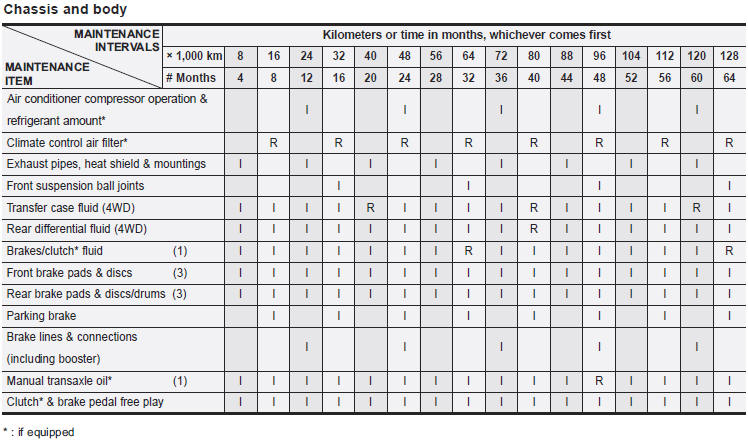 Chart symbols:
I- Inspect these items and their related parts. If necessary, correct, clean, refill, adjust or replace.
R- Replace or change
L- Lubricate.
(1) Refer to the lubricant and coolant specifications in the Owner's Manual.
(2) More frequent maintenance is required if driving under dusty conditions.
(3) More frequent maintenance is required if the vehicle is operated under any of the following conditions: a. Short-distance driving.
b. Driving on dusty roads.
c. Extensive idling or slow-speed driving in stop-and-go traffic.
(4) If necessary, rotate and balance the wheels.
* Note: Check the engine oil and coolant levels every week.
See also:
Washer fluid
Checking the washer fluid level Check the fluid level in the washer fluid reservoir and add fluid if necessary. Plain water may be used if washer fluid is not available. However, use washer solv ...
Interior Design and Special Features
Despite its modest pricing, the 2009 Kia Sorento exhibits solid build quality with decent interior materials. The front seats are comfortable and controls are simple enough, but the overall look a ...
Efficient, Powerful Engine
Available in two powerplants - a 2.4-liter four-cylinder or a 2.7-liter V6 engine - and two five-speed transmissions (manual with LX four-cylinder model only), the 2009 Kia Optima introduces a new ...