Storage compartments
These compartments can be used to store small items.
CAUTION
• To avoid possible theft, do not leave valuables in the storage compartment.
• Always keep the storage compartment covers closed while
driving. Do not attempt to place so many items in the storage compartment that the storage compartment cover cannot close securely.
WARNING - Flammable
materials
Do not store cigarette lighters, propane cylinders, or other flammable/ explosive materials in the vehicle.
These items may catch fire and/or explode if the vehicle is exposed to hot temperatures for extended periods.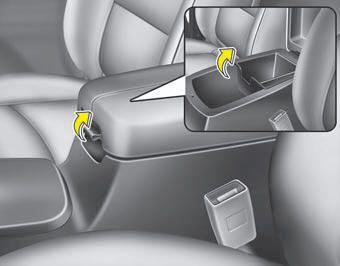 Center console storage (if equipped)
To open the center console storage, pull up the lever.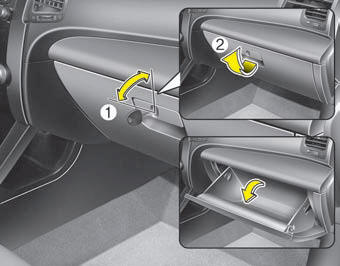 Glove box
The glove box can be locked and unlocked with a master key. (if equipped) To open the glove box, pull the handle and the glove box will automatically open. Close the glove box after use.
WARNING
To reduce the risk of injury in an accident or sudden stop, always keep the glove box door closed while driving.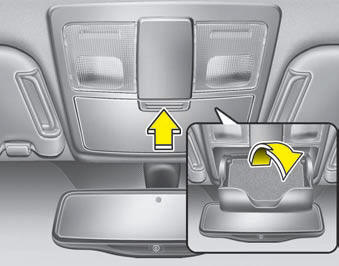 Sunglass holder (if equipped) To open the sunglass holder, press the cover and the holder will slowly open.
Place your sunglasses with the lenses facing out. To close the sunglass holder, push it up.
WARNING
• Do not keep objects except sunglasses inside the sunglass holder.
Such objects can be thrown from the holder in the event of a sudden stop or an accident, possibly injuring the passengers in the vehicle.
• Do not open the sunglass holder while the vehicle is moving. The rear view mirror of the vehicle can be blocked by an opened sunglass holder.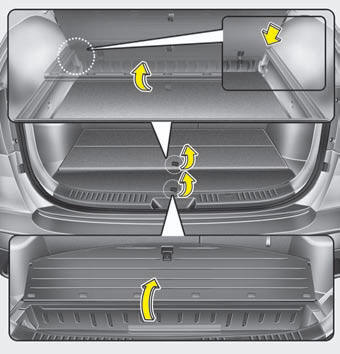 Luggage box
Small
You can place a first aid kit, a reflector triangle, tools, etc. in the box for easy access.
Grasp the handle on the edge of the cover and lift it.
Large (if equipped)
You can place small objects in the luggage box with the cover closed or large objects in the luggage box with the cover off.
CAUTION
To prevent damage to the goods or the vehicle, care should be taken when carrying fragile or bulky objects in the luggage box.
See also:
Kia Rio review
The 2011 Kia Rio ranks 28 out of 33 Affordable Small Cars. This ranking is based on our analysis of 48 published reviews and test drives of the Kia Rio, and our analysis of reliability and safety ...
Under the Hood
The Forte lineup is anchored by a 2.0-liter 4-cylinder engine rated at 156 horsepower and 144 lb-ft of torque, an 18-horse improvement over the Spectra's 2.0 liter. Only the SX gets the 2.4-liter ...
Vehicle identification number (VIN)
The vehicle identification number (VIN) is the number used in registering your vehicle and in all legal matters pertaining to its ownership, etc. The number is punched on the floor under the fr ...