Rearview camera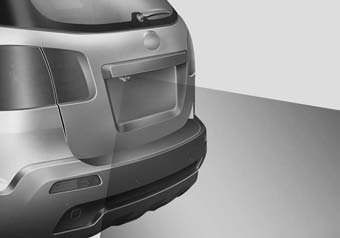 The rearview camera will activate when the back-up light is ON with the ignition switch ON and the shift lever in the R (Reverse) position.
This system is a supplemental system that shows behind the vehicle through the rearview display mirror while backing- up unless equipped with a navigation system, then will display on the screen.
The rearview camera may be turned off by pressing the ON/OFF button when the rearview camera is activated.
To turn the camera on again, press the ON/OFF button again when the ignition switch is on and the shift lever in R (Reverse). Also, the camera will turn on automatically whenever the ignition switch is turned off and on again.
WARNING
• This system is a supplementary function only. It is the responsibility of the driver to always
check the inside/outside rearview mirror and the area behind the vehicle before and while backing up because there is a dead zone that can't see through the camera.
• Always keep the camera lens clean. If lens is covered with foreign matter, the camera may not operate normally.
See also:
DRIVING
You know what? It drives pretty well. On winding and hilly roads, the car's comparatively wide stance makes it feel solid, with little body roll. I drove the "+", "!", and "sport" tr ...
Steering wheel
Power steering Power steering uses energy from the engine to assist you in steering the vehicle. If the engine is off or if the power steering system becomes inoperative, the vehicle may still be ...
Dimensions
The typical sedan is tremendously heavier than the Kia Rio. Your wallet will hurt more every time you fill up the typical sedan than the Kia Rio because of its larger tank. The Rio and the typical ...