Exterior care
Exterior general caution It is very important to follow the label directions when using any chemical cleaner or polish. Read all warning and caution statements that appear on the label.
Finish maintenance
Washing
To help protect your vehicle's finish from rust and deterioration, wash it thoroughly and frequently at least once a month with lukewarm or cold water.
If you use your vehicle for off-road driving, you should wash it after each offroad trip. Pay special attention to the removal of any accumulation of salt, dirt, mud, and other foreign materials. Make sure the drain holes in the lower edges of the doors and rocker panels are kept clear and clean.
Insects, tar, tree sap, bird droppings, industrial pollution and similar deposits can damage your vehicle's finish if not removed immediately.
Even prompt washing with plain water may not completely remove all these deposits. A mild soap, safe for use on painted surfaces, may be used.
After washing, rinse the vehicle thoroughly with lukewarm or cold water. Do not allow soap to dry on the finish.
CAUTION
• Do not use strong soap, chemical detergents or hot water, and do not wash the vehicle in direct sunlight or when the body of the vehicle is warm.
• Be careful when washing the side windows of your vehicle.
Especially, with high-pressure water, water may leak through the windows and wet the interior.
• To prevent damage to the plastic parts, do not clean with chemical solvents or strong detergents.
WARNING - Wet brakes
After washing the vehicle, test the brakes while driving slowly to see if they have been affected by water. If braking performance is impaired, dry the brakes by applying them lightly while maintaining a slow forward speed.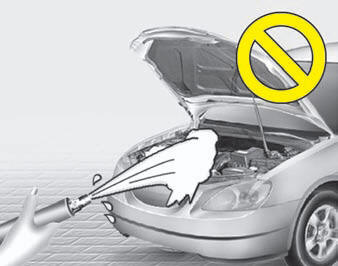 NOTICE
• Water washing in the engine compartment including high pressure water washing may cause the failure of electrical circuits located in the engine compartment.
• Never allow water or other liquids come in contact with electrical/electronic components inside the vehicle as this may damage them.
Waxing
Wax the vehicle when water will no longer bead on the paint.
Always wash and dry the vehicle before waxing. Use a good quality liquid or paste wax, and follow the manufacturer's instructions.Wax all metal trim to protect it and to maintain its luster.
Removing oil, tar, and similar materials with a spot remover will usually strip the wax from the finish. Be sure to re-wax these areas even if the rest of the vehicle does not yet need waxing.
NOTICE
• Wiping dust or dirt off the body with a dry cloth will scratch the finish.
• Do not use steel wool, abrasive cleaners, or strong detergents containing highly alkaline or caustic agents on chrome-plated or anodized aluminum parts. This may result in damage to the protective coating and cause discoloration or paint deterioration.
Finish damage repair
Deep scratches or stone chips in the painted surface must be repaired promptly. Exposed metal will quickly rust and may develop into a major repair expense.
NOTICE
If your vehicle is damaged and requires any metal repair or replacement, be sure the body shop applies anti-corrosion materials to the parts repaired or replaced.
Bright-metal maintenance • To remove road tar and insects, use a tar remover, not a scraper or other sharp object.
• To protect the surfaces of bright-metal parts from corrosion, apply a coating of wax or chrome preservative and rub to a high luster.
• During winter weather or in coastal areas, cover the bright metal parts with a heavier coating of wax or preservative.
If necessary, coat the parts with non-corrosive petroleum jelly or other protective compound.
Underbody maintenance
Corrosive materials used for ice and snow removal and dust control may collect on the underbody. If these materials are not removed, accelerated rusting can occur on underbody parts such as the fuel lines, frame, floor pan and exhaust system, even though they have been treated with rust protection.
Thoroughly flush the vehicle underbody and wheel openings with lukewarm or cold water once a month, after off-road driving and at the end of each winter. Pay special attention to these areas because it is difficult to see all the mud and dirt. It will do more harm than good to wet down the road grime without removing it. The lower edges of doors, rocker panels, and frame members have drain holes that should not be allowed to clog with dirt; trapped water in these areas can cause rusting.
WARNING
After washing the vehicle, test the brakes while driving slowly to see if they have been affected by water. If braking performance is impaired, dry the brakes by applying them lightly while maintaining a slow forward speed.
Aluminum wheel maintenance The aluminum wheels are coated with a clear protective finish.
• Do not use any abrasive cleaner, polishing compound, solvent, or wire brushes on aluminum wheels. They may scratch or damage the finish.
• Use only a mild soap or neutral detergent, and rinse thoroughly with water.
Also, be sure to clean the wheels after driving on salted roads. This helps prevent corrosion.
• Avoid washing the wheels with highspeed car wash brushes.
• Do not use any acid detergent. It may damage and corrode the aluminum wheels coated with a clear protective finish.
See also:
Engine oil
Checking the engine oil level 1. Be sure the vehicle is on level ground. 2. Start the engine and allow it to reach normal operating temperature. 3. Turn the engine off and wait for a few minute ...
Explanation of scheduled maintenance items
Engine oil and filter The engine oil and filter should be changed at the intervals specified in the maintenance schedule. If the vehicle is being driven in severe conditions, more frequent oil an ...
Vehicle break-in process
No special break-in period is needed. By following a few simple precautions for the first 1,000 km (600 miles) you may add to the performance, economy and life of your vehicle. • Do not race th ...