Lubricant specifications
Recommended lubricants To help achieve proper engine and powertrain performance and durability, use only lubricants of the proper quality. The correct lubricants also help promote engine efficiency that results in improved fuel economy.
Engine oils labeled Energy Conserving Oil are now available.
Along with other additional benefits, they contribute to fuel economy by reducing the amount of fuel necessary to overcome engine friction. Often, these improvements are difficult to measure in everyday driving, but in a year's time, they can offer significant cost and energy savings.
These lubricants and fluids are recommended for use in your vehicle.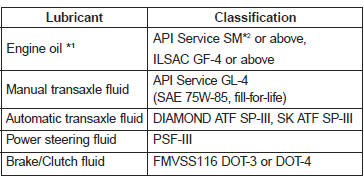 *1 Refer to the recommended SAE viscosity numbers.
*2 If the API service SM engine oil is not available in your country, you are able to
use API service SL.
Recommended SAE viscosity number
NOTICE
Always be sure to clean the area around any filler plug, drain plug, or dipstick before checking or draining any lubricant.
This is especially important in dusty or sandy areas and when the vehicle is used on unpaved roads. Cleaning the plug and dipstick areas will prevent dirt and grit from entering the engine and other mechanisms that could be damaged.
Engine oil viscosity (thickness) has an effect on fuel economy and cold weather operating (starting and oil flow). Lower viscosity engine oils can provide better fuel economy and cold weather performance, however, higher viscosity engine oils are required for satisfactory lubrication in hot weather. Using oils of any viscosity other than those recommended could result in engine damage.
When choosing an oil, consider the range of temperature your vehicle will be operated in before the next oil change. Proceed to select the recommended oil viscosity from the chart.

*1. For better fuel economy, it is recommended to use the engine oil of a viscosity
grade SAE 5W-20 (API SM / ILSAC GF-4).
See also:
The new Kia Soul begs one big question: Is this thing cool?
The Soul is a five-door hatch about a half-foot shorter than a Scion xB, one of the youth-market vehicles that likely inspired Kia to enter this niche (the Honda Element is another; ditto the Niss ...
Smart key
Smart key With a smart key, you can lock or unlock a door (and trunk) and even start the engine without inserting the key. The functions of buttons on a smart key are similar to the remote keyl ...
New six-speed manual delivers customer benefits
Kia's new Kia cee'd is available with a choice of either five- or six-speed manual or four-speed automatic gearboxes. Manual transmission is fitted as standard on all models, with the automatic av ...