Wiper blades
Wiper blade maintenance Commercial hot waxes applied by automatic car washes have been known to make the windshield difficult to clean.
Contamination of either the windshield or the wiper blades with foreign matter can reduce the effectiveness of the windshield wipers. Common sources of contamination are insects, tree sap, and hot wax treatments used by some commercial car washes. If the blades are not wiping properly, clean both the window and the blades with a good cleaner or mild detergent, and rinse thoroughly with clean water.
NOTICE
To prevent damage to the wiper blades, do not use gasoline, kerosene, paint thinner, or other solvents on or near them.
Windshield wiper blade replacement When the wipers no longer clean adequately, the blades may be worn or cracked, and require replacement.
NOTICE
To prevent damage to the wiper arms or other components, do not attempt to move the wipers manually.
NOTICE
The use of a non-specified wiper blade could result in wiper malfunction and failure.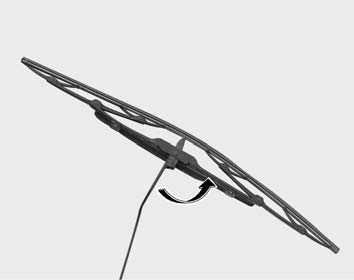 1. Raise the wiper arm and turn the wiper blade assembly to expose the plastic locking clip.
NOTICE
Do not allow the wiper arm to fall against the windshield, since it may chip or crack the windshield.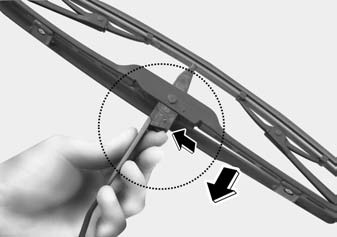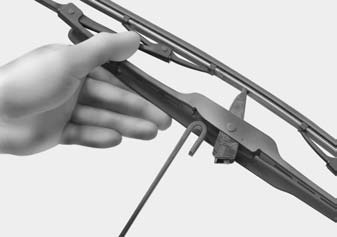 2. Compress the clip and slide the blade assembly downward.
3. Lift it off the arm.
4. Install the blade assembly in the reverse order of removal.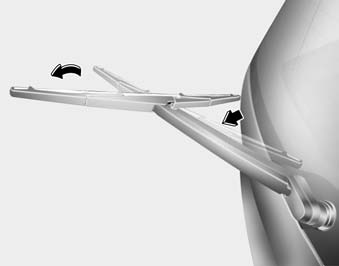 Rear window wiper blade replacement (if equipped) 1. Raise the wiper arm and pull out the wiper blade assembly.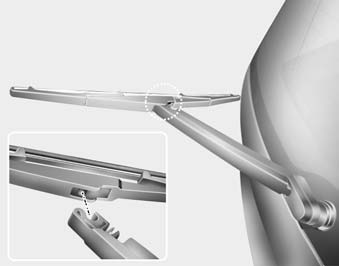 2. Install the new blade assembly by inserting the center part (1) into the slot (2) in the wiper arm until it clicks into place.
3. Make sure the blade assembly is installed firmly by gently pulling on the blade.
See also:
Kia Rio review
The 2011 Kia Rio ranks 28 out of 33 Affordable Small Cars. This ranking is based on our analysis of 48 published reviews and test drives of the Kia Rio, and our analysis of reliability and safety ...
Instrument cluster
1. Tachometer 2. Turn signal indicators 3. Speedometer 4. Engine temperature gauge 5.Warning and indicator lights 6. Shift position indicator* (Automatic transaxle only) 7. Odometer/Tripmeter ...
Hazard warning flasher
The hazard warning flasher should be used whenever you find it necessary to stop the vehicle in a hazardous location. When you must make such an emergency stop, always pull off the road as far ...