Lubricants and fluids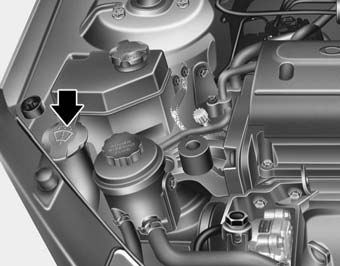 Checking the washer fluid level The reservoir is translucent so that you can check the level with a quick visual inspection.
Check the fluid level in the washer fluid reservoir and add fluid if necessary. Plain water may be used if washer fluid is not available. However, use washer solvent with antifreeze characteristics in cold climates to prevent freezing.
WARNING - Coolant
• Do not use radiator coolant or antifreeze in the washer fluid reservoir.
• Radiator coolant can severely obscure visibility when sprayed on the windshield and may cause loss of vehicle control or damage to paint and body trim.
• Windshield washer fluid agents contain some amounts of alcohol and can be flammable under certain circumstances. Do not allow sparks or flame to contact the washer fluid or the washer fluid reservoir. Damage to the vehicle or it's occupants could occur.
• Windshield washer fluid is poisonous to humans and animals.
Do not drink and avoid contacting windshield washer fluid. Serious injury or death could occur.
Body lubrication
All moving points of the body, such as door hinges, hood hinges, and locks, should be lubricated each time the engine oil is changed. Use a non-freezing lubricant on locks during cold weather.
Make sure the engine hood secondary latch keeps the hood from opening when the primary latch is released.
See also:
Seating
The Rio can accommodate five passengers, but reviewers recommend that you limit it to four since the rear seat can be a squeeze for adults. The front seats may also be a tight fit for taller adult ...
IS BIGGER BETTER?
While we'd certainly argue that when it comes to cars bigger isn't always better, the wider and longer Optima is now in line with its main competitors delivering added interior space. Rear sea ...