Power steering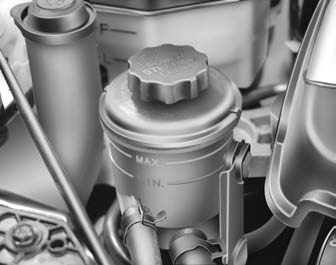 Checking the power steering fluid level
With the vehicle on level ground, check the fluid level in the power steering reservoir periodically. The fluid should be between MAX and MIN marks on the side of the reservoir at the normal temperature.
Before adding power steering fluid, thoroughly clean the area around the reservoir cap to prevent power steering fluid contamination.
If the level is low, add fluid to the MAX level.
In the event the power steering system requires frequent addition of fluid, the vehicle should be inspected by an authorized Kia dealer.
NOTICE
• To avoid damage to the power steering pump, do not operate the vehicle for prolonged periods with a low power steering fluid level.
• Never start the engine when the reservoir tank is empty.
• When adding fluid, be careful that dirt does not get into the tank.
• Insufficient fluid can result in increased steering effort; excessive noise may also be present as the steering wheel is turned.
• The use of the non-specified fluid could reduce the effectiveness of the power steering wheel and cause damage to it.
Use only the specified power steering fluid. (Refer to "Recommended Lubricants" later in this section.) Power steering hose
Check the hoses and hose connections for leaks or damage before driving the vehicle.
See also:
2007 Kia Sorento
The Kia Sorento receives some significant updates for 2007. A more powerful V6 engine, interior and exterior improvements and additional standard safety features keep it competitive in the midsize ...
Instrument panel overview
1. Driver's Air Bag* 2. Light control / Turn signals 3. Instrument cluster 4. Wiper/Washer 5. Ignition switch 6. Digital clock 7. Hazard 8. Audio controls* 9. Climate control system 10. S ...
Overloading
CAUTION - Vehicle weight The gross axle weight rating (GAWR) and the gross vehicle weight rating (GVWR) for your vehicle are on the manufacturer's label attached to the driver's door. Exceeding ...