Power steering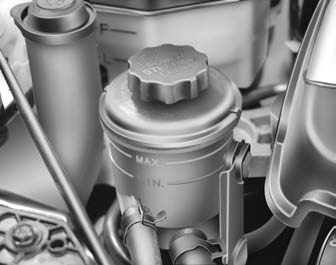 Checking the power steering fluid level
With the vehicle on level ground, check the fluid level in the power steering reservoir periodically. The fluid should be between MAX and MIN marks on the side of the reservoir at the normal temperature.
Before adding power steering fluid, thoroughly clean the area around the reservoir cap to prevent power steering fluid contamination.
If the level is low, add fluid to the MAX level.
In the event the power steering system requires frequent addition of fluid, the vehicle should be inspected by an authorized Kia dealer.
NOTICE
• To avoid damage to the power steering pump, do not operate the vehicle for prolonged periods with a low power steering fluid level.
• Never start the engine when the reservoir tank is empty.
• When adding fluid, be careful that dirt does not get into the tank.
• Insufficient fluid can result in increased steering effort; excessive noise may also be present as the steering wheel is turned.
• The use of the non-specified fluid could reduce the effectiveness of the power steering wheel and cause damage to it.
Use only the specified power steering fluid. (Refer to "Recommended Lubricants" later in this section.) Power steering hose
Check the hoses and hose connections for leaks or damage before driving the vehicle.
See also:
Rear differential (4WD)
Checking or changing rear differential fluid Have rear differential fluid checked or changed by an Authorized Kia Dealer according to the Maintenance Schedule at the beginning of this section. ...
Tires and wheels
CAUTION When replacing tires, use the same size originally supplied with the vehicle. Using tires of a different size can damage the related parts or make it work irregularly. ...
Theft-alarm system
Theft alarm system will not operate when the ignition key is in the ignition switch. If the lock button on the transmitter is pressed when the key is not in the ignition and any vehicle door or ...