Luggage net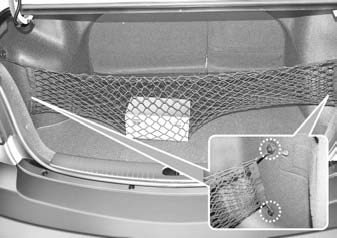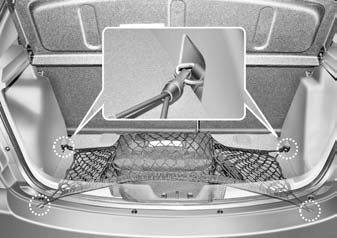 To keep items from shifting in the trunk, you can use the four rings located in the trunk to attach the cargo net.
NOTICE
Do not put fragile, bulky or an excessive quantity of items into luggage net. They could be damaged.
WARNING
To avoid eye injury, DO NOT overstretch the netting.
ALWAYS keep face and body out of recoil path of the net, in case of strap.
DO NOT use the luggage net when strap has visible signs of wear or damage.
See also:
Lighting
Battery saver function • The purpose of this feature is to prevent the battery from being discharged. The system automatically turns off the exterior lights when the driver removes the ignition ...
New electric steering and new multi-link rear suspension
All around the world, more than 860,000 Kia Sportage owners have enjoyed this model's special blend of on-road talents and off-road abilities since the second-generation model was introduced in 20 ...
Yes, One Trim Is Really Called the " !"
Dealers will have four trim levels with which to lure the young and impressionable—Soul, Soul+, Soul ! , and the top-of-the-line Soul Sport. "!" is pronounced "exclaim," although we'd ...