Parking brake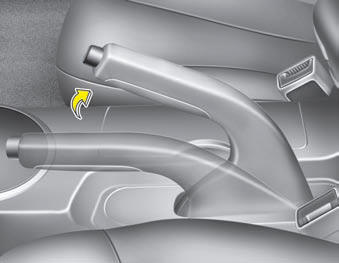 Checking the parking brake
Check the stroke of the parking brake by counting the number of "clicks'' heard while fully applying it from the released position. Also, the parking brake alone should securely hold the vehicle on a fairly steep grade. If the stroke is more or less than specified, have the parking brake adjusted by an authorized KIA dealer.
Stroke : 8 "clicks'' at a force of 20 kg (44 lbs, 196 N).
See also:
Leftlane's bottom line
Kia is no longer content to be the butt of jokes or the car of last resort for those who may be fiscally challenged. Although still very much a Hyundai rival, Kia finally has a design language a ...
THE VERDICT
Just a few years ago, the Kia Optima would have been a genuine competitor to the American sedans in the family car category. Unfortunately for Kia, companies like Ford and General Motors have made ...
Interior Refinement
The style makeover continues into the Optima's cabin with expanded electronics melded with refreshed fascia patterns and color schemes. Based on a new platform, the standard audio system features ...