Power steering fluid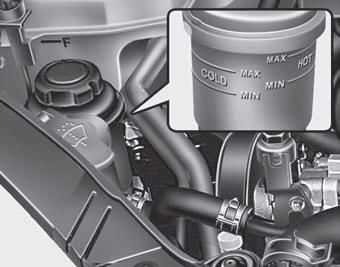 Checking the power steering fluid level
With the vehicle on level ground, check the fluid level in the power steering reservoir periodically. The fluid should be between MAX and MIN marks on the side of the reservoir at the normal temperature.
Before adding power steering fluid, thoroughly clean the area around the reservoir cap to prevent power steering fluid contamination.
If the level is low, add fluid to the MAX level.
NOTICE:
- (if equipped).
Check that the fluid level is in the "HOT" range on the reservoir. If the fluid is cold, check that it is in the "COLD" range (if equipped).
In the event the power steering system requires frequent addition of fluid, the vehicle should be inspected by an authorized KIA dealer.
CAUTION:

• To avoid damage to the power steering pump, do not operate the vehicle for prolonged periods with a low power steering fluid level.
• Never start the engine when the reservoir tank is empty.
• When adding fluid, be careful that dirt does not get into the tank.
• Too little fluid can result in increased steering effort and/or noise from the power steering system.
• The use of the non-specified fluid could reduce the effectiveness of the power steering system and cause damage to it.
Use only the specified power steering fluid. (Refer to "Recommended lubricants or capacities" in section 8.)
Checking the power steering hose
Check the connections for oil leaks, damage and twists in the power steering hose before driving.
See also:
Large Trunk
The large trunk has a low, wide opening and a lid that raises easily on gas struts. Rear seatbacks can be flipped forward for more cargo space, but they don't sit entirely flat. The pass-through a ...
Manual transaxle
Manual transaxle operation The manual transaxle has five forward gears. Press the clutch pedal down fully while shifting, then release it slowly. A special safety feature prevents inadvertent ...
Hazard warning flasher
The hazard warning flasher should be used whenever you find it necessary to stop the car in a hazardous location. When you must make such an emergency stop, always pull off the road as far as p ...