Engine oil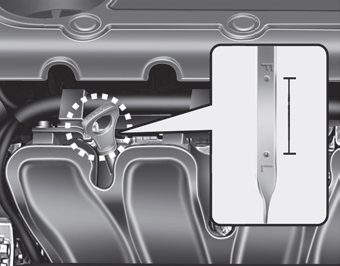 Checking the engine oil level
1. Be sure the vehicle is on level ground.
2. Start the engine and allow it to reach normal operating temperature.
3. Turn the engine off and wait for a few minutes (about 5 minutes) for the oil to return to the oil pan.
4. Pull the dipstick out, wipe it clean, and re-insert it fully.
WARNING:
- Radiator hose Be very careful not to touch the radiator hose when checking or adding the engine oil as it may be hot enough to burn you.
5. Pull the dipstick out again and check the level. The level should be between F and L.
CAUTION:

Do not overfill with engine oil.
Engine damage may result.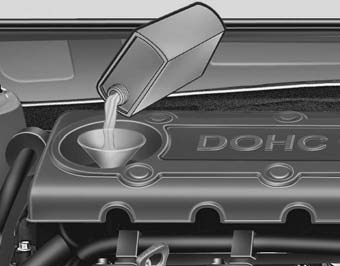 If it is near or at L, add enough oil to bring the level to F. Do not overfill.
Use a funnel to help prevent oil from being spilled on engine components.
Use only the specified engine oil. (Refer to "Recommended lubricants and capacities" in section 8.)
Changing the engine oil and filter
Have engine oil and filter changed by an authorized KIA dealer according to the Maintenance Schedule at the beginning of this section.
WARNING:

Used engine oil may cause irritation or cancer of the skin if left in contact with the skin for prolonged periods of time. Used engine oil contains chemicals that have caused cancer in laboratory animals.
Always protect your skin by washing your hands thoroughly with soap and warm water as soon as possible after handling used oil.
See also:
Window
Power windows 1 Driver's door power window switch 2 Front passenger's door power window switch 3 Rear door (left) power window switch 4 Rear door (right) power window switch 5 Window openin ...
Interior overview
1. Door lock/unlock button 2. Outside rearview mirror control switch 3. Power window switches 4. Master power door lock control 5. Master power window control lock 6. Steering wheel 7. Instrum ...
Kia Forte SX 5-Door Hatchback - Short Take Road Test
It wasn't so long ago that Kia was selling crummy Sephias and clunky Sportages to the double-coupon set. But the intervening years have proven that Kia and its parent company, Hyundai, are quick ...