Normal maintenance schedule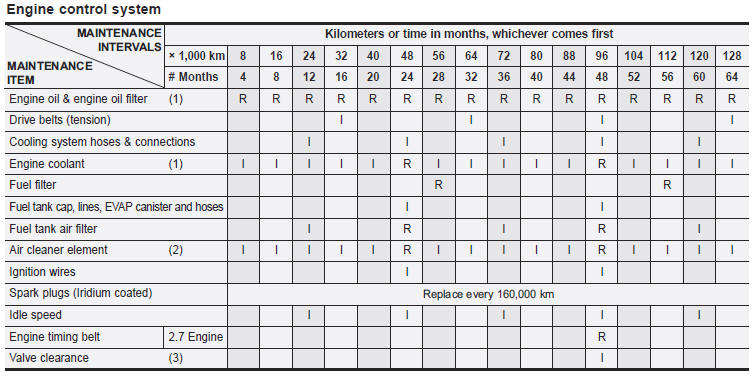 Engine control system

Chassis and body

Chassis and body
Chart symbols:
I - Inspect these items and their related parts. If necessary, correct, clean, refill, adjust or replace.
R - Replace or change.
L - Lubricate.
(1) Refer to the lubricant and coolant specifications in the Owner's Manual.
(2) More frequent maintenance is required if driving under dusty conditions.
(3) Inspect for excessive valve noise and/or engine vibration and adjust if necessary. A qualified technician should perform the operation.
(4) More frequent maintenance is required if the vehicle is operated under any of the following conditions: a. Short-distance driving.
b. Driving on dusty roads.
c. Extensive idling or slow-speed driving in stop-and-go traffic.
(5) If necessary, rotate and balance the wheels.
* Note: Check the engine oil and coolant levels every week.
See also:
Tires and wheels
Tire care For proper maintenance, safety, and maximum fuel economy, you must always maintain recommended tire inflation pressures and stay within the load limits and weight distribution recommen ...
Trailer towing
We do not recommend using this vehicle for trailer towing. ...
Kia Magentis sedan range
A reputation for cheapness, low resale values, and doubts about durability are all obstacles that the Korean brand must overcome if the now-factory-owned importer is going to grow in Australia. ...