Normal maintenance schedule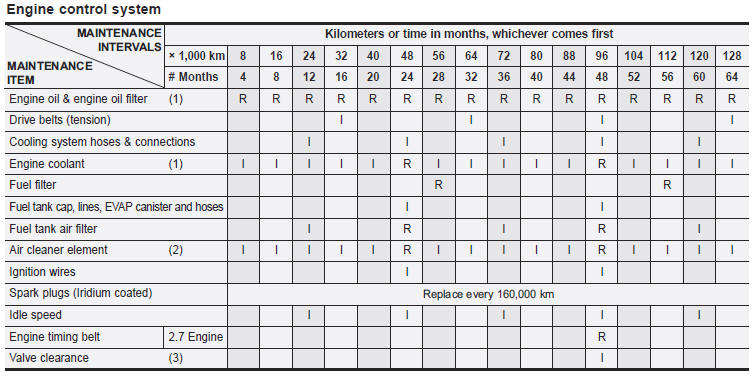 Engine control system

Chassis and body

Chassis and body
Chart symbols:
I - Inspect these items and their related parts. If necessary, correct, clean, refill, adjust or replace.
R - Replace or change.
L - Lubricate.
(1) Refer to the lubricant and coolant specifications in the Owner's Manual.
(2) More frequent maintenance is required if driving under dusty conditions.
(3) Inspect for excessive valve noise and/or engine vibration and adjust if necessary. A qualified technician should perform the operation.
(4) More frequent maintenance is required if the vehicle is operated under any of the following conditions: a. Short-distance driving.
b. Driving on dusty roads.
c. Extensive idling or slow-speed driving in stop-and-go traffic.
(5) If necessary, rotate and balance the wheels.
* Note: Check the engine oil and coolant levels every week.
See also:
DRIVING
You know what? It drives pretty well. On winding and hilly roads, the car's comparatively wide stance makes it feel solid, with little body roll. I drove the "+", "!", and "sport" tr ...
First Drive: 2011 Kia Optima
Rivalries are a fact of life. When they are in the family, they can be troublesome. On the other hand, they can help to raise the level of game for both family members. That's the case Kia find ...
Airbags - advanced supplemental restraint system
(1) Driver's front air bag (2) Passenger's front air bag (3) Side air bag* (4) Curtain air bag* * : if equipped WARNING Even in vehicles with air bags, you and your passengers must alway ...