Normal maintenance schedule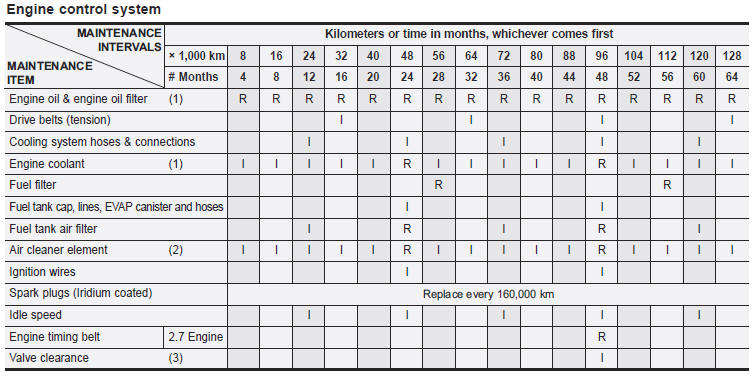 Engine control system

Chassis and body

Chassis and body
Chart symbols:
I - Inspect these items and their related parts. If necessary, correct, clean, refill, adjust or replace.
R - Replace or change.
L - Lubricate.
(1) Refer to the lubricant and coolant specifications in the Owner's Manual.
(2) More frequent maintenance is required if driving under dusty conditions.
(3) Inspect for excessive valve noise and/or engine vibration and adjust if necessary. A qualified technician should perform the operation.
(4) More frequent maintenance is required if the vehicle is operated under any of the following conditions: a. Short-distance driving.
b. Driving on dusty roads.
c. Extensive idling or slow-speed driving in stop-and-go traffic.
(5) If necessary, rotate and balance the wheels.
* Note: Check the engine oil and coolant levels every week.
See also:
Engine number
2.4L 2.7L The engine number is stamped on the engine block as shown in the drawing. ...
Vehicle break-in process
No special break-in period is needed. By following a few simple precautions for the first 1,000 km (600 miles) you may add to the performance, economy and life of your vehicle. • Do not race th ...
Battery
For best battery service • Keep the battery securely mounted. • Keep the battery top clean and dry. • Keep the terminals and connections clean, tight, and coated with petroleum jelly or t ...