Normal maintenance schedule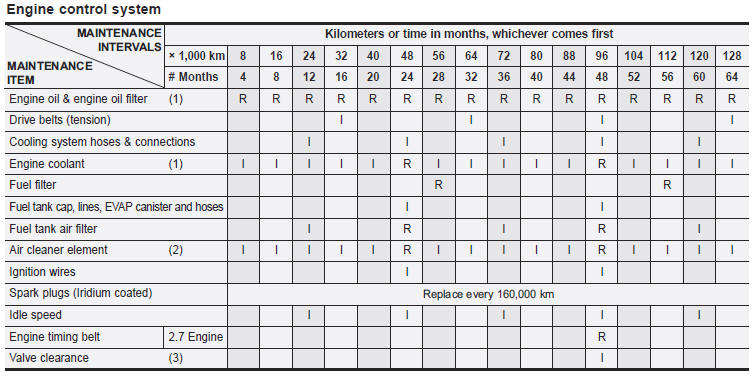 Engine control system

Chassis and body

Chassis and body
Chart symbols:
I - Inspect these items and their related parts. If necessary, correct, clean, refill, adjust or replace.
R - Replace or change.
L - Lubricate.
(1) Refer to the lubricant and coolant specifications in the Owner's Manual.
(2) More frequent maintenance is required if driving under dusty conditions.
(3) Inspect for excessive valve noise and/or engine vibration and adjust if necessary. A qualified technician should perform the operation.
(4) More frequent maintenance is required if the vehicle is operated under any of the following conditions: a. Short-distance driving.
b. Driving on dusty roads.
c. Extensive idling or slow-speed driving in stop-and-go traffic.
(5) If necessary, rotate and balance the wheels.
* Note: Check the engine oil and coolant levels every week.
See also:
In case of an emergency while driving
If the engine stalls at a crossroad or crossing If the engine stalls at a crossroad or crossing, set the shift lever in the N (Neutral) position and then push the vehicle to a safe place. If you ...
More space for people and cargo, and a quieter drive
Luggage space in new Kia Sportage benefits from the 70 mm increase in the vehicle's rear overhang. With the rear seats upright, the cargo bay is 80 mm longer and 110 mm wider at floor level, thank ...
Automatic transaxle
Automatic transaxle operation The automatic transaxle has 6 forward speeds and one reverse speed. The individual speeds are selected automatically, depending on the position of the shift lever. ...