Normal maintenance schedule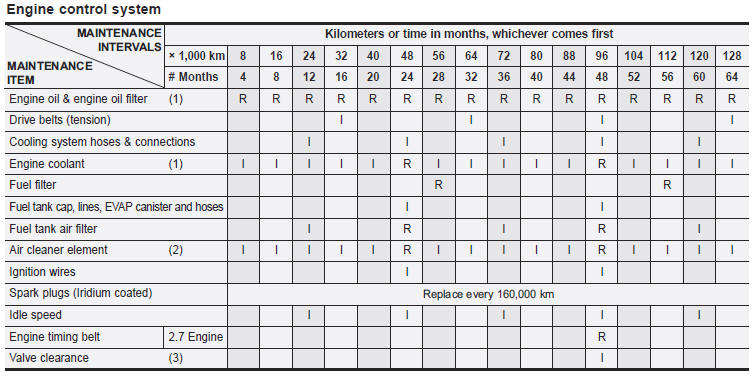 Engine control system

Chassis and body

Chassis and body
Chart symbols:
I - Inspect these items and their related parts. If necessary, correct, clean, refill, adjust or replace.
R - Replace or change.
L - Lubricate.
(1) Refer to the lubricant and coolant specifications in the Owner's Manual.
(2) More frequent maintenance is required if driving under dusty conditions.
(3) Inspect for excessive valve noise and/or engine vibration and adjust if necessary. A qualified technician should perform the operation.
(4) More frequent maintenance is required if the vehicle is operated under any of the following conditions: a. Short-distance driving.
b. Driving on dusty roads.
c. Extensive idling or slow-speed driving in stop-and-go traffic.
(5) If necessary, rotate and balance the wheels.
* Note: Check the engine oil and coolant levels every week.
See also:
New electric steering and new multi-link rear suspension
All around the world, more than 860,000 Kia Sportage owners have enjoyed this model's special blend of on-road talents and off-road abilities since the second-generation model was introduced in 20 ...
Climate control system
1. Temperature control knob 2. Air conditioning button (if equipped) 3. Air intake control button 4. Mode selection knob 5. Fan speed control knob Fan speed control knob Four (4) adjustable ...
Kia baring its Soul before youthful carbuyers
When piloting the 2010 Chevy Camaro sport coupe through the Detroit 'burbs, jaws dropped, eyes popped and one loyalist was so moved he broke into a gallop to try to catch up with it for a closer loo ...