Hood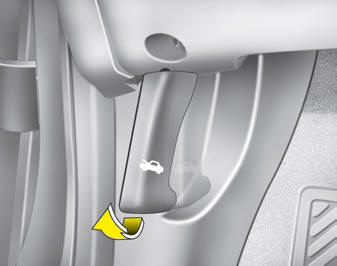 Opening the hood
1. Pull the release lever to unlatch the hood. The hood should pop open slightly.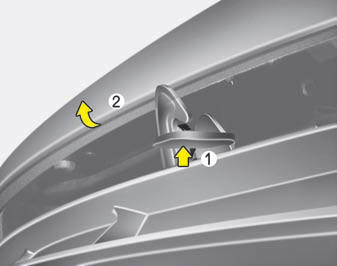 2. Go to the front of the vehicle, raise the hood slightly, pull the secondary latch (1) inside of the hood center and lift the hood (2).
3. Raise the hood. It will raise completely by itself after it has been raised about halfway.
Closing the hood
1. Before closing the hood, check the following: • All filler caps in engine compartment must be correctly installed.
• Gloves, rags or any other combustible material must be removed from the engine compartment.
2. Lower the hood halfway and push down to securely lock in place.
WARNING:

• Before closing the hood, ensure that all obstructions are removed from the hood opening. Closing the hood with an obstruction present in the hood opening may result in property damage or severe personal injury.
• Do not leave gloves, rags or any other combustible material in the engine compartment. Doing so may cause a heat-induced fire.
• Always double check to be sure that the hood is firmly latched before driving away. If it is not latched, the hood could open while the vehicle is being driven, causing a total loss of visibility, which might result in an accident.
• Do not move the vehicle with the hood in the raised position, as vision is obstructed and the hood could fall or be damaged.
See also:
Body Styles, Trim Levels, and Options
The Kia Sportage is a compact four-door SUV offered in two trim levels, LX and EX. Both two-wheel drive and all-wheel drive (which Kia calls 4WD) are available. Standard features on the LX include ...
Kia Cee'd SW
When it comes to shouldering the expectations of an entire company, the new Kia Cee'd range carries a much heavier burden than most. Whichever you go for, the Cee'd offers precise steering and ha ...
Engine coolant
The high-pressure cooling system has a reservoir filled with year round antifreeze coolant. The reservoir is filled at the factory. Check the antifreeze protection and coolant level at least once ...