Engine compartment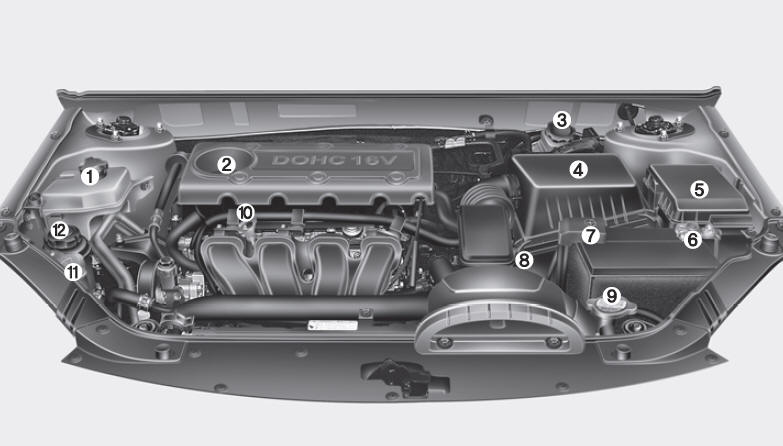 Gasoline Engine (2.4L)
1. Engine coolant reservoir 2. Engine oil filler cap 3. Brake fluid reservoir 4. Air cleaner
5. Fuse box
6. Negative battery terminal 7. Positive battery terminal 8. Auto transaxle oil dipstick* 9. Radiator cap
10. Engine oil dipstick
11. Windshield washer fluid reservoir 12. Power steering fluid reservoir* * : if equipped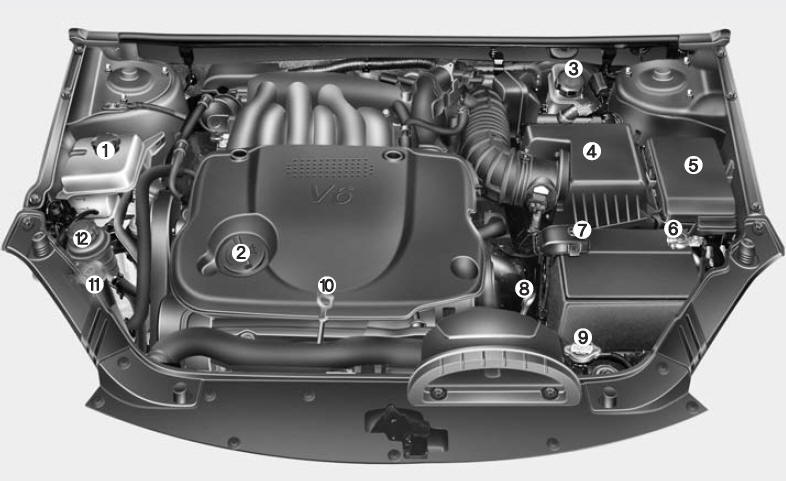 Gasoline Engine (2.7L)
1. Engine coolant reservoir 2. Engine oil filler cap 3. Brake fluid reservoir 4. Air cleaner
5. Fuse box
6. Negative battery terminal 7. Positive battery terminal 8. Auto transaxle oil dipstick* 9. Radiator cap
10. Engine oil dipstick
11. Windshield washer fluid reservoir 12. Power steering fluid reservoir* * : if equipped
See also:
Fuel requirements
Gasoline engine (unleaded) Your new Kia vehicle is designed to use only unleaded fuel with a minimum Octane Rating of 87 Anti- Knock Index (AKI). NOTICE NEVER USE LEADED FUEL. The use of leaded ...
Tires and wheels
Tire care For proper maintenance, safety, and maximum fuel economy, you must always maintain recommended tire inflation pressures and stay within the load limits and weight distribution recommen ...
2011 Kia Optima Review
The previous generation Kia Optima was a vehicle struggling to keep up with the times, having emerged on the scene as a lackluster model masquerading as a value proposition, when in reality it was ...