Specifications
The specifications given here are for general information only. Although this information was accurate at the time of printing, Kia reserves the right to change its vehicles or their specifications without notice. Please check with an authorized Kia dealer for more precise and more up-to-date information.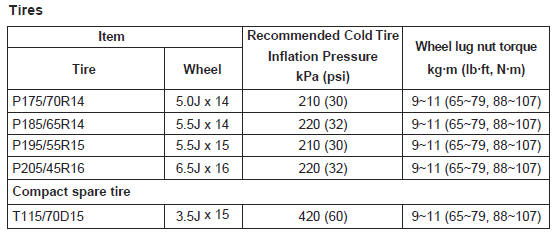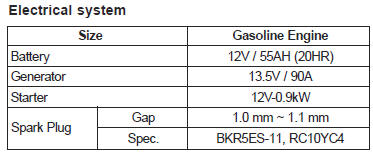 Weights
Refer to the label describing GVWR & GAWR weights attached to your vehicle.
(see page 5-10, Label information)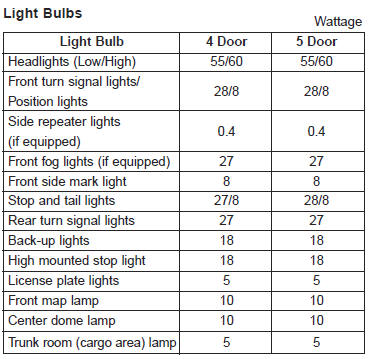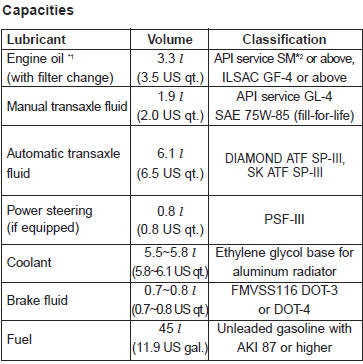 *1 Refer to the recommended SAE viscosity numbers on the page 7-32.
*2 If the API service SM engine oil is not available in your country, you are able to
use API service SL.
See also:
New six-speed manual delivers customer benefits
Kia's new Kia cee'd is available with a choice of either five- or six-speed manual or four-speed automatic gearboxes. Manual transmission is fitted as standard on all models, with the automatic av ...
Features of your vehicle
Keys Remote keyless entry Smart key Theft-alarm system Door locks Tailgate9 Windows Hood Fuel filler lid Panoramic Sunroof Steering wheel Mirrors Instrument cluster Rear parking assist sy ...
Overview
Kia Motors America (KMA) announced the official North American debut of the all-new Kia Sorento crossover utility vehicle (CUV) during a press conference at the 2009 Los Angeles Auto Show. The fir ...