Maintenance schedule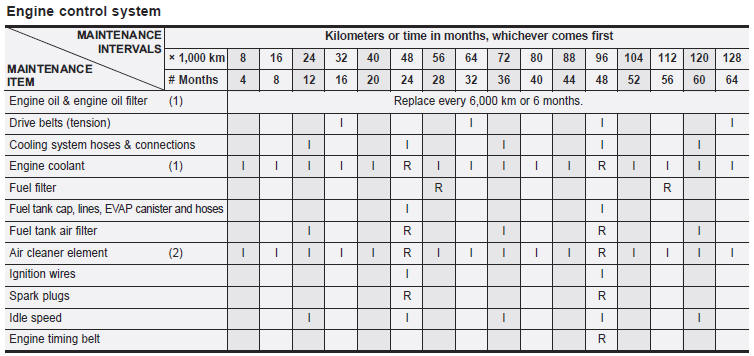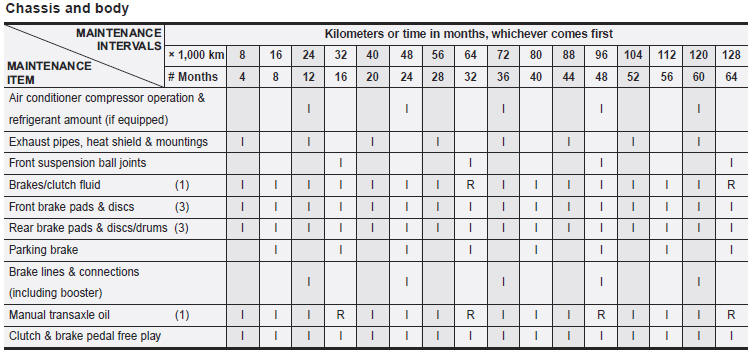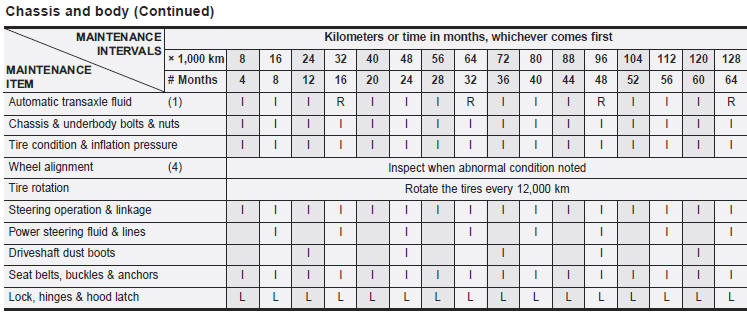 Chart symbols:
I- Inspect these items and their related parts. If necessary, correct, clean, refill, adjust or replace.
R- Replace or change
L- Lubricate.
(1) Refer to the lubricant and coolant specifications in the Owner's Manual.
(2) More frequent maintenance is required if driving under dusty conditions.
(3) More frequent maintenance is required if the vehicle is operated under any of the following conditions: a. Short-distance driving.
b. Driving on dusty roads.
c. Extensive idling or slow-speed driving in stop-and-go traffic.
(4) If necessary, rotate and balance the wheels.
* Note: Check the engine oil and coolant levels every week.
See also:
Emergency starting
Connect cables in numerical order and disconnect in reverse order. Jump starting Jump starting can be dangerous if done incorrectly. Therefore, to avoid harm to yourself or damage to your vehic ...
Luggage center box
The luggage center box is located under the floor in cargo area.You can place a first aid kit, a reflector triangle, tools, etc. in the box for easy access. 1. Grasp the handle on the edge of ...
Appearance care
Exterior care Exterior general caution It is very important to follow the label directions when using any chemical cleaner or polish. Read all warning and caution statements that appear on the l ...