Interior overview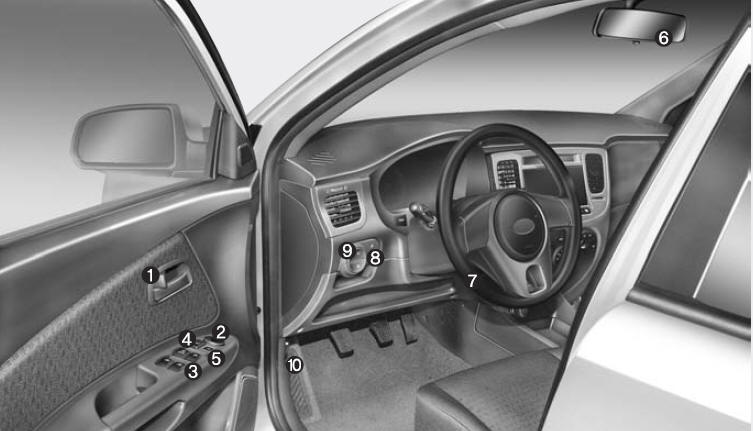 1. Door lock/unlock button.....................3-10 2. Outside rearview mirror control switch*...............................................3-71 3. Power window switches* ...................3-14 4. Master power door lock control* .......3- 9 5. Master power window control lock*...3-16 6. Inside rearview mirror .......................3-72 7. Steering wheel ..................................4-18 8. Instrument panel illumination* ..........4-25 9. Front fog light*...................................4-34 10. Hood release lever .........................3-66 11. Trunk release lever* ........................3-65 12. Fuel filler lid release lever*..............3-67 * : if equipped
See also:
2010 Kia Soul
Confession time: I'm in the target market for the Kia Soul and the vehicle's engineers thought of something even I didn't know I wanted. FAST FACTS 1. Not the most powerful, or mo ...
Towing
Towing service If emergency towing is necessary, we recommend having it done by an authorized KIA dealer or a commercial towtruck service. Proper lifting and towing procedures are necessary to ...
Additional Horsepower
The 2.4-liter 161-horsepower 4-cylinder engine has gained 23 horsepower from the early-2006 model and provides good acceleration below 60 mph—but average performance above that speed. The 2.7-li ...