Brakes and clutch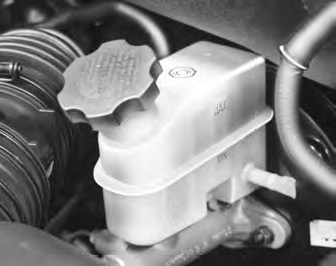 Checking brake/clutch fluid level
Check the fluid level in the reservoir periodically. The fluid level should be between MAX and MIN marks on the side of the reservoir.
Before removing the reservoir cap and adding brake/clutch fluid, clean the area around the reservoir cap thoroughly to prevent brake/clutch fluid contamination.
If the level is low, add fluid to the MAX level. The level will fall with accumulated mileage. This is a normal condition associated with the wear of the brake linings. If the fluid level is excessively low, have the brake system checked by an Authorized Kia Dealer.
Use only the specified brake/clutch fluid. (Refer to "Recommended lubricants and capacities" in section 8.) Never mix different types of fluid.
WARNING - Loss of brake fluid
In the event the brake system requires frequent additions of fluid, the vehicle should be inspected by an Authorized Kia Dealer.
WARNING - Brake fluid When changing and adding brake/clutch fluid, handle it carefully. Do not let it come in contact with your eyes. If brake/clutch fluid should come in contact with your eyes, immediately flush them with a large
quantity of fresh tap water. Have your eyes examined by a doctor as soon as possible.
NOTICE
Do not allow brake/clutch fluid to contact the vehicle's body paint, as paint damage will result.
Brake/clutch fluid, which has been exposed to open air for an extended time should never be used as its quality cannot be guaranteed. It should be thrown out. Don't put in the wrong kind of fluid. A few drops of mineral-based oil, such as engine oil, in your brake clutch system can damage brake clutch system parts.
See also:
If the engine will not start
If engine doesn't turn over or turns over slowly 1. If your car has an automatic transaxle, be sure the shift lever is in N (Neutral) or P (Park) and the emergency brake is set. 2. Check the bat ...
Before driving
WARNING - ENGINE EXHAUST CAN BE DANGEROUS! Engine exhaust fumes can be extremely dangerous. If, at any time, you smell exhaust fumes inside the vehicle, open the windows immediately. • Do not i ...
Introduction
Before CR-V and RAV4, there was Sportage. Yep, believe it or not, the Kia Sportage was one of the first small import SUVs sold in the United States. However, being first doesn't always lead to sal ...